I have been visiting Southeast Asia for years using Bangkok as my 'home base'. This prominent city in the region offers two airports, one of which is a major hub for International flights especially from Europe and the USA. The second older airport is home to a number of budget airlines that can be used to easily and quickly reach a number of destinations within the country.
Bangkok is best explored in small doses – over a few days at a time.
There are certain attractions inherently part of Bangkok that are worth visiting. The gleaming golden temples are certainly an integral part of the city – with highlights being the impressive Golden Palace, nearby Wat Po and Wat Traimit (home of the worlds largest solid gold Buddha).
Bangkok is also known for its food – and it is seemingly everywhere. Some of the best food in the city is street food – available from mom and pop vendors who sell from little stalls they set up on the sidewalks. The diversity of ingredients, aromas, and visual intrigue can be overwhelming in a good way! And floating markets are popular in the city – some only open on the weekends.
The core of the city is found along the banks of the Chao Praya River. Exotic and steamy, its waters are home to numerous barges, long tailed boats which ferry passengers across and up and down the river, stopping at key points in the city.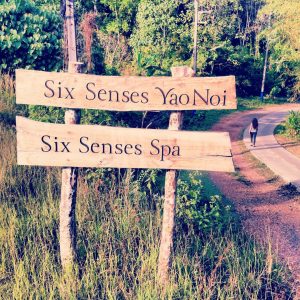 During one of my visits to Thailand I flew from Bangkok to Phuket and then caught a ferry to the beautiful Island of Koh Yao Noi. While there I stopped by The Six Senses Yao Noi one of the hotel partners for Kenwood Travel and Six Senses. The Six Senses brand feature some of Asia's finest hotels – offering pampered luxury in beautiful natural environments. This particular Yao Noi Six Senses property feels worlds away from the often chaotic and crowded Phuket on the mainland.
I always gravitate towards islands and Thailand certainly has its fair share of beautiful white sandy beach palm lined vistas. Several other islands to put on your bucket list when in Thailand are Ko Kud (hasn't seen the influx of tourists that busier Thai islands often experience) and the nearby much larger Koh Chang (Elephant Island).
And for those who would like to visit the north – there are short nonstop flights from Bangkok to Chiang Mai, Thailand's second largest city – but much less congested then Bangkok. This city is home to a sizable expat community due to the ease and affordable cost of living. It is also a great place to take a cooking class, explore night markets and try one of the ubiquitous affordable massages that Thailand is known for.