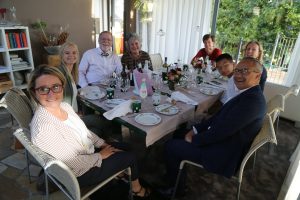 Everyone looks forward to family reunions, don't they? To be honest, they can be a very bittersweet occasion. With the possibility of feuding family members and overbearing aunts comes anxiety, frustration and stress… a lot of stress. We offer you our advice on how to remove some of the stress from family reunions.
Organisation
If you have been landed with the task of organising, this is the main section you need to focus on and some of the others will be irrelevant. First, you'll need to source a venue the right size for your family. Take into account how much seating you will require and if you would like any entertainment. The thing you'll be likely judged on most will be the food. If you're keen to cut back on the number of things you need to do, consider finding a local catering company who can do everything for you. Make sure you cater for all dietary requirements. A hungry guest will soon turn into a hangry one and you don't want to have to face the wrath of Great Uncle George who's been forced to get a take out. Once you have decided upon the venue and who'll be doing the catering, ensure that you get the invitations sent out as early as possible. Undoubtedly, there'll be someone who can't make it because of work commitments or previously organised vacations, but the earlier the better to ensure most of the family can be there. Ask those, who are unable to make it, to record a video message to everyone else, so they are still a small part of the reunion.
Plan your journey
There's nothing worse than having to take seven U-turns and hitting five dead ends on the way to an occasion when you're already late because baby Martha decided to fill her diaper twice before you'd even left your street. So, allow yourself plenty of time and plan your journey well in advance, so you know exactly where you're going. Check road closures and potential disruptions through roadworks too. Plan who's going to be doing the driving too and also whose car you'll take. If the location is a significant distance away and you're taking other relatives, perhaps you could use a rental company to hire a larger vehicle.
Predict the conversations
"When are you two going to get married?" or "It'll be you pregnant next!" are both examples of unwanted remarks, questions and criticisms that undoubtedly get asked when you're around people you've not set eyes on in a long time. If you're prepared for the bombardment of questions and possibly passive-aggressive remarks by having quick-witted responses at the ready, you'll feel in charge of the conversations.
Make the most of it
Let's face it, your family is unlikely to remain static for very long. Be sure to take plenty of photographs as keepsakes. In years to come, you'll be reminiscing fondly over them. We never regret the number of photos we take, only the ones we don't. And as much as it might pain you to have to spend twenty minutes listening to Aunt Sylvia's tales of her bunions, just spending time together is precious.
Not only should you make the most of the time with your family, but also the precious time away. Rather than simply heading to the family reunion and then home again, why not turn it into a holiday or an extended weekend? Do activities together as a family and visit local tourist attractions. If you're travelling somewhere new, you're bound to have a few places you'd love to visit.