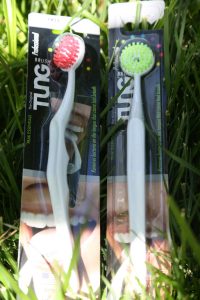 I was recently contacted by The TUNG Brush™ to test out their innovative and very useful product. This special brush is meant to be used in conjunction with every time you brush your teeth – to neutralize bad breath. Comes with TUNG Gel – in a tube that is airplane friendly (3 oz) so you don't have to worry about losing it in your carry on luggage.
Why clean your tongue? Well, apparently this is where most of the bad breath bacteria in your mouth live.
Easy to use at home and easy to use on the road.
Simply run warm water over the brush, apply a small amount of gel and then lightly brush your tongue from the back toward the front for approximately 10 seconds. Then rinse it clean. That's it!
While testing out the brush, I brushed the sides and underneath of the tongue for good measure. After using this for several days now, it almost becomes like second nature – a daily part of good hygiene. And there is no gag reflex when doing so. The brush is round with soft bristles. It's not like sticking a tooth brush in the back of your mouth.
And there is the personal satisfaction of having an even cleaner mouth then just brushing your teeth 🙂
A couple of highlights recommended from TUNG:
– recommend brushing your tongue after brushing your teeth
– the gel neutralizes bad breath (sulpher gas) from bacteria on your tongue
– loosens sticky plaque from the tongue
Readers of Dave's Travel Corner can acquire a free The TUNG Brush™ by visiting: www.tungbrush.com/free Use this code: V8L5MM