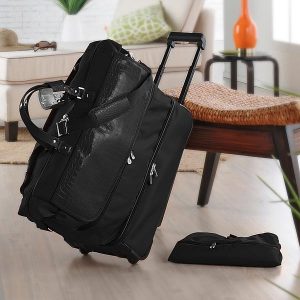 Double Decker Duffle (Reviewed: Mar 2011) The "beauty" of this product other than its obvious fashionable design is its versatility. This bag can be both a carry on or a roll-aboard (in line wheels with a telescopic handle) and is the latest in the line of travel bags and accessories designed by long time inventor Joy Mangano. This duffle bag is stylish (even the luggage cuff is elegantly designed), yet super practical and durable. It is made from high quality nylon which is also weather resistant on the exterior.
This duffle easily expands from 2 compartments to 3 just by using a zipper (still within the typical size limits of carry on baggage). Each compartment can be separate from the others or by simply unzipping the "layer" inside you can turn the duffle into one giant bag. What is also nice is there are a plethora of small pockets (including some specifically built for pens and other office supplies) and zippers both inside the upper compartment as well as outside. Carry it or roll it.
The duffle also comes with a luggage cover/shoulder strap should you prefer to check it in. It comes with a 10-year limited warranty and is available in a wide range of colors from flashy purple to more subtle black.
Think this bag is super pricy? Think again – it retails for $74.95.
NOTE: after extensive testing, these are our updated notes: the bag is narrow and has a very challenging center of gravity at times – if filled entirely it may tip to one side going over curbs or other large bumps outside of a smooth airport floor. Note: this produce is no longer available on the Home Shopping Network.