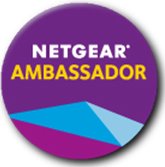 This security camera system swooped (their logo is a small bird) into the market in late 2014. This camera and setup is ideal for monitoring home or office setups and or keeping an extra "eye" on your belongings while you are on vacation (the recordings are viewable remotely via a website – see below for more details). The cameras can be setup both indoors or outdoors (the camera's are weatherproof).
Disclaimer: I am a NETGEAR Ambassador and I received this product in exchange for my honest, unbiased opinion and review.
Besides being durable to the elements, they don't require any wires (just your internet connection – the camera's have a range up to 300 feet line of site). These little camera's are quite powerful. They record in High Definition in either full color or black and white and they have night vision capability. All these are very useful features but what really sets this camera apart is the back-end – which is accessed via an online profile. From here you can set your account to send you email notifications with any recorded movement and it stores prior activity for review at your leisure.
Setup:
One can quickly get this product working with very little technical knowledge needed – it can be working in just a few minutes, the setup is that easy. It involves several simple steps. With a router already installed for our home Internet connection all we had to do was plug in the included Ethernet cable to both the Arlo Base unit (hopefully the base unit will be smaller in future versions) and an open port on the back of our Internet router. The synching process of tying in the cameras with the base unit is easy – involving just the pressing of a synch button on the base unit simultaneously with an equivalent button on each camera.
Viewing:
Netgear has created an easy-to-use backend system for customers who own an Arlo. Simply setup an account with a login and password and once logged in you can view a variety of options showing various footage from the camera including archived footage stored from previous days.
This system can be purchased here