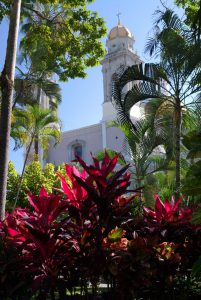 Plaza Principal is the site of several neat attractions. As I walked through this part of town, I was struck by how clean the streets and sidewalks were. This plaza is surrounded by the Liberty Garden which has many painted white iron benches to sit on. On the outside of the plaza are shops and commercial businesses. There aren't a lot of touristy type shops, as you would find in certain places elsewhere in Mexico. There are a few local handicraft shops. Some of the paintings are quite good, and relatively inexpensive.
In this plaza you will find the large Cathedral, named the Santa Iglesia . It is located on the east side of this plaza. It was originally constructed on its present day site in 1527 but due to the many earthquakes since, the current building dates from 1941.
If you have a look next to the church you will see the Palacio de Gobierno , which was built between 1884 and 1904. Take a look at the murals on the stairway in this building. They show scenes of Mexican history after the Spanish conquest. Miguel Hidalgo was once a parish priest here.
As you work you way around the plaza, don't miss the Museo de Historio de Colima . Inside this museum you will find many ceramic vessels and pots, as well as lots of different figurines. All this figurines were discovered in the state of Colima. Note: this museum is open from Tuesday through Sunday from 10am until 2pm and then again from 4pm until 8pm. Check out the neat stamp collection that is located here. Admission is FREE. For more information call PHONE NUMBER (331) 2-9228.
If you wander through this museum, don't forget to visit the changing art exhibits next door at the University building. Admission is also FREE and the hours of admission are the same as the Museum.
A few blocks away from the main plaza (several minutes walking distance) is the Hidalgo Theatre . It is located on the corner of Degollado and Independencia and was built between 1871 and 1883. The land that it currently sits on was originally donated to the city by Miguel Hidalgo. The earthquakes of 1932 and 1941 did a lot of damage this building so most of what you see today dates from after the 1941 earthquake. There are several small churches near this theatre. When I was there, I saw several small Mexican weddings. Saturdays are a great day to sit on a bench outside churches and watch local weddings.
Casa de Cultura is located at Calzada Glavan at Ejercito Nacional, about a half mile north east of the main plaza. This building contains art displays, has art schools, and is the home to a theatre. This theatre seats about 800 people. The grounds are nicely landscaped. There is a small cafe on the ground floor of "the workshops building" which is located near the theatre. A good place to visit before visiting this center, is the tourism office located in the main plaza. They can give you times and schedule information of the exhibits and the theatre performances. You can also call this center at PHONE NUMBER 2 31 55. The main building in this center is open every day from 9am until 9pm.
The main art display at this Cultural Center is the Museum of Western Cultures. This museum displays literally hundreds of figurines and ceramics that date before the arrival of the Spanish in Mexico. These objects are all from the State of Colima. The explanations are all in Spanish. If you do not understand Spanish bring a translator! This museum is open Tuesday through Sunday from 9am until 7pm. Admission is FREE.
The main art exhibit features Colima's famous modernistic painter Alfonso Michel. Sometimes other art exhibits are also featured here.
University Museum of Popular Cultures is located in the Instituto Universitario de Bellas Artes, which is on the corner of 27 de Septiembre and Manuel Gallaro. This location is a little over 1/2 mile north of the main plaza. This museum contains folk art from the state of Colima as well as masks, musical instruments, furniture, and ceramics. They are open Monday through Saturday from 9am until 2pm, and then again from 4pm to 7pm. They are open holidays from 9am until 2pm, and they are closed on Sunday. Admission is FREE of charge.
Lastly, be sure to check out the display about reproducing ancient Colima figurines. There also is a small store at the museum where you can purchase modern day crafts from around the state of Colima.
There are several nice parks in the city of Colima
Parque Regional Metropolitano is located on Degollado, several blocks south west of the main plaza. This park contains a small zoo, a swimming pool, an indoor theatre, and a small lake where you can rent boat and row around to your heart's content.
Another neat park is the Parque PIedra Lisa , just east of the main center of town. In this park you will find the famous "sliding stone" of Colima. Legend has it, that if you slide down this stone you will be destined to return to Colima someday.