Santa Monica is a fairly wealthy community located along the Pacific Ocean west of Los Angeles. The 10 freeway ends in Santa Monica and is the main freeway leading to this city from Los Angeles. PCH or Highway 1 runs along the western part of Santa Monica bordering the ocean.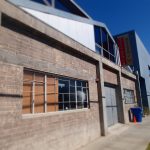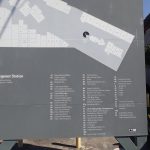 Bergamot Station is located in Santa Monica on site of one of the original Red Line Trolley stops (back when public transportation within Los Angeles was served by trolley cars). This was one of the stops that served between Los Angeles and Santa Monica. Today the station is composed of over 40 galleries and art and design forms – all of which are open to the public without admission. This is an 8 acre site and is Southern California's largest gallery complex.
The works focus on modern genres of art however some galleries display more traditional paintings (realism). Each gallery has its own curator – some of the artists are extremely talented. During a recent visit we were introduced to the incredible works of Dario Campanile (www.campanilefineart.com)- who was showing a number of real life looking paintings of fruit. His watermelon paintings are so vivid and real, you almost want to reach out and take a bite of one of them!
A large parking lot is located in the center of the complex (parking is also available on side streets). A stop here is an excellent way to visit a number of galleries without having to drive all over town – and unlike a museum, the works of art displayed are for sale.
A cafe is on site as well as the Santa Monica Museum of Art (not much bigger than most of the galleries). Bergamot Station is located right off the 10 Freeway. Visit: www.bergamotstation.com

The famous Santa Monica Pier is located near the end of the 10 freeway in Santa Monica (with good traffic this is about 20-30 minutes from downtown LA. You can park next to the pier in a large parking lot or on the Pier Deck. Parking is $15 max, no turn arounds, cash only. During the summer months the pier and vicinity can be overwhelmingly crowded at times – including the beach-side parking lot.
This is an "entertainment" pier and certainly one of the icons associated with Los Angeles – you can walk onto the pier for free and visit the souvenir shops. Admission is charged for any of the number of rides including the Carousel & Ferris wheel. The Santa Monica pier has appeared in a number of movies and TV shows. Its fairly close proximity to Hollywood helps in this regard. For more information visit: www.santamonicapier.org or www.pacpark.com
Note: The Santa Monica Pier celebrated its 100th Anniversary on September 9, 2009 with a huge birthday bash that was certainly infused with celebrities!
Review current and historical pier photos here: www.flickr.com/photos/39704044@N02
Santa Monica Aquarium is located at the base of the world famous Santa Monica pier. The aquarium is tiny but it makes up for lack of space in quality of exhibits and some might say, more importantly in the quality of education offered here. Docents and volunteers are on site – and are excellent resources for more in depth information about the aquatic exhibits. The aquarium only displays underwater creatures that live in the Santa Monica Bay.
A highlight of a visit is the large tank (2,200 gallons) which only contains animals that live directly below the Santa Monica Pier. The touch tanks are very popular with children – a volunteer keeps an eye out to make sure the touching is gentle. Other exhibits include live specimens of California coastal seahorses, sharks and rays as well as underwater animals that live in various unique habitats.
Closed Sundays – afternoon hours vary on Saturday and weekdays. Check the website for the latest details: www.healthebay.org/santa-monica-pier-aquarium
Also view:
Third Street Promenade is also well worth visiting for its upscale shopping and unique street entertainers. Third Street is closed to traffic which makes this a great walking district. It is also located mere minutes away from the beaches. The Promenade got its start in the 1960's as a three block open air shopping district. It has evolved significantly since then to house many name brand shops.
Photo to right: the Third Street Promenade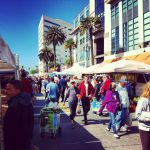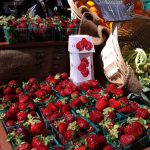 Santa Monica Farmer's Market is the largest certified Farmer's market in the entire state of California! The original market was on Wednesday and opened in 1981. The Wednesday Market is located across multiple blocks and streets around the intersection of Arizona and Second Street in downtown Santa Monica – crossing over part of the 3rd Street Promenade (a well know shopping street). Today the market has expanded to four different locations, two downtown spots on Sundays and on Wednesday and Saturday. Parking is near the entrance to the market on Second Street – several parking garages operate within a very short walk of the market.
Unlike a number of Farmer's Markets in the region, the Wednesday market focuses almost entirely on produce – vegetables and fruit. It is not uncommon to see large bags or carts being wheeled through this market, stacked high with fresh produce. A number of local chefs use the market to source fresh products for their kitchen. Other Farmer's markets tend to be cheaper in the Los Angeles metro region but few come close to the sheer number of vendors represented here. For more information visit: www.smgov.net/portals/farmersmarket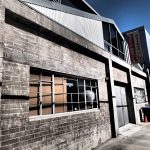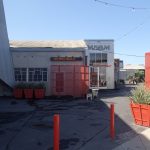 Santa Monica Museum of Art is located at Bergamot Station (Southern California's largest complex of art galleries) – it is a very small museum – similar in size to several of the larger galleries in this artists' enclave. Three main rooms show a variety of unique artwork. During a recent visit we witnessed one piece of artwork that was attracting flies (first time we've seen in this in the hundreds of art museums we have visited) – a watermelon on the 'decline' was stabbed through with a pole; it was part of a larger exhibit.
The focus of the museum is to display modern art, regardless of origin. Their gift shop is quite unique – it contains a number of unusual artsy novelty items. You can't miss the entrance to this museum – a 1990 Mercedes Benz has taken on a new life. It is now home to a number of plants growing out of the seats as well as where the engine used to be located!
A cafe is located on site. The museum is easily reached – as its just a minute or two off of the 10 Freeway. Visit: www.smmoa.org

Santa Monica Museum of Flying
is located across from the Santa Monica Airport – you know your in the right place when you see the building with the head of a Fed Ex Express jet sticking out the front! The museum features nearly 22,000 square feet of indoor space with 20+ planes on display. Several planes are also located outside the museum including a beautiful Blue Angeles plane. Outdoor displays focus on Douglas Aircraft Corporation and its founder, Donald Douglas Aircraft – their operations were headquartered in Santa Monica for a number of years.
We have been here but have yet to review the actual museum. Stay posted for and updated review coming soon!
Visit: www.museumofflying.com
Restaurants
For an interesting and expensive dining experience regardless of whether you are Vegetarian or not, visit Juliano's Raw Planet Restaurant located at 609 Broadway in Santa Monica. You won't find dishes like these in most restaurants – all food is completely served raw and the owner Juliano has not eaten cooked food since he was 19. His restaurant is often visited by major Hollywood Stars looking for a different kind of diet. Some good salads, very interesting drinks and unique appetizers. Indoor and outdoor dining – service was very slow when we ate here. Visit: www.planetraw.com or Phone (310) 587-1552.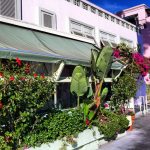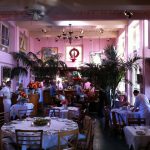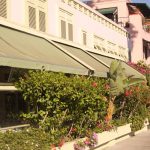 Ivy at the Shore is located at 1535 Ocean Ave in Santa Monica about 1/2 block down from the famed Santa Monica Pier. Valet parking is located next door – this is necessary at times especially on crowded summer weekends. Alternative parking can be "downstairs" on the beach – but this is about a 10 minute walk to the restaurant. During a recent visit we stuck with seafood and a "Santa Barbara" theme opting for the Santa Barbara crab salad – wonderfully prepared and a main entre of a Santa Barbara Sea Bass. Good flavor. Plenty of grilled items are available on the menu – both seafood and meat. Also some very nice salads. Indoor as well as outdoor protected from the sidewalk as well as shaded seating. For more information visit: www.theivyrestaurants.com/ivy-at-the-shore