Pasadena is a sizable city located at the foot of the San Gabriel Mountains. You may have heard the popular 60's pop song, The Little Old Lady from Pasadena recorded by Jan and Dean…a classic that can still be enjoyed today especially with the windows rolled down driving down Colorado Blvd or part of the 210 or 134 Freeways! The city enjoys a high standard of living – it was founded when wealthy East Coaster's would build "winter" homes and retire here for the warmer weather. Colorado Blvd is the heart of the "old town" and is where most of the shopping and restaurants are located. There are several parking garages within walking distance of old town.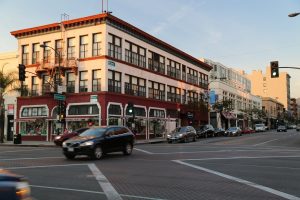 It is also easy to take the metro to Pasadena – the LA metro's gold line has several stops in the Pasadena area. Pasadena is home to two world class museums located minutes apart, the Huntington and the Norton Simon. Pasadena is also famous for hosting the annual January 1st Tournament of Roses Parade. The first parade dates from 1890 and was formed to show those living in "cold weather" just how nice the Pasadena weather was in the middle of winter. Today this parade is a widely televised event and seats are highly coveted.
The prestigious science math & engineering university Cal Tech is also located in Pasadena.
Visit our LA Universities page for more details & photos. When in Pasadena you should also visit Old town Pasadena. This is a unique upscale shopping district centered around Colorado Blvd just a few blocks down from the Norton Simon Museum. Tiffany's even has a store here. Visit: www.oldpasadena.org

Dave's Recommended Pasadena Hotel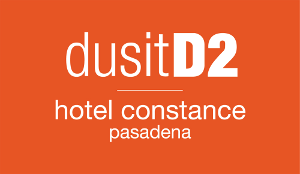 Hotel Constance is was founded as the only North American hotel part of the Dusit Thani Group of hotels (no longer associated with Dusit). This is Pasadena's only boutique hotel; it opened in 2014 on Colorado Blvd after undergoing a major renovation. Today the hotel combines an element of historical elegance with a flair of contemporary chic. The hotel is located in a historic building with easy access to nearby shopping including art galleries, museums and restaurants. While Pasadena may seem far from Los Angeles, in reality the hotel is less then 10 miles from downtown Los Angeles. And with Uber discount cards available at the front desk, you don't even need to worry about driving in the self titled, "city of the car".
Service is a pleasing and integral part of a stay here – we found the staff extremely friendly and attentive to our needs. Just one example: we walked out with an ice chest full of drinks and one of the staff immediately asked if we needed ice, took the ice chest and filled it up for us. Parking is easy, a pullout curb space is located next to the entrance and valet attendants will park and return your vehicle within minutes as needed.
The founder of this hotel is a prolific traveler and he wanted to create a room that is comfortable and well setup for travelers. In this regard he made sure the Internet is fast and works throughout the hotel (we tested this first thing upon our arrival!) and a desk for laptop plugin features multiple outlets. Comfortable beds are extremely important for travelers and played a critical role in his decision to use quality mattresses. And the toilets. It is so unusual to find user friendly toilets with advanced features outside of Asia and certainly quite unusual in the United States. These toilets have heated seats and a remote control attached to the wall for controlling strategically placed water sprays.
And this is not the only control in the room – an iPad sits next to your bed and you can control lighting and temperature without having to get up to find the various other controls within the room.
Cool factor: not only is the hotel and restaurant cool but they feature California's only licensed Tuk Tuk vehicle for road use – guests can use this unique vehicle to reach destinations in and around Pasadena. And it is Los Angeles so chances are there will be something cool happening in and around Pasadena during your stay including performances from the Pasadena Symphony and Pops and often racing events at the nearby Santa Anita Park.
And the first floor is the place to be in the evenings. Perry's restaurant features innovative California Asia fusion flavors and dishes – carefully prepared by chef Claud Beltran (long time Los Angeles based chef who trained under noted chef Thomas Keller). And the next door BluRoom Cocktail Lounge is a great place to relax while enjoying a variety of drinks (including their signature blublossom) and meet other travelers and locals.
ATTRACTIONS
Arlington Garden
Sometimes you need a break from the 210 or the 134 and you decide to pull off into Pasadena seeking a respite from the traffic and chaos of urban congestion. That place is the 3-acre Arlington Garden oasis located at 275 Arlington Dr in Pasadena. Free parking is curbside on Arlington Drive or on nearby residential streets. This free public garden (the only one in Pasadena) contains a number of short pathways winding through a variety of Mediterranean vegetation.
This site used to house the Durand Mansion – and was later used to store construction equipment for the 710 freeway expansion in the mid 1960's. The garden is more recent; it dates from 2005 when the first plants were introduced here. The focus is on plants that are drought resistent – vegetation that aren't highly water dependent.
Visitors who enter from the Pasadena Drive side will do so through a small grove of citrus trees. Highlights include the silence – which when accompanied by one of the benches creates an idylic setting for whittling away an hour or more with a good book. Other highlights are the Arlington Garden Labyrinth and the massive 'pepper' tree next to it (the largest pepper tree we have ever seen).
Open daily year round during daylight hours. For more information, visit: www.arlingtongardenpasadena.com
Gamble House is located in old Pasadena not too far from the Rose Bowl at 4 Westmoreland Place (you can look down the hill and see the Rose Bowl from the 2nd floor). This house was built by two local architects (the Green brothers) in 1908 for David and Mary Gamble (yes of the Procter Gamble company) and is one of the beset preserved examples of Craftsman-style architecture in Pasadena. The house is extremely well preserved. Tours times are somewhat limited so plan ahead. Tours are offered every 20 or 30 minutes only from 12-3pm Thursday-Sunday. This part of Pasadena is the old "Millionaires Row" where wealthy folks from back East would come to spend their winters in this very mild climate.
The general tour takes about 1 hour and includes seeing the first and second floors as well as the attic. The woodwork inside is excellent and the Gambles placed a lot of attention to detail in the design of this house. The house is wired with electricity but the maximum wattage light bulb in 1908 was 15 watts, as a result the house is still dimly lit. The Gambles took a trip to Japan and returned with a number of items – both Western and Asian art have influenced the decorations.
The house itself is a National Historic landmark and is operated by the University of Southern California (USC). Two lucky architecture students are chosen each year to live in the house for one year. Movie trivia time – did you know that a scene in the movie, Back to the Future was filmed on the property. The original garage which is now the bookstore appeared in that movie. The house cost about $50,000 to build at the time – to put that into perspective a middle class family home at that time was about $1500! Heck the small garage cost $3700 to build.
Visit: https://gamblehouse.org
Jet Propulsion Laboratory (JPL) is located in the hills just east of Pasadena and its recent fame comes from the fact that it is headquarters for the rovers currently roaming the harsh landscapes of Mars. This is a working laboratory environment and the free tour typically takes 2.5 hours. As of press time they are scheduled on a Monday or Wednesday and because of their popularity you should reserve well in advance (up to a month). Part of the reason for the advance reservation is you also must pass their security clearance – government issued photo ID's are required to enter JPL and go on the tour. JPL is a part of NASA (The National Aeronautics and Space Administration), but is the only branch of NASA that is managed and operated by a University (Caltech). Their early beginnings were in fact a student project dealing with rockets. Today this is the branch of NASA that deals with robotics and unmanned missions.
Tours usually have 15 to 20 people – once you pass through the security checkpoint, head to the parking lot and then walk to the main visitor center office where you will meet your tour guide. We've been here several times and each time we always saw several kids dressed up in full space suits! A small gift shop sells JPL and other NASA related souvenirs. While you are waiting use one of the several interactive computer stations to view photos and videos from previous and current missions. An inspirational film about JPL and their past projects will be shown. At the time of our visit, appropriately Harrison Ford is the narrator.
A major highlight on the tour is the mission control room with its bank of computers and large screens providing data from various missions. Another highlight is the clean room where robots and rovers are constructed. From a viewing platform you look down on people dressed in white suits working on various components and stages of rovers, robots and circuitry. At the time of our last visit, engineers were building another rover to send to Mars – we saw the model for this one…its the size of a car with huge wheels! Visit: www.jpl.nasa.gov
Pasadena Art Weekend is three days of events that include ArtNight, ArtTalk, and ArtMart. It is a joint venture with the City of Pasadena Cultural Affairs with the Arts & Culture Commission, Pasadena Convention Center & Visitors Bureau, One Colorado and The Playhouse District to promote the many cultural opportunities within the city of Pasadena. For more info visit: www.pasadenaartweekend.com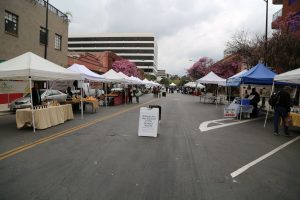 Old Town Pasadena Farmers' Market is located on a long block of E Holly Street right where it meets N. Fair Oaks a few minutes from the tangles mess of where the 210 and 134 Freeways intersect. The market is open every Sunday from 9-2pm. Metered parking is free before 11am. There are several parking garages in the vicinity which provide the first 90 minutes for free and the Metro Gold Line – Memorial Park Station is located only a block away. This is a great part of Pasadena and centrally located.
During a recent visit a fairly sparse number of vendors were scattered about on both sides of this block – the block was in no way full of vendors. The market was a bit smaller than anticipated. Only several fruit and veggie vendors were available along with several food vendors. Besides the vendors, very market also features live music – usually starting around 11am. Market Size: Small

Pasadena Rose Bowl Olde Tyme Fleamarket
is held monthly all year on the second sunday of each month. Several thousand vendors come here from all over Southern California and beyond in some cases to sell a wide diversity of items. This is not your average flea market – first in regards to its huge size, but second in regards to the quality of items sold here.
The market wraps around the Rose Bowl and extends off in several directions. One section is devoted to arts and crafts – including some very unique collectible items as well as ceramics, photography and other artistic products. Vintage is a big part of the market – including era decorations (with a little time spent here, one can shop by decade!) as well as an excellent selection of various clothing. Can vintage meet hipster? Yes, it can at the Pasadena Rose Bowl Flea Market! Shopping for props or set decorations – this is the market for you.
There are thousands of parking spots the encircle the stadium and beyond (on flat grassy areas). You can easily be sucked in by paid parking closer to the stadium – but there is plenty of free parking in the surrounding lots. There is even parking on the shoulder on the west side of Western Ave (a bit of a walk, but not to bad). There is only one entrance to the flea market and that is in the front of the stadium under the famous "Rose Bowl" sign.
You can exit at several exits around the flea market but if you plan to return be sure to get your hand stamped for re-entry. Admission starts at 7am – often these are serious or local buyers looking to beat the crowds and find some rarer items before they are sold. Admission varies by a few dollars between 7 and 8am and 8am and 9am. The market generally closes by 3pm although people can stay and still purchase items until 430pm.
For more information visit: www.rgcshows.com/rosebowl.aspx
Rose Bowl is located at 1001 Rose Bowl Drive, not far off the 210 Freeway. Directions to this historical location are well signed from all major intersections. The Rose Bowl dates to 1922 and is most famous for serving as home to the Rose Bowl College Football game every January 1st. Unfortunately access is limited during non events so you can only see the stadium through the tall metal gates in front.
Be sure to incorporate the rose bushes in the front of the stadium in your photos! A grass lawn near the parking lot is a popular spot for playing soccer. Check out the huge Rose Bowl Flea Market every 2nd Sunday of Month.
Storrier Stearns Gardens
This tranquil nearly two acre property is surrounded by residential neighborhoods. The garden is named after the property owner, Charles Storrier Stearns – he commissioned Japanese designer Kinzuchi Fujii who designed and built the gardens over a span of 5 years from 1935 until 1940. Fujii designed and built a number of Southern California gardens but this is his only remaining garden (one that he considered to be his finest work). The garden had fallen into hard times in later years – it was fully restored between 2007 and 2013.
The centerpiece of the garden is a a twelve tatami mat tea-house (the original one burned down in 1981). Visitors are kindly requested to remove their shoes before entering this tranquil space. Other noteworthy features are two connecting ponds and a 25-foot hill with cascading waterfall.
The property is privately owned – visiting hours are quite limited. The garden is open to the public only on Thursdays from 10am until 4pm and on the second and last Sunday of each month. Visitor's must pull into their short driveway and park in their tiny gravel parking space. For more information visit: www.japanesegardenpasadena.com
MUSEUMS
We have reviewed several museums in Pasadena including the following:
Fenyes Mansion
Huntington Library
Norton Simon Museum
Pasadena History Museum
Pacific Asia Museum
Pasadena Art Museum
Please visit and reference these museums on our main Los Angeles Museums page here

SHOPPING
Paseo Colorado is a destination shopping center located along Colorado Blvd in the heart of Old Town Pasadena. This mall is anchored by Macy's and the upscale Gelson's grocery store and features a number of clothing and specialty shops as well as National chain restaurants.
The mall borders Colorado Blvd so some of the shops are actually on the main street while many of the shops are within the actual mall itself. Three parking garages service the mall including the main garage right on Colorado Blvd located under the mall.
Be sure to validate your parking ticket before you leave using any of the machines in the garage – with a validation 90 minutes of parking is free. Visit: www.paseocoloradopasadena.com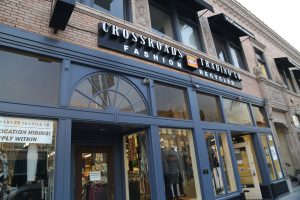 Crossroads Trading Co is a real find – in their same location for years, they are at 104 E Colorado Blvd in the heart of Old Town Pasadena. This is not their only store – they maintain stores across the United States with a number of other outlets in both Southern and Northern California. This store is sizable and features extremely good prices for both new and used clothing – including shoes.
You never know what will be in stock when you walk in as the selection changes daily – dramatically at times depending on clientel and those selling items to the store. Sells both men and women's clothing – including some name brand items – at significantly lower costs compared to if you would purchased these at traditional clothing stores. Clothing is also seperated into sizes – although what you see if what you get – if you find something you must have but its not in your size – you will typically be out of luck to find the same piece in your exact size. Check each piece of clothing carefully to make sure there isn't any damage.
Parking can be a bit tight in this part of town and you may need to either park at a garage within (several within a few blocks walk or try to find parking on side streets, also within a few blocks walk). Visit: www.crossroadstrading.com/location/pasadena-e-colorado-blvd