Most of the accommodation closest to Mt. Rainier is in the very small town of Ashford which is just outside of the National Park entrance and is considered the "gateway to Rainier". A general Washington State accommodation guide can be found here: www.stayinwashington.com
The following are select hotels and motels in Ashford.
Camping – There are a variety of camping options inside the park – more information here: www.nps.gov/mora/recreation/camping.htm
Almost Paradise offers private lodging and cabins. Visit: www.almostparadiselodging.com
The rustic Copper Creek Inn includes the main lodge as well as log cabin accommodations. Visit: www.coppercreekinn.com
Deep Forest Cabins consist of 3 cabins located on a private lane. Visit: www.deepforestcabins.com
Deja-U is a low key A frame cabin in the woods. Secluded and very private. Visit: www.deja-u.com
Jasmer's Rainier Cabins is located right next to Whittakers (see below) and various cabins are in different locations all over town. They offer private cabins, vacation rentals and fireplace rooms just outside the main entrance to Mt Rainier National Park in Ashford, WA. Creek Frontage, Fireplaces, Private Hot tubs, Wireless and Telephones A Classic Mt Rainier Lodging Experience!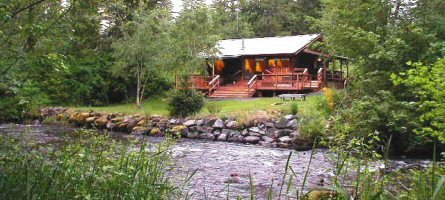 Visit: www.jasmers.com
Mount Haven offers cabins and RV parking only 1/2 mile from the main Rainier entrance near Ashford. The property is located near two creeks and a pond. Visit: www.mounthaven.com
Mountain Meadows Inn is located close to Whittakers Bunkhouse and is a B&B. They have an outdoor garden spa. Visit: www.mountainmeadowsinn.com
Three Bears Lodge offers seven beautiful cabins. They can accommodate parties of varying size, and always go out of their way to spoil their customers. Visit: www.threebearslodge.net
Westwood Chalet offers cabin rentals in Ashford. Visit: www.westwoodchalet.com
Whittakers Bunkhouse is part of the Whittaker Complex which includes the Mountaineering store, the rental shop, outdoor climbing walls and the restaurant. Many of the clients on the climbs stay here. Any mountaineer must make this a must stop. Good selection of mountaineering equipment in their store as well as a small visitor's center, computer with Internet access and a good selection of maps. Also check out all their Rainier souvenirs. www.whittakersbunkhouse.com
One of the outdoor Whittaker climbing walls and the Mountain House mountaineering gear shop