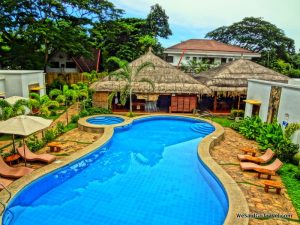 With 1,500 people a day arriving to see the sites in and around Puerto Princesa (Philippines), travelers need to know where to stay, what to eat, and where to visit. In the last twelve months, many new accommodation options have opened up including the boutique styled Acacia Tree Garden Hotel and Kamia Bay's lovely resort. Long time restaurant favorites such as Ka Inato and Kina Buch continue to delight tourists and locals alike with tasty Palawan food at reasonable prices. As far as what to do, the top billing in the Puerto Princesa area is the unique and captivating Underground River. However, lesser known gems are worth visiting just outside Puerto Princesa.
Lodging: Tucked along Manalo Extension located a five-minute drive from the airport is the chic boutique Acacia Tree Garden Hotel. Acacia Tree opened in October 2012. Twenty-five rooms are set around a pool. The lovely garden setting makes you feel miles away from any troubles or traffic. The hotel won the Best Budget Hotel in Palawan Golden Globe Award and has the largest room size in the area. For their upcoming one-year anniversary, a butterfly garden is being planned to add to the garden. Guests enjoy billiards, darts and board games in the communal area near the reception desk.
Each room is named after a local plant that grows outside the front door. The blinds are from Binuatan Creations, made at the local weaving station. Everything is carefully thought out and comfortable. Kenneth Cobonpue, a well-known international designer and resident of Cebu, for example, designed the chairs in the lobby.
Eateries: At the suggestion of Elizabeth Joy Tan, Acacia Tree Garden Hotel's operations manager, we went to Ka Inato, a local favorite located on Rizal Avenue. The Mga Sinugba orginal CHIX Inato Wing (with chicken breast on skewer) comes grilled with special sauce. We were also served chicken soup, a pyramid of rice and vegetables all for 105pesos ($2.50usd). We enjoyed the meal so much we dined there twice. We can also highly recommend Kina Buch, where diners eat under Palapas to enjoy international dishes such as Teriyaki chicken and curry vegetables.
Sites: Kamia Bay Resort is six months old and evolving quickly. Currently the property is an exclusive destination with snorkeling, scuba diving, jungle trekking, kayaking and delicious local food. By 2014, Kamia Bay Resort will be able to accommodate guests in their brand new villas.
Our scuba dive with Kamia Bay Scuba Diving with dive instructor, Raymond from Ray's Planet, was fantastic. We spotted a group of five lionfish clustered near a coral head and yet another one inside a barrel coral. We saw many types of soft corals, a large grouper, a lobster, shrimp and nearly a dozen lionfish. It was the first time George used a magnifying glass on a dive. He loved being able to closely examine the diverse soft coral that inhabits the area. The ocean water was a tad murky but we caught a glimpse of so many large schools of fish and healthy coral that we truly enjoyed our memorable forty-seven minute dive with a maximum depth of only forty feet.
We were treated to a gigantic lunch feast which included: king crab from the special secret farm, crispy baby crab, grilled fish and pork, an abet (jellyfish) and mango salad (an exotic Kamia Bay specialty), vegetables in bamboo leaf, and fresh fruits. Twenty-five percent of the food prepared at the restaurant is grown on the farm located within the Kamia Bay property.
After our feast, we kayaked, and snorkeled in the lagoon. Then we were taken on a jungle eco tour that included five stations: making fire from bamboo sticks, the herb garden, the rocks by the bay, a bamboo cave, and a visit to the farm where we sampled fresh sugar cane, and observed the vegetable garden, chicken coop, and coconut tree plantation. Our guide Rey was truly impressive, especially how he created fire in front of our eyes from scratch.
Kamia Bay Resort is situated in beautiful Binunsalian Bay (Turtle bay). The entire team was very friendly and we look forward to staying overnight one day after the new villas are constructed. While the Underground River and El Nido are drawing crowds to Puerto Princesa, Kamia Bay Resort is for the time being a hidden treasure.