Editor Intro: After fifteen months traveling around Asia, George and his wife Lisa were headed back to the United States. But before they left, the earthquake in Bohol, Philippines hit. They want to reassure everyone after the earthquake in Bohol that Panglao Island with the beach resorts are currently open for tourists. Some of the heritage churches were destroyed but most tourist operations including the Loboc River Cruise are back in operation.
—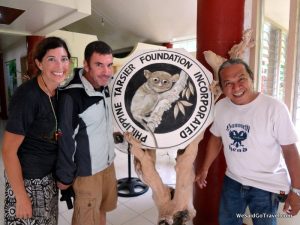 In Manila we lodged at the Remington Hotel located conveniently near Manila's international airport which helped us avoid the hectic traffic and we easily boarded our flight to Tagbilaran, the capital of Bohol Island. Ricky Tio and Rissa Gatdula-Lumontad at Cebu Holiday Tours organized our transfer and stay on the lovely island of Balicasag. Upon arrival, Manila's big city tension faded into a tranquil island vibe. We circumnavigated the entire island on foot in half an hour; during our stroll, young children enthusiastically waved and said "hello" as we passed by. One fisherman requested that I help him haul a boat to shore and taught me where to properly place myself.
Since no cars are present on Balicasag Island, the only noise we heard at Balicasag Island Dive Resort was wind rustling through the trees and waves lapping at the edge of the pretty white sand coastline. Balicasag Island Dive Resort's twenty rustic bungalows are spacious and equipped with basic yet sufficient amenities for most travelers. Other than amazing diving, the theme here is to relax, read, and rejuvenate. Both Joy who worked reception and the dive master Raul provided us plenty of information about aquatic life and the village community. At Balicasag Island Dive Resort restaurant, we sampled tasty fish and chicken adobo entrees as well as the signature Philippine dessert, Halo Halo.
In the morning we departed to dive the Black Forest after breakfast. Our "back entry roll" (a Scuba diving term for sitting and then falling backwards into the water to start a dive) immediately led us into a world of crystal clear water where we instantly saw the largest turtles we had ever seen, graceful giants munching upon sea grass and coral and then ascending to the surface for air. We dived with a half dozen turtles during our forty-seven minute dive. Colorful small fish, red lionfish and trumpet fish were also spotted in the waters that had seemingly infinitive visibility. The afternoon dive was also amazing as we swam among with a multitude of Jackfish at the marine sanctuary, where the dive master Arnold estimated that 1,000 Jackfish swam by us on the third pass. We ended the dive with a beautiful swim where we happened upon a black and green nudibrach, puffer fish, and "sweetlips" (fish characterized by big, fleshy lips) among a plethora of hard and soft corals. Arnold has been a dive master at the resort for over 25 years, practically since the resort opened in 1989.
After spending a lovely two nights at the Balicasag Island Dive Resort, we returned to Bohol's mainland where we joined a Bohol Countryside Tour by Travel Village and Tours. Our tour began at the Butterfly Center where we were introduced to a variety of butterfly species, but my wife Lisa seemed more fixated on the fact that our guide had twelve toes. We then visited the UNESCO Chocolate Hills, a site with 1,776 massive shaped Hershey's Kisses dotting a plain; it has been scientifically explained by its unique location but locals prefer the folklore tales that claim it was formed due to a giant that once cried due to the loss of his lover. There was no weeping during our visit but the sky opened up and heavy rain made it an unpleasant place to linger outside. Fortunately, we enjoyed a few minutes atop the lookout platform two hundred steps above the visitor's center before the rain commenced.
Our tour continued on the river with the Loboc lunch buffet cruise. The buffet consisted of a variety of Philippine dishes including chicken adobo, grilled fish, fresh fruit, salad and a custard style dessert. The rain flowed and ebbed as we slowly flowed down river as a musician performed 70s pop music classics. The river cruise was quite scenic and relaxing when the rain abated.
Back on land, we went to the Philippine Tarsier and Wildlife Sanctuary, the world's only sanctuary to protect this small, endangered nocturnal primate who eats primarily insects. The Tarsier has a long tail and can turn its head 180 degrees. They live up to 25 years in nature but in captivity they typically die within a couple of weeks by self-starvation or by smashing in the soft portion of their skulls. The tarsier appeared shy and Yoda-like with large protruding eyes.
Before we returned to the port to catch an evening boat to Cebu Island, we entered Baclayon Church, the oldest on Bohol that was constructed out of coral stone. Our entertaining and educational tour ended at the Black Compact Shrine where 500 years ago on March 25, 1565, the Spanish and Philippine people drank a wine blood mixture to commemorate the Treaty of Friendship. We arrived safely by boat on Cebu as night fell upon us.
For more detailed information about how to prepare to travel to and within the Philippines, refer to Rissa Gatdula-Lumontad's book, "Philippines: 100 Travel Tips." In addition, Ricky Tio at Cebu Holiday Tours can assist travelers with detailed information on where to stay and what to do once in the Philippines.