July 7 – Subject: Greetings from quiet Norway!
Shh… the first words we heard on the train from the airport to the city center were "please respect the quiet zone." And its been incredibly quiet ever since! A well known Norwegian painter once wrote that the beauty of the mountains moves him into silence. If that's the case then perhaps people will stop talking altogether once we drive into the mountains.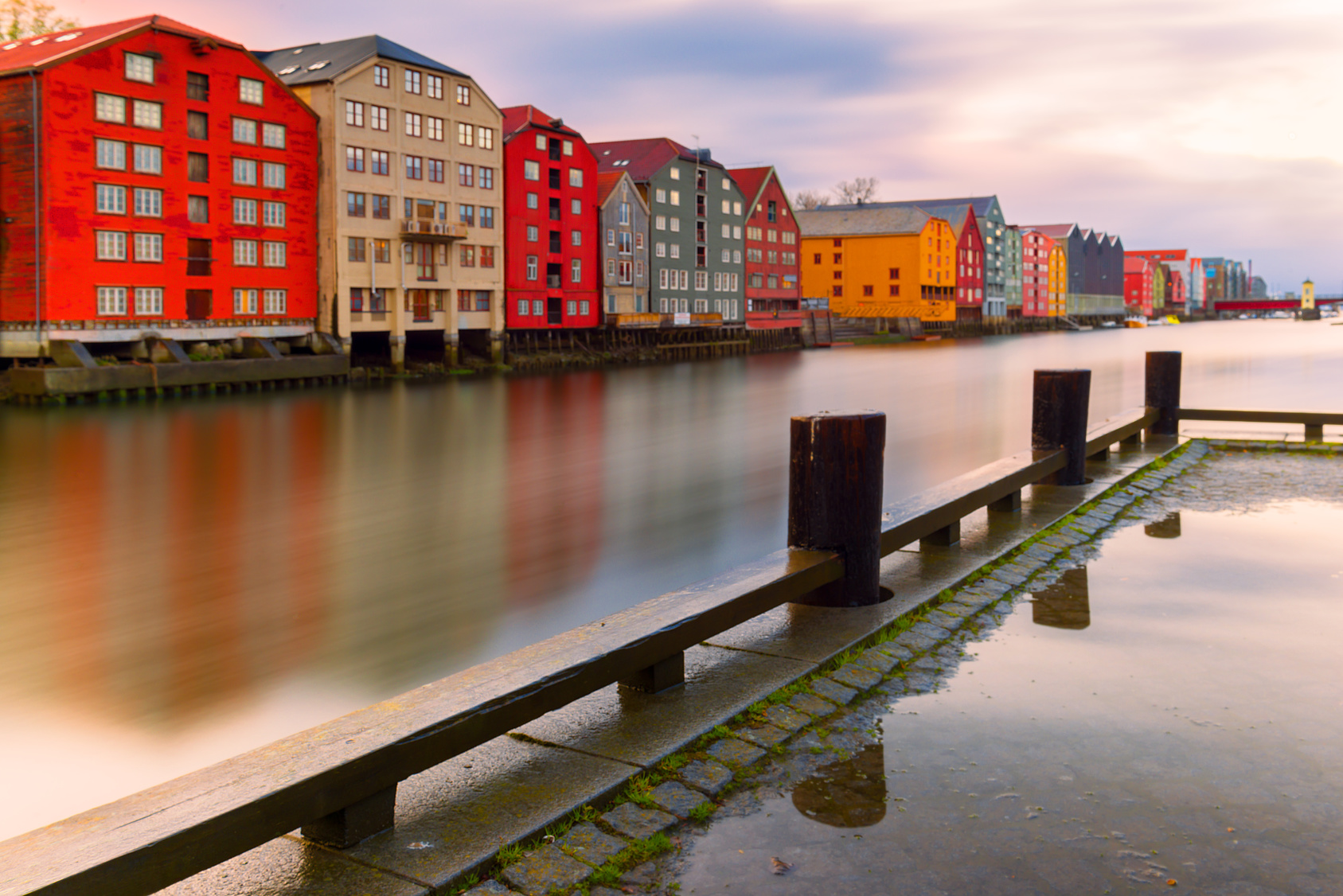 I always like to be keenly aware of cultural contrasts in my first few days in any new place, because it's often in the first introduction to a new place that I am most conscious of the differences. And silence is certainly a difference! Most restaurants and stores are without music. People speak softly. They even seem to drive softly! I can't help but contrast the noise, the honking, the vespas, and generally excitable Italians in places like Rome with the road side tranquility in Oslo. Truly, somehow they drive softly!
Another difference is the amazing amount of day light! The day evolves into dusk at 1 a.m. and brightens up again at 3 a.m. This makes for an incredibly LONG day of touring, as it's not easy to turn in when the sun is blazing!
And yet another difference is the ethnic segregation. I once read that Norway hasn`t embraced its diversity, and that is very apparent in the outdoor cafes. Walking along just one street I spot a cafe with ultra blond Norwegians, and the next cafe with dark skinned families and this pattern continues all the way down the road.
We just came back from a brief tour of the Radhus (aka: townhall) where the Nobel Peace prize is given out each year. Interestingly, Alfred Nobel was a Swede who donated his money to Norway to foment the growing tensions between Norway and Sweden prior to when the two countries split up. Also, interesting is the fact that Mr. Nobel was the inventor of dynamite!
Despite its recent claim to fame for giving out the Nobel Peace Prize, Norway has a long history of violence. During the Viking era, the Vikings conquered places as far away as Baghdad and Seville! In fact French Normandy has its name because the "north men" took it over.
I just found the latest religion in Norway! Just a few minutes ago I came across an old Church converted into a shopping mall!! I always suspected that shopping has been becoming the new religion in many places around the globe, but I have to congratulate the Norwegians for raising this global trend to the forefront of their religious identity. At least they aren't making any attempt to hide the new meaning in their life!
Today we visited the Edvard Munch museum. Mr. Munch is most famous for his painting titled "Scream" a portrayal of the anxiety, loneliness and isolation he felt from his own misery filled life. The painting depicts a quietly screaming man holding a mask to his face, while surrounded by people unaware of his pain. He took inspiration from Nietze and Freud and perhaps he foresaw Church shopping malls in the Norwegian future.
I hope you all are doing well!
July 9 – Subject: Greetings from frigid Norway!
Yesterday it poured all day and today it was cloudy all day with lots of drizzle. I've never been to Europe in the summer dressed in long pants and several layers of sweatshirts. My mom just loves it!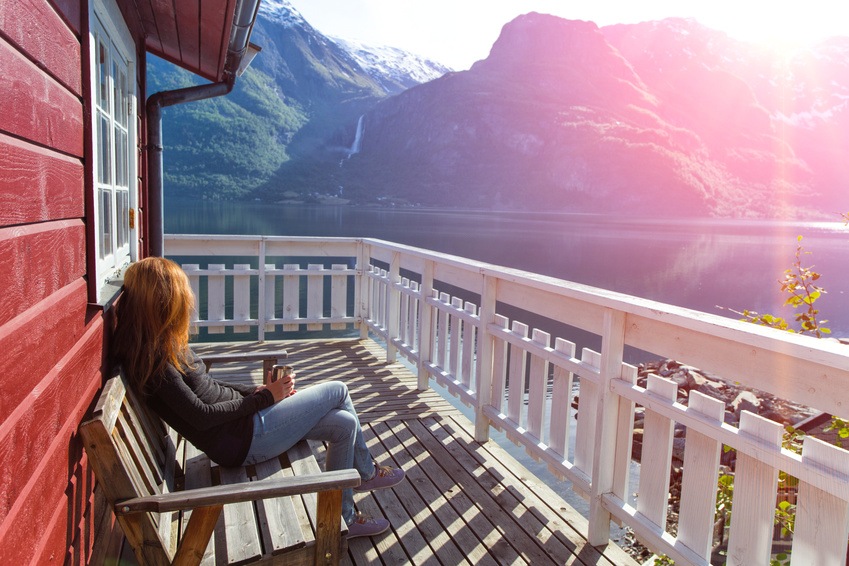 I think I discovered another reason for the excessive quietness of the people. Yesterday I visited an outdoor folk museum, with traditional old homes, sod roofs, and limited windows. I'd stop talking too out of the sheer dismalness of living in a little log cabin, with absolutely no sun for 9 months of the year, in below freezing temperatures, and just a few candles to light up the interior. I'm sure an experience like that isn't forgotten easily, even with the many modern conveniences that have taken over this country.
Somehow traveling through Oslo feels like traveling through any other westernized metropolis. This place is what I imagine one big Ikea to look like, with simple and cold furniture designs, and flat screens on the hotel walls and changing digital pictures to accompany the day`s mood. Its hard to find any individual cultural charm here. Everything is clean, trendy, efficient, quiet, and ultra modern.
Today we visited the Peace Center, a new museum dedicated to the lives of the many Nobel Peace Prize winners. I always find it amusing to point out the hypocrisies in human nature, and this museum made my observations quite easy. Henry Kissinger once received the Nobel prize for his dedicated work to securing peace in Vietnam, all the while bombing Laos and Cambodia to the point in which Laos holds the claim for being one of the most bombed countries in the world. And perhaps Le Duc Tho (northern Vietnamese leader) saw the hypocrisy, because he too received the Peace Prize the same year as Kissinger but he refused to accept it with Kissinger. Kissinger then went on to lead the horrific regime changes in Sth. America.
The Arafat, Peres, and Rabin trio also hold some dubious distinction for securing peace.
Enough travel musings for now. Tomorrow we are off to the mountains. We expect to enjoy roads and hair pin turns along steep cliffs that the guide books describe as "thrilling, and knuckle clenching."
I hope all is well across the big blue pond!
July 12 – Subject: Greetings from the Norwegian mountains
I just returned from an afternoon of herding sheep on top of the ends of the earth! I was surrounded by snowy mountain peaks, a wandering bird that ran along beside me, and sheep that refused to be herded. Alas, I was in the middle of nowhere and so there was no place to rent
a sheep dog.
My mom and I are making the best out of a gloomy situation. Today I took a picture of the sun hidden behind the clouds, just to verify that it still exists. When I see a patch of blue sky I call out in amazement because it's so damn colorful!
I'm intensely fascinated here by how the extremes in light must affect the Norwegians! I attribute their incredibly sluggish driving (50 mph max throughout the country) to either hybrid cars that lack acceleration power or sun deprived drivers! Driving out of Oslo I took to the Norwegian driving style, and laid my head back, half closed my eyes and cruised along, fully suspecting that some governmental authority would come sweeping down to save me if, heaven forbid, I ran into a rambling reindeer.
The Norwegian government is incredibly serving! This country is ranked as NUMBER 1 according to the UN Human Development Index, indicating that this is the world's most livable country. Education, income, and life expectancy are the criteria (certainly not the weather!). This country is also ranked according to the UN gender based Index as the most livable country in the world for women. They have 10 months of compulsory maternity leave and another year of job protection. The government even pays families for each child they have! Heck, I suppose something has to keep the Norwegians from a mass exodus to sunny southern lands!
Yes, its very true what the playwright Henry Ibsen wrote about his country: To know me you must know Norway. Perhaps due to the light deprivation Norwegians have extensive imaginations! This is the land of trolls, dragons, and elves! Perhaps on my walk yesterday, the charging cows across the river thought I was a troll that would turn to stone (as folklore has it) if the light of day touched me. Their imaginations were a perfect complement to Catholicism when it was introduced. As legend has it, St. Halvard, was risen to saintly status, when he saved a woman from an overzealous tribe of men. Angered, the men wrapped a millstone around Mr. Halvard's neck, and instead of sinking he floated. And thus we have St. Halvard, the saint of saints in Norway!
I must be grateful for this cloudy, rainy weather because it has forced me to slow down. I now begin the mornings with a good book in front of a cozy fire, looking outside at a raging river. I've kissed the guide books and their check list of scenic wonders goodbye. The never ending list of must see glaciers, must do hikes, unforgettable drives, seem to treat nature like a commodity nothing different than flying through the Louvre to capture the Mona Lisa while missing all the spectacular art along the way. So now it is my aim for the next few weeks to fully let the beauty of a walk along some unknown river and a glance at wandering sheep high in the mountains to sink fully into my bones' in a way that running through a check list of scenic wonders can never accomplish!
July 17 – Subject: Greetings from the Norwegian fjords!
Greetings friends from the Norwegian version of the Vietnamese Halong Bay!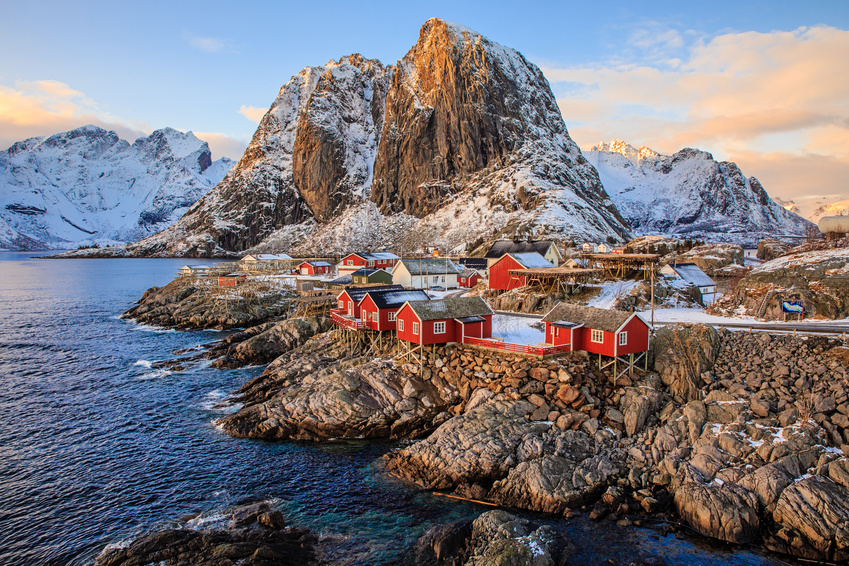 Perhaps that above line is a stretch but with the clouds and the rain, the mountains that jet up into the sky above the waters below do have an air of mystery just like the formations in Vietnam.
Right now we are hunkered down in our hotel library reading and writing, while the rain continues to pour. In my estimation, the Norwegians have a perverse sense of what is possible in the summer. The other day we were bundled up in our coats sipping hot chocolate in a lodge high up in the Jotunheimen mountains, when we witnessed two Norwegians walk out into the 30 degree Farenheit weather and dive into the lake, and swim about amidst glaciers and snow! The other oddity is the way they dry their clothes on outdoor lines while it rains! Perhaps I am mistaken and they are really washing their clothes, not drying them!
Despite the weather we are having a good time, and a particularly thrilling time on the roads! The main routes barely fit two way traffic and the lesser traveled roads are clearly for one-way traffic even though they function for all directions. The other day my mom drove into a tunnel fit for one car and she came to a screeching halt because she couldn't see. Lo and behold she had her sunglasses on.
I'm not sure what we'd do, though, if we happened on traffic coming towards us in those tunnels. So far we just have to keep an eye out for goats wandering through those tunnels.
Norway does not feel like the Europe I know! We have yet to stumble upon a charming, quintessentially European town in the mountains with cobbled streets, outdoor plazas, and old men dressed in suits drinking coffee and playing cards. Homes are scattered far a part on hillsides and as far as I can tell there is no common gathering area.
Another difference between the other 10 European countries I have visited is the lack of smog!!!!! For this very reason I highly recommend Norway WAY over the Swiss Alps, the Italian dolomites and lake country, the Austrian Alps, and any other mountainous place… Locals in those countries always blamed the foggy views on the "mist" that somehow emanates from high mountains and clouds, but lord knows we've seen lots of clouds here but the sharpness in clarity when the clouds are high is amazing! And there is no major industry in this country to pollute the valleys. I'm sure the coastal breezes help too.
Despite periods of rain and clouds we have stumbled upon spectacular, awe-inspiring beauty. When the sun comes out, our black and white world turns to color. The very landscapes we traversed a number of times catch our attention as though we are seeing them for the very first time. The shades of green on the rocky mountains sparkle, the snow is brilliant and the glacial water turns a deep turquoise.
On these days, I wander high into the mountains intermittently pausing to take in the fjords below while walking with the goats and sheep. I am struck by how different the beauty here is from the landscapes I know at home. When my eyes fall upon new beauty – new forms and combinations of colors – something happens inside me. In addition to stimulated senses I am drawn inward and outwards at the same time. I turn inward in contemplation while also losing myself to the presence of something more – a more not beyond what is visible but a "something more" within the very heart of what I see before me.

When I let myself be touched by this presence, its impossible to be distracted by the minute details and concerns of daily life. This is one of the reasons I travel – for perspective on life. Each time the feel of a new place settles inside me, my eyes open a little wider. And I bring these experiences with me for perspective when I return home to my small corner of the world.
Thank you all for your notes from your respective corners of the globe!
July 24 – Subject: Back in the heart of the fjords!
Both my Mom and I were missing the quintessential European flavor of the southern lands so we were just about ready to hop on a flight to Spain and take in my former home away from home in Salamanca for our last week, but we found Bergen just in the nick of time!
Bergen is a seaside city, known to be the wettest place in Europe! A tourist once asked a native if it always rains, and he responded that he's only 13, so he can't really say. Fortunately, we had 3 days of perfect weather. We filled these days right up with swimming in the Fjords, reading and cappuccino sipping in charming cafes, and hikes high above Bergen.
We are now in the delightfully remote town of Eidfjord snuggled at the very end of a fjord, and surrounded by mountains. On this trip I have discovered a number of beautiful perches high above rivers and valleys below. As I sit in solitude and silence and surrounded by so much beauty, I yearn to describe the place. But without the gift of endless time, the feel of these places has yet to crystallize into words.
Perhaps the lemur-like tourists, huddled in crowds, snapping endless pictures around every bend are also trying to capture the beauty, but in a different way. When we tell tourists we meet that we are spending our entire 3 week vacation in one country, they stare at us blankly. These are the "Norway in a Nutshell" crowd. They plan 3 days for the country, one for the fjords, one for a city, and one for a train trip.
I always come across some anti-American sentiment during my travels, and this time I found it on a t-shirt disguised as a weather forecast of the United States. The shirt began with "The weather forecast is…" and below it was a map of the US with the word "shitty" written multiple times over every region of the country.
Regardless of this mans sentiments of the US, I do agree that we could learn a bit about government from the Norwegians. In addition to having the highest standard of living in the world, there appears to be no police presence! Unlike every European country we visit where our passport information is passed on to the local police station at each hotel we arrive in, we have never once been asked for passports! And we have yet to see the police. When our last hotel was robbed, and the thieves were making their getaway, the police told the owner to call back on Monday!
We had one of our infamous European alleyway moments yesterday, when we drove through a cobbled neighborhood with only a half inch to spare on either side, between the construction on the left and a parked car on the right. There were also a horde of 50 French tourists on bikes directly in front of us, blocked from going further, engrossed in our misfortune.
Ciao amici! I hope all is well in your respective corners of the world!
Elizabeth