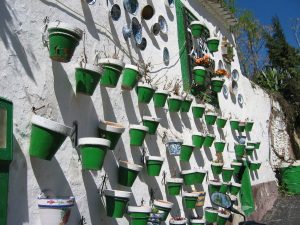 Do you want to add exciting, motivating, and beautiful experiences to your life?
Go to Spain!!! With my resourceful wife, Dana May, we lived in Spain for a year. We chose to make our home base an apartment in Madrid. Madrid's central location gave us easy access to Barajas airport, the central train station as well as a convenient bus depot.
A good car rental system is also available in the city and at the airport. In Madrid, the "Madrilenos" speak the purest Spanish, which they call 'Castellano.'
One of our fundamental goals was to learn how to communicate in Spanish in order to be more effective teachers in the Santa Rosa school system.
Spain has magnificent mountains, warm sandy beaches, and a culture that is seductive and captivating. We came to admire the Spanish lifestyle, which holds back neither money nor love in caring for their children. Children are respected and are to be seen and heard. Spain's divorce rate is among the world's lowest and the daily evening paseos are a delightful family stroll where important conversation takes place. We were amazed at the mature art of conversation among the Spanish families we got to know.
Clear thinking with no T.V. noise was a blessing. We grew fond of the arm linking family friendship walks. Inside our friends homes we observed teenagers still kissing their mothers and fathers goodnight. Becoming family friends we would receive a two or three cheek kiss from all. What a country!
Where do you start to penetrate the fabric of this fantastic country? Start in the mountains but be careful of gypsy curses. In July we hiked in the Pyrenees Mountains and found thundering waterfalls cascading in Ordessa national park. This area is just north of Jaca near the French border. Eden-like streams are teeming with native trout, wildflowers abound and there are ski runs for winter fun.
At the base of the mountains in the Basque city of Pamplona we got caught up in the Running of the Bulls St. Fermin week-long party. Be sure to dress in Red and white and stay on the safety barricades as the six brave bulls come stomping down upon runners silly enough to risk life and limb. Here was the site of the attempted hex.
I had just come down from the bull barricades and was paying for delicious churros and chocolate when I felt a soft hand in my wallet pocket. I not so gently shoved the all black clad little woman and saved my wallet. Backing away she transfixed me with cross eyes and pointing fingers. My reflex was thumbs in ears with fingers wagging followed by nose thumbing resisting the urge of a middle finger blessing. The gypsy turned and ran to a man standing in the shadows of a portico. He seemed to be chastising her for getting caught. The spell must have been broken because we had good luck and a wonderful year in Spain. So take a break from the mountains and get back to the heartbeat of Spain-Madrid. Besides bullfighting find the power and passion of Spain in these ways: Become familiar with Spain's painters. Discover El Prado's Museum's painters El Greco, Velasquez, and especially the people's favorite, Goya. Goya's "Second of May" the graphic portrayal of the cruel execution-style French firing squad murdering a helpless Madrid crowd motivated Madrilenos to rise up and win their independence. Goya's versatility and humanness is shown in his popular "Duchess of Alba" nude, quickly clothed as news came of her husbands early return from travels.
Across the street from Madrid's Prado is the newer Reina Sophia Museum, which holds the most powerful of all Spanish paintings. Pablo Picasso's Guernica depicts the nazi bombing of the freedom seeking Basque city of Guernica. The thousands killed are represented in black and white on a large canvas as broken human and horse bodies. A small centrally placed flower of hope punctuated this work. I observed more than one Spaniard studying this painting with moist eyes and tears. This powerful statement is worth your trip to Madrid. It is a primer for your understanding of the tragic fascist-Franco Spanish Civil War of 1936-39.
Want to dance? Madrid as all Spanish cities pulsates with discos of hip-hop and other popular noise. Better, I suggest you go to Barcelona for an evening of Flamenco dancing while partaking of the Spanish specialties sangria and paella. Spain's sangria is fortified with rioja region red wine often presented with a challenging botabag to help wash down saffron laced seafood paella. Use your nose for mild intoxication and allow for a seductive evening as wasp-wasted beautiful senoritas take the stage to staccato heal stomping rhythms. Dressed in multi-colored ruffled dresses these ladies begin to clap out a cadence that raises everyone's heart rate. On the guitar, their male partners join in with the wails of love lost lovers. This show will not stop, as I found out, until the audience quits clapping and yelling Oles. It was pushing one a.m. before my wife stopped my participation.
Don't leave Spain without hearing a Placido Domingo or Jose Carreras concert. These two electrifying tenors are the equal of Luciano and more available. They offer a number of performances at possible prices. We lucked out (curse broken) by receiving free tickets to hear Carreras in wonderful Bernabeau stadium. The ducats were dispersed as we were shopping in the Macy like El Cortez Ingles. We haven't forgotten that spine tingling experience.
Spanish are great aficionados de futbal, soccer fans. Madrid and Barcelona spare no expense in signing the world's greatest players. In Madrid we watched the great Mexican scorer Hugo Sanchez play for banker backed Real Madrid. Top goal maker on a winning team Sanchez celebrated scores and victories with a patented series of back flips. Now the rich Real Madrid team has employed Britain's best David Becham with a richer contract than American football players. Many stadiums in Spain seat over 100,000 people and sell out many matches.
Spain has more festivals than any other country. Of the many we experienced, Seville's Feria de Abril is the greatest. It is a week long party of first quality eating, drinking, and dancing in Arabian nights style tents. The excuse for this revelry is remembering the beautiful spring Arabian horses traded for 500 years on the exact fairgrounds. When arriving in Seville say a prayer of thanks in the awesome Cathedral then hustle to one of many clothing outfitters to be sure you are correctly attired in a jaw-dropping Sevillana outfit. Ladies will wear their flamenco like dress riding sidesaddle to the fair behind their man in flat hat broad belt and flared-legged trousers. Horse transportation can be rented. Opt for a carriage trip to be sure. At the fairgrounds be open to invitations to eat, drink and especially dance. I would still be dancing the hands above head local Sevillano twist with a wealth of beautifully dressed ladies had my wife not pulled me away. And I was just beginning to feel 21 again.
In Seville we made friends with John Fulton a talented artist-bullfighter. Fulton' story is dynamic and dramatic. From Philadelphia he was captivated by the 1949 film The Bullfighter and the Lady. Pursuing bullfighting first in Mexico then Spain Fulton reached matador status through hard work and supporting himself with his real gift, painting and art works. His gallery is near Maria Luisa Park in the heart of Seville. Recently deceased by heart attack; Fulton's adopted son. Frederico, manages the valuable works of art. Fulton's skills were world class, for example, he painted original Altimira cave dwelling scenes like bison with bull's blood as pre-historic men had done.
We feel fortunate and honored to have spent some time with Fulton. Especially one eleven p.m. dinner we shared in a restaurant very near the great maestraza bullring. In that restaurant John Fulton was doing a Michelangelo style flamenco dancer wall frieze working in wet cement on a figure larger than life. We are going back to see the finished product. Handsome Fulton never married, had one series engagement, to a flamenco dancer who was tragically killed. Fulton loves are on that wall and the prolific artwork he created.
You can pull the plug and become an international person when you take time to read, research, and connect the dots from James Michener's "Iberia" to Barnaby Conrad's "Matador" and "Fun While it Lasted," to John Fulton and Robert Vavra's Ferdinand-like "Little Egret and Toro."
So you want to see more of Spain but can't afford it. Get a job!!! El Pais, the national newspaper offers under the trabajo section English teaching opportunities with Berlitz and other language companies as well as lesser tutoring jobs. I met a Canadian who recruited me to teach three hours a day with his company, which had a contract to provide business English instruction to Morgan Bank and Proctor and Proctor and Gamble employees. Just an hour and a half mornings and afternoons allowed for me to take Spanish as well. USA Today's Money section and the Wall Street Journal were helpful and my MBA clients soon enlisted my wife and I to tutor their children evenings.
After seven months in Madrid we searched out a southern seacoast location. We relocated to the picturesque Costa del Sol community of Nerja. From Nerja's Balcon de Europa the mountains of Africa are visible. Besides the $300 a month rent for a clean seaside furnished apartment with veranda hanging south what attracted us to Nerja was the charm of the language school. Directors Juan and Enrique put together a practical and fun Spanish language curriculum that inspired us to learn. It was not just the afternoon study at the nearby topless beach that motivated. Using the language in shopping excursions and cooking demonstrations was practical. And no, I didn't close my eyes walking along the beaches.
Back in Madrid, we took the newly restored Tren de la Fresa, strawberry train, vintage 1860. Hand crafted coaches, steam engines. Royal locomotive for hot summer excursions to shady and cool Aranquez, thirty miles outside of Madrid. Elegant ladies dispensed apple-sized strawberries aboard the train while great plates of artichokes were served upon our arrival. Still hot as we returned we hustled to cool off in Cibeles Fountain-the goddess pulled by two great lions-our favorite.
I knew the gypsy hex was successfully broken and my luck was good as I read El Pais once again. Intercambio castellano por ingles. Answering that request for exchange language lessons began a family like relationship that continues with yearly visits and mounds of E-mail. Ariel and Myriam are special people. A talented businessman and artist respectfully, having no children we have adopted each other and their turtles. We bonded forever in the many Saturday exchange language lessons and following excursions and social events. Besides they were with us as I was blessed with a spiritual Spanish event.
After tolling the tower bell in non-descript St. Stephen's church (my patron saint) on the way to Segovia's alcazar, aqueduct. And cathedral, We came upon a man flat on his back, deemed dead by the small gathering, after a few steps away, something put me into action as a knelt covering the man's nose and on my third blow a chest bolting reaction brought a purple and graying face back to the living. I don't take that event lightly. Spain will do things to you spiritually. If you like active surprises go to Spain.
We went to Spain and we are better for it.