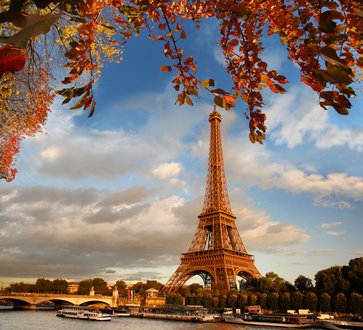 Ex-expat John M. Edwards is invited as a "standby" to a sumptuous Parisian dinner party near Passy, where perforce playing the devil's advocate comes with no pricetag at all. . . .
"Hello John, how would you like to come to a dinner party tonight," queried fair friend and picnic partner Julie, a fellow Servas member.
A world peace organization affiliated with the United Nations, "Servas," we joked with devil-may-care abandon, should perforce be pronounced "Serve Us," because their guest-exchange program included a free place to crash for a couple of nights: remember those late nightsof revolving opinions where you feel like you can solve all the world's problems, and wake up with fuzzy blue teeth in the morning?
"Uh, of course, free food!" I stalled for time.
"Ha-ha, John, just bring a bottle of fairly good wine—one of my friends canceled out, so I thought you might like to join us. My friend is a very good cook."
Ready to party, having later bought a gigantic Magnum (big bottle) of admittedly inexpensive plonk at the hypermarché, I hopped the Metro into a ritzy arrondisement of Paris I was a little unfamiliar with—not Passy, the paradise of BCBG (Bon Chic Bon Gout), which has as little to do as Manhattan's Upper East Side, but I don't know, a little step backward to the regal civilized 19th-century of Proust and Balzac.
Way before all the hoopla of Surrealism and Dadaism, or even all of the "Lost Generation" stuff—(as you know a term coined by Gertrude Stein, the German-Jewish wit who was friendly with neo-Fascist American poet Ezra Pound, an exile in "Il Duce's" Italy and by far America's most skilled poet)—I would have loved to live in 1920s Paris, in the vicinity of Whitman's Shakespeare & Company and far away from the drudgery of US Prohibition.
These down-and-out dropouts arrived with easel and pen, ready to sit all day at the Café Flore, discussing philosophy and art, poetry and painting, without buying much more than a single cup of café (that's French for "coffee'): see, you learned a new word. Nothing beats a spin with Papa Hemingway's A Moveable Feast, though, except perhaps the crystalline precision of his short stories, including Hills Like White Elephants, where the slightly stilted and wooden dialogue hides the fact that all the two main characters do is "try new drinks"—or something along those lines.
Now when I arrived a little winded at the soiree I awkwardly asked if there was a place to smoke, clutching my single pack of Gauloises des Blondes Légeres.
"I guess you can smoke here," the smiling Spanish Andalucian hostess offered. Julie arrived a little late, so I finally decided to get off my fat ass and introduce myself to the other guests, a really nice Austrian guy who resembled a Tour de France bycyclist, and an English guy and his Indian cohort. Wow, not a single Frog in attendance!
"Hi, I'm John!" I said to the English guy.
"Hi, I'm John, too!" he replied with a big smile. Now why did I think he was pulling my leg and giving me a dodgy name: probably because his Indian friend was chuckling and snorting with unrestrained mirth. The Subcontinental lad resembled a young Pico Iyer, and in retrospect maybe he was?
Slightly miffed, I asked where they were from.
"Well, we both studied at Oxford. . . ." Okay, okay, I get it, bring out my best intellectual banter carefully gleaned through autodidactic reading rather than exacting study at my well-regarded but ultimately blow-off college way in the Deep South.
"Actually, I just came back from St. Petersburg, my mother is Russian. . ."
"Wow, what is it like, I mean, is everything, like, okay there?"
A look of supreme disdain more suitable on the face of Oscar Wilde than one so young as he spread like rillette over his strained smile: "There is not much in the SHOPS, if that's what you mean?"
I was dying to tell him I might in fact be related in my elaborate family tree to (maybe) Peter the Great, founder of that fair city that suffered so much when its nomenclatura turned into "Leningrad," when the Marxist Leninist had nothing to do with it except stand like a statue and piss people off.
I even wrote an A-minus paper on his life and policy changes in college, which included freeing the serfs (who labored heroically to build upon the swampland, along of course with foremen boyars and streltsy as sturdy as The Volga Boatmen. Peter the Great was also a fine architect (in every sense of the word), who studied in London and, very oddly, suffered from severe agoraphobia, preferring to camp out in a pup tent with his army rather than rot with boredom in the rather lonely Winter Palace.
But I kept my mouth shut.
During dinner, I carefully retrieved the Magnum from my daypack, which the Spanish gal politely accepted but quickly put aside.
"It isn't much, vin ordinaire. . . ." I said.
"Very—" the English guy commented.
The Austrian guy, visibly a little mortified, invited me to hang out with him tomorrow.
Anyway, even Julie seemed a bit amused by the curtly disparaging comment: I couldn't believe really how funny this guy was. Boy, did he look familiar. He then launched in to an account of how one of his students—he was a "lecteur," you see, but I don't think at the Sorbonne (the French equivalent of Oxford or Cambridge) —said she often walked around naked in her own living room, and his reaction: a look of bliss resembling Alex listening to Beethoven's 9th Symphony in A Clockwork Orange.
The Indian guy, I noticed, seemed to think I was the funniest guy he had ever met, though I kept my criticism carefully guarded, preferring to play the devil's advocate: "Have you ever read Notes from the Underground?"
I was suddenly surrounded by blank looks.
"Down and Out in Paris and London was one of my favorite books."
Now, we were friends.
Wait a triple-sec, this must surely be British wit Martin Amis's son whom I'd read about in a gossip glossy. He sure did resemble him at least: I dared not risk asking him, though.
After that, things grew as fuzzy as a frozen sorbet and I awoke with a start in the middle of le matin (which with earthly jetlag means, I don't know, sometime after twelve without an alarm clock), just in time to throw on my dungarees and jumper and greet the arriving-on-time Austrian boulevardier at the door of my pied-a-terre planted firmly near the Marais, close to one of Paris's most scenic squares: the pop Place des Vosges. Since the Austrian didn't actually live in Paris and was only here for a short time, I of course let him make a much-need long-term trunk phonecall.
I thought it might be amusing, since we both had Germanic backgrounds, to take a look-see down the Rue des Rosiers, the only Jewish street I know of in all of Paris.
"Look over there, I think I once stiffed that guy for change over a falafel, not on purpose though!" The Hassidic Jew, clothed in only one set of black clothes, looked at both of us strangely as we passed.
"As you can see, this is a Jewish street," I said.
"I can tell," the Austrian responded.
The rest of the day was spent wandering all of Paris, checking out the best bistros and cafes, money no option. I was really in need of a three-Michelin-rosette splurge, even if I said, "Mon Dieu," when I saw the eye-popping sum on l'addition.
"Ah, Paris in the Springtime" is a pleasant anomaly, when it's the Fall we are after, when most Parisians take their month-long vacances and the streets are filled with tourists with real wonder in their eyes, especially in the fragrancy of the Egoist-scented flower-filled Jardin Luxembourg and Tuilleries.
And as everyone knows, there is nothing I love more than plane trees. Except my frequent fifteen-minute visits to the famous Louvre (of course, cutting in front of the line) to check out the cool painting of William the Conqueror, who conquered the ex-Roman British Isles (then including Ireland) in 1066 thus refining Old English for all of us, its allure for me being that "The Conquering Worm" looked really a lot like me.
Pretending to write bad poetry here (my creative writing prof at college was Peter Cooley), though I did have at least one publication back then, was a convenient excuse to enjoy life and avoid getting a real job. Unfortunately, The International Herald Tribune only kept my curriculum vitae on file and I didn't bother applying for a job at the American Church's English-language Paris Voice, so I was forced into tutoring French and editing manuscripts for other would-be writers (a sorry lot indeed). I had already worked as an editor at Pocket Books, so I sort of knew what I was doing.
But this is what real life is like: an early rough draft of a travel piece I worked on there I later revised after repeat visits and won a coveted NATJA Award.
Under the shadow of Montmartre and within sight of the Seine, which has a smaller version of the original Lady Liberty, easily toured by bateau mouche (boat fly), life was grand. I did understand what the French were saying behind my back, but do you? "Il mange bien!"
But as Le Roi Soleil (The Sun King) famously quipped, his words echoing throughout the ages and thus proving the accepted wisdom of "the divine right of kings": "Aprés moi le deluge!"
Eventually I would have to leave this improbable playground, so I paid a visit to Pere La Chaise cemetery to cut butts like Serge Gainsbourg and pay my respects to Jim Morrison (lead singer for The Doors), Oscar Wilde (author of "The Picture of Dorian Gray"), and George Melies (pioneer cineaste of "A Trip to the Moon") "Au Revoir, Messieurs-Dames!"