Vacation time is any time in the climate of today's world travel. Just hop on a plane and in no time at all, or maybe a little bit more than that, you can be anywhere your heart desires. How does London with its fascinating history sound? Or Paris, the city of Light? Both cities boast super shops for inveterate shoppers; restaurants featuring every type of cuisine; museums, nightclubs, theatre the list goes on and on. Just footing around the streets can be a treat for those of us who love to see what makes a city tick.
A most interesting way to travel between France, Belgium and the UK is by Eurostar train. On this lightning journey under the English Channel, its easy and fast to trip between London, Lille, Brussels, and Paris. Not only do you arrive in the heart of the City which means no cab fares from airports but on the comfortable journey, the varied countryside offers a panorama of sights. Day excursions to Disneyland Resort Paris, twice weekly ski trains to the French Alps during the winter ski season, and a weekly summer Saturday service to Avignon in the heart of Provence are just some offerings by Eurostar with Eurostar Plus offering connecting tickets to over 100 destinations across France, Belgium and the Netherlands! And their new lounges situated at London Waterloo, Paris Gare du Nord and Brussels Midi/Zuid have recently been awarded first prize in the Hospitality Environments category of Design Week Awards 2003.
In Paris close to the Louvre is the Regina Hotel. This quite sumptuous hotel built in the 19th century offers discerning guests style and grace with its crystal chandeliers, regal antiques and large bedrooms furnished in Art Nouveau style with curtained alcoves and recessed lighting. The stately oak-beamed English Bar and Tea Room and elegant inner garden courtyards are perfect for relaxing in while Le Pluvinel offers a stunningly inventive menu which changes with the seasons. The bedrooms are beautifully decorated with traditional French furniture and light drenched bathrooms yet offer all the modern WiFi and communication channels for the business person. Dining in the flowered courtyard is a must although Regina's pub and lounge with its very British flair has become a great eating and drinking place for visitors and locals alike.
'He who is tired of London is tired of life' quote Samuel Johnson
Across the channel and for those of you who want a fully equipped gym, sauna, steam rooms, Beauty Spa and swimming pool in your hotel, The Jumeirah Carlton Tower at 1 Cadogan Square in the heart of Knightsbridge must be your choice close enough to Harrods and showy boutiques including Valentino, Chanel, Hermes and Ginas displaying some of the most gorgeous shoes I have ever seen and I love shoes! One of the Jumeirah luxury worldwide hotels , this five-star jewel offers everything and more – elegant, contemporary rooms and suites with state-of-the-art bathrooms and the latest in technology. At lunchtime you can sit in the Club Room with its panoramic views over London and enjoy seasonal cuisine buffet style. In the evening cocktails in the sumptuous bar of The Rib Room Bar & Restaurant is a must before sitting down to the best Angus steaks in town. Originally opened in 1961, I recall during the early 80s when I was living near Portobello Road that we would often eat at The Rib Room I never imagined that 20 years later, I would be writing about them! But the signature dish of Roast Rib of Aberdeen Angus Beef from the Scottish Estate of the Duke of Buccleuch and Queensbury still comes served with Yorkshire pudding and traditional baked potato with all the appropriate sides. Other typical dishes are Pheasant broth with parsnip, a selection of Loch Fyne, Rossmore & West Mersea Oysters, Veal chop with roasted ceps and Chocolate mocha tart with apricot and fig compote as a mouthwatering dessert. The wine list is exceptional, after all in the tradition of grand London restaurants, there is no reason for it to be otherwise.
For night clubbers, Montes Sloane Street adjacent to The Carlton Tower – is delighted to offer a temporary membership to the pleasures of their restaurant, relaxing bar and nightclub with late night closing.
On the other side of town is fashionable Bloomsbury which has long been home to many notables in British society – the marvelous pre-Raphaelite Brotherhood had their headquarters on Gower Street just behind the British Museum where some of their gorgeous paintings can be seen. Now many small townhouse hotels are popping up in this area because of its close proximity to Covent Garden, Oxford and Regent Streets, Piccadilly and the heart of theater land. One lovely townhouse hotel, The Academy, is a gem on anyones list of bijou hotels. I fell in love at first sight walking into the contemporary entrance hall decked out with animal prints and amazing flower displays their Scottish interior designer definitely deserves a thumbs up! One of number of Eton townhouse hotels situate in London, Leeds and Edinburgh, the Academy boasts a comfortable reading lounge, library and beautiful garden patio where it is so nice to sit on a balmy London afternoon enjoying tea and a scone or glass of wine before dinner.
The bedrooms are styled differently according to the whims of the excellent designer but all have luxurious Frette bed linen and towels such a treat! Voluptuous duvets cover the huge beds, private safes, large TVs, Sony sound systems and heated towel rails add to the overall comforts of this jewel which, by the way, I found through the good graces of Wendy Missenden of the British Tourist Authority here in Los Angeles – she is always available to be of assistance in your travel plans to the UK.
Breakfast is another treat especially for those who love fresh berries, natural cereals and nuts, organic eggs, freshly brewed coffee, yoghurts and fruit. Of course the traditional breakfast of bacon, sausage and eggs is available and I giggled as I watched many of the Stateside guests enjoying that highly cholesterol laden food but oh it tastes so good!
The Academy is definitely one of the better kept secrets from an oft time noise some public.
Only minutes away is Rules, the oldest restaurant in London. Situate in Maiden Lane, Covent Garden, this eaterie is simply splendid not only for the food but also its history and the pictorial passing of time adorning the walls. Open midday to midnight seven days a week, you can choose to sit where such famous beings as Charles Dickens, William Makepeace, Thackeray, John Galsworthy and H.G. Wells quaffed their wine and filled their bellies with rich cuts of Rib, racks of Lamb, Pies and Oysters. Rules has also appeared in novels by Rosamond Lehmann, Evelyn Waugh, Graham Green, John Le Carre and Dick Francis. The walls are covered with signed cartoons, drawings and paintings for after all the entertainment world gathered at Rules, from Henry Irving to Laurence Olivier and the history of the London stage is on view. Charles Laughton, Clark Gable, Charlie Chaplin and other notables from the art of cinema frequented this quintessential British surround. But the piece de resistance is the King Edward V11 Room, where the Prince of Wales wined and dined the beautiful actress Lillie Langtry.
Today the menu is pretty much the same. Huge portions of Scottish Prime Rib with wedges of delicious Yorkshire pudding find their way to most tables although other cuts of steak are served. Starters like Stilton and Celeriac soup flavoured with Truffle- rich and filling! smoked Scottish salmon, Foi Gras and Duck with Sauternes Jelly or Morecambe Bay Potted Shrimps with wholemeal toast. Puddings are wildly English Treacle Sponge with Custard, Baked Banana with caramelized Bananas and Butterscotch and Sticky Toffee with Butterscotch and Vanilla Custard- all so yummy. Champagne goes well with rich food and there is a choice list of fine wines and malt whiskies to choose from.
Nearby in Neals Yard is my favorite cheese store and I always spend time tasting the many artisan cheeses some of which you can now find at high-end food stores in SoCal and also at Morels French Bistro in the Grove.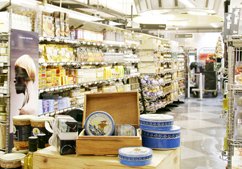 Last but not least is the 5th floor Café in Harvey Nichols whose menu changes about 4 times a day according to breakfast, elevensies, lunch and dinner. Such delicacies as San Danielle ham with rocket and Parmesan shavings, Grilled Mackerel fillet with beetroot pesto, cucumber and cumin salad and Pan roasted scallops with celeriac puree and warm wholegrain mustard vinaigrette. For afters, White chocolate raspberry cheesecake or an Orange and Cointreau frozen parfait with passion fruit sorbet are both creative and delicious. Classic teas, varied coffees and French wines by the glass or bottle are on hand. The Café also serves Sushi and being on the floor where the food store is located, I recommend you walk around and admire all the marvelous selections of cheese, bread, fruit, vegetables, wine, meat and fish on display not quite so grand as in Harrods but quite breathtaking in its diversity.
Eurostar Contact Centre
011 44 8705 186 186
www.eurostar.com
Hotel Regina
2 Place des Pyramides, 76001 Paris
www.regina-hotel.com
The Jumeirah Carlton Tower
One Cadogan Place
London SW1
Tel: 01144 207 235 1234
Rules Restaurant
35 Maiden Lane
Covent Garden, WC2
www.rules.co.uk
The Cafe at Harvey Nichols
Cnr. Sloane Street and Knightsbridge
London SW1
www.harveynichols.com