Santa Fe and art go together like Fred Astaire and Ginger Rogers. This northern New Mexico town has been attracting artists for decades. Like magnets, they are drawn to the magical light, turquoise sky and starkly stunning landscape.
Galleries galore and top-notch museums attract art appreciators like bees to honey. Georgia O'Keeffe was deeply inspired by Santa Fe. At her namesake museum, you'll find plenty of examples of her sensual, large-scale flower paintings and bleached animal skulls.
The bold new installation, Meow Wolf, is shaking up the contemporary art scene in all the right ways. Add a historic hotel with it's own art curator on staff, and you've got an epic art-infused getaway.
Meow Wolf

Santa Fe's top museums include the
Georgia O'Keeffe Museum
, the
New Mexico Museum of Art
and the
Museum of International Folk Art
.
For something truly out-of-the-box, Meow Wolf is the cat's meow. Housed in a former bowling alley, this visionary installation is filled with interactive, immersive, multimedia exhibits and experiences. It's a cutting-edge collaborative effort, with over 100 local artists participating. It's part museum, part playground, part psychedelic fun house, 100% colorful fantasy. Meow Wolf is rooted in individual perception and is constantly evolving so each visitor will have a different experience and no two visits will be exactly the same.
Galleries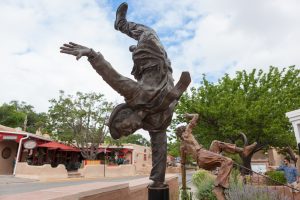 Santa Fe is home to a whopping 250 plus galleries, many of them concentrated along famed Canyon Road. Some of the art spills out onto the sidewalks, so you can absorb the creativity without even stepping a toe inside. Of course, that would be a mistake, as the galleries are showstoppers.
Globe Fine Art is the new kid on the block. The light-filled space is home to sculptural forms made of stone and iron that are both graceful and primitive. Blown glass works are whimsical while paintings by mid-career artists and emerging artists are eye-catching.
Turner Carroll Gallery features an eclectic mix of contemporary works. They represent artists from countries such as Romania, Ireland, France, Russia and Mexico. It's a beautifully designed space with a friendly vibe that won't intimidate those who are novices to the world of art.
Locavores shouldn't miss Winterowd Fine Art, as all the artists they represent are from the area.
La Posada, An Art-Filled Hotel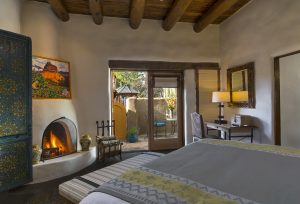 For art lovers, there's no better place to stay than La Posada de Santa Fe, a Tribute Portfolio Resort & Spa. It feels like an oasis, set on six landscaped acres in the heart of town. Adobe-style casitas with Southwestern accents add authentic notes. Individually appointed rooms, some with beehive fireplaces and private patios, are as beautiful as they are spacious and comfortable. There's a pampering spa on site and an equally fabulous bar serving a special menu of margaritas that will knock your socks off.
The hotel's deep connection to the arts was forged many decades ago, when the property was an artist's colony. Today, Sara Eyestone, an accomplished artist in her own right, is the hotel's in-house art curator. The walls are filled with works of art, all of it for sale at the artist's studio prices. There's an artist-in-residence program, so you may watch the creative process up-close.
Sara organizes fantastic programming, including frequent lectures on a range of art-related topics and a weekly writers group, so it's a wrap-around art experience.
Culinary Arts

Santa Fe is one of America's most food-savvy towns. For those whose favorite art is culinary art, satisfaction is assured. An unbeatable farmers' market assures a supply of fresh produce will enhance every dish.
New Mexican cuisine is a treat. Chile, both red and green, is the backbone ingredient of the bold sauce that tops many dishes. Color preference tends to firmly divide people, but if you want to try both ask for your burritos or enchiladas "Christmas" and you'll get half of your plate covered in red sauce, half in green sauce.
Green chile cheeseburger is the local's fast food of choice. Stop by Cowgirl BBQ and try their award-winning version. Live music, a patio with a playground for kids and friendly service is a winning combination. Save room for their don't-miss house dessert, the unique ice cream baked potato.
Santa Fe has many upscale eateries. The Compound is particularly splurge-worthy. The adobe walls are covered with beautiful folk art for a dash of eye candy. The mouth-watering menu blends New Mexican flavors and ingredients with the Continental approach of super-talented Chef Mark Kiffin. Try the duck and you'll see why Chef Kiffin is a James Beard Foundation Best Chef: Southwest winner.
Buy Local Art Without Spending an Arm and a Leg
The Palace of the Governors is a historic plaza worthy of a thousand photos. Under the graceful porticos is where you'll find a daily market of handcrafted Native American art. It's easy to strike up a casual chat with the artisans as you browse the high-end wares sold at decent prices. The market is tightly regulated so you can rest assured that these vendors adhere to strict rules regarding technique and materials. Woven blankets, baskets, jewelry, pottery and much more make it difficult to resist making a purchase.
Images: Lindsey Kennedy courtesy of www.meowwolf.com, Tourism Santa Fe and Tribute Portfolio Hotels