When people think of Santa Fe, they usually conjure up images of adobe buildings or art. While art and architecture are intrinsic parts of Santa Fe's identity, there's a whole lot more going on in the City Different. Unofficially, we're the funny bumper sticker capital of America. The city is also extremely old, as Santa Fe was founded thirteen years before the Pilgrims made it to Plymouth Rock. If you only have one day to visit, here's how to spend it.
The Plaza
Start your day at the Plaza–Santa Fe's gathering place. Head over to the Palace of the Governors, the oldest continuously occupied building in the United States. American Indian artists gather under the portal out front, to sell their artwork. They are part of the Native American Vendors Program so their goods are authentic. Check out pottery, metalwork, jewelry, carving, woven pieces and drawings. Whether you're just browsing, or haggling for a good deal, the handcrafted pieces are worth a look.
Palace of the Governors
www.palaceofthegovernors.org/index.php
105 West Palace Avenue, Santa Fe, NM

The Museum of International Folk Art
Drive along Old Santa Fe Trail to one of the most unique museums we've ever visited. While the Museum of International Folk Art has a broad appeal, it is especially interesting for those who enjoy crafts and for families traveling with kids. Inside you'll find anything from whirligigs to dioramas, circus memorabilia to amulets and puppets. The Girard Wing houses dolls and figurines from more than one hundred countries. The Museum of International Folk Art is the largest museum of its kind in the world and makes artistic pursuits feel accessible for all.
The Museum of International Folk Art
www.internationalfolkart.org
706 Camino Lejo, Santa Fe, NM

Vinaigrette
Back track along Old Santa Fe Trail then cut over to Cerrillos Rd, which is the main artery of Santa Fe. Stop for lunch at Vinaigrette, arguably the best salad restaurant on the planet. While the restaurant also serves soup and sandwiches, we come here for the Apple-Cheddar Chop and the Cherry Tart salads. We've also tried The Omega, Eat Your Peas, The Nutty Pear-fessor and the French Frisee. We've never had a bad meal here. Carnivores are welcome as the salads can be customized with the protein of your choice such as flank steak, scallops or chicken. Most of Vinaigrette's organic produce comes from their own 10-acre farm. There's a lovely back patio that is open April to September. Everyone in Santa Fe is water conscious (it's a high desert environment) so if you want water to accompany your meal, just ask-it's still free.
Vinaigrette
www.vinaigretteonline.com
709 Don Cubero Alley, near the intersection of Cerrillos Rd and Don Diego Avenue. The restaurant is set back from the street. If you're headed towards Old Town, turn right just after the Merle Norman Studio.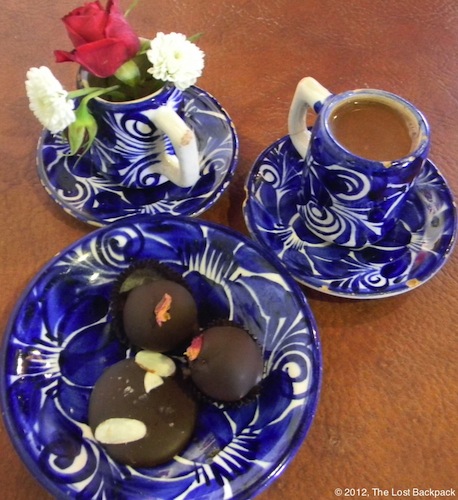 Kakawa
Make a right onto Paseo de Peralta and, in less than a mile, you'll find Kakawa Chocolate House on the left side of the road. Warning: Kakawa is extremely addictive and may result in feelings of heightened bliss. While the store makes and sells tasty chocolates, you go to Kakawa for the drinking chocolate. Kakawa reproduces historical drinking chocolate recipes from 1000BC to the mid 1900s AD. My favorites are the Jeffersonian (attributed to the late President) and the Marie Antoinette. The French Queen may have been obnoxious enough to get her head chopped off, but the woman knew her chocolate. Ask for a sample before committing to one of the drinks. The chocolate is served in tiny blue and white teacups, but the recipes are rich enough that you won't need more. After a sip, you'll be discussing drinking chocolate like its wine: analyzing the presence of floral notes, citrus, spices and chili.
Kakawa
www.kakawachocolates.com
1050 E. Paseo de Peralta, Santa Fe, NM

Santa Fe Scenic Byway
Most people don't realize that Santa Fe sits at more than 7000ft above sea level and that the Rocky Mountains start in Northern New Mexico. The Santa Fe Scenic Byway takes you up into the national forest and Sangre de Cristo mountains. The route is equal parts stunning and calming-except possibly for the driver, as there are a lot of switchbacks. It's easy to reach from Kakawa. Just turn left out of the parking lot and follow Paseo de Peralta. Make a right onto State Route 590. Take the second right onto Artist's Rd and follow signs up to the Ski Basin. Good stopping points include Hyde Memorial State Park for hiking trails and Aspen Vista for beautiful mountain views (the fall foliage up there is incredible). There is also a scenic overlook on the return journey.
For more information about Santa Fe area hikes, visit the following sites:
www.trails.com/activity.aspx?area=13183
*Be sure to bring water and snacks and to wear layers.*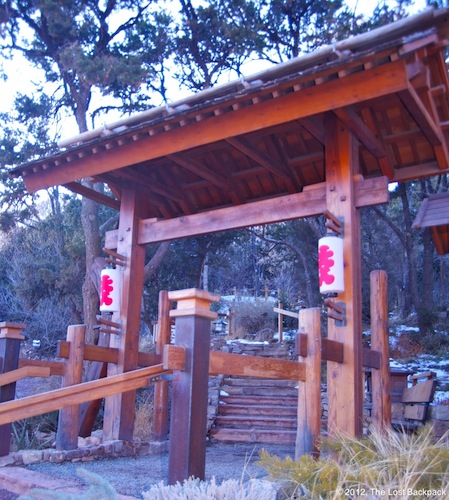 Ten Thousand Waves
As you follow the 475 (Hyde Park Rd) back down to Santa Fe, keep an eye out for a red sign bearing a Japanese symbol. Make a right into the parking lot and prepare to be pampered. You've arrived at Ten Thousand Waves, a Japanese-style spa. To get the best bang for your buck, book a private soaking tub. Prices start at $29 per person. There are several tiers of tubs, ranging from the more basic, wooden ones up to the Ichiban and New Ofuro tubs, which include private dressing rooms and showers. Most are open air, giving you the opportunity to enjoy Santa Fe's dramatic skies. Don't worry about being cold–we've floated around in the 104-106F waters, while it was snowing! The typical array of body treatments are available. Book in advance to reserve a tub.
Ten Thousand Waves
http://tenthousandwaves.com/BATHS/
3451 Hyde Park Rd, Santa Fe, NM.
Dinner
End your day in any of Santa Fe's excellent and numerous Mexican restaurants. Most are budget friendly and delicious.
If you're staying near the Plaza, head for The Shed for a dose of killer guacamole. You'll probably be handed a buzzer, but the restaurant is huge and the wait is short.
The Shed
113 1/2 E. Palace Avenue, Santa Fe, NM. The restaurant is hidden in one of the small courtyards off Palace Avenue-look for the sign.
Maria's New Mexican Kitchen is located slightly outside Old Town. A blend of locals and tourists congregate there to enjoy Maria's renowned margarita menu. There are more than 100 margaritas on offer!
Maria's
www.marias-santafe.com
55 West Cordova Rd, Santa Fe, NM. Maria's is across the street from Trader Joes, next to the Mail Call place.
Los Potrillos is a locals' hangout, with kitschy decor and the most authentic Mexican cuisine outside of, well, Mexico. It doesn't have a website and nor does it need one: word of mouth spreads fast.
Los Potrillos can be found at 1947 Cerrillos, Santa Fe, NM, near the intersection with St. Michael's Drive.
Author Bio
Juliet White is a blogger, freelance writer and travel junkie, who has visited four continents so far. Her bucket list is longer than the Nile and for a weekend getaway, she packs like she's going to the Antarctic. Visit: www.thelostbackpack.com