Blogs of Travel
The creativity & desire to share experiences among those who have been blessed with the passion, opportunity & ability to wander & explore is a beautiful thing. This is the *ULTIMATE* updated travel blog list on the web with over 8,500 travel blogs listed! We spend *significant* time searching for travel blogs not yet in this list. Focus is on domain name sites in English in the format: www.###.xxx. More info about this list here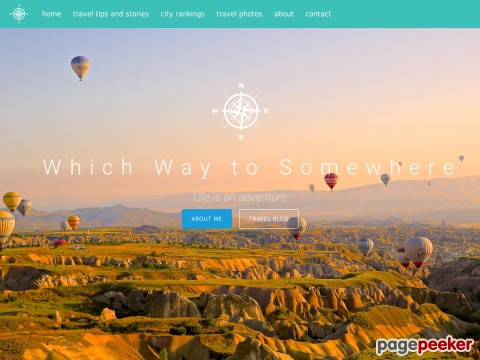 My name is Karissa and I have a serious case of wanderlust. Not just to travel and explore the world from my perspective but to expand my ethos and see the world through the viewpoint of a local. I don't indulge in luxury hotels but stay in people's home to really try understand how the locals live. I use airline miles to cut costs so it leaves a little room to splurge on scuba diving the blue hole, hot air balloon rides over fairy chimneys, NYE on foreign beaches, elephant trekking through rivers and forests, or waterfall rappelling in the jungle.
8 views
Submitted Jan 14, 2016
My name is Dannielle and I love travelling, writing, and drinking. While im Young and Skinny combines all three.
23 views
Submitted Sep 1, 2014
I am Evrim Kanbur, a Turkish girl gone global. I am a business development professional, teacher, business consultant, digital designer and travel blogger. I love travelling, running, taking photos & videos, cycling and camping...More than ever, I love following my dreams and I am willing to help you to follow yours too.
23 views
Submitted Feb 5, 2015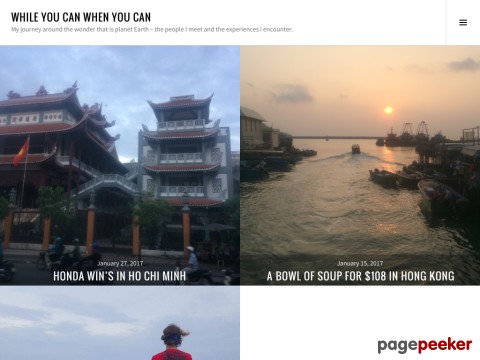 My journey around the wonder that is planet Earth – the people I meet and the experiences I encounter.
5 views
Submitted Jan 26, 2017

This blog will contain memories of my past travel memories in Europe, my most recent experiences in Thailand, and my many adventures to come.
24 views
Submitted Jul 21, 2012
This site is for those with travel, and maybe a little whiskey, in their blood. Im here to inspire you to travel often, to show you how to travel cheaper and smarter, and to take you on my journeys
19 views
Submitted Jun 1, 2015
Life should not be a journey to the grave with the intention of arriving safely in a pretty and well preserved body, but rather to skid in broadside in a cloud of smoke, thoroughly used up, totally worn out, and loudly proclaiming "Wow! What a Ride! Sup! Spence here, though Spencer M. Spellman is what my passport says. I'm a Freelance Travel Writer, who since flying by myself for the first time at age 8, just hasn't been able to kick the travel addiction. What can I say? I'm a junkie. Growing up in the deep south, my southern drawl is my most distinguishing characteristic, no matter how hard I try to mask it on Twitter. Sometimes I like to say things like "holla", "pimpin" and "playa", but that front goes right out the window when you meet me in 3-D.
20 views
Submitted Feb 22, 2016
"just another travel blog about gear, destinations and money"
28 views
Submitted Mar 11, 2010
My name is Raluca Belu and I'm the owner of Whisper Wanderlust. I know, if you're not a Romanian, it is hard to pronounce my name correctly, so I want to simplify it for you and I would love if you would call me Bella, just Bella. I'm from Romania (Dracula's country!), as you probably realized from the previous sentence and I am in love with traveling and photos related to travel. I haven't beaten yet any record of the number of countries and continents visited, but I have a huge desire to see the world.
12 views
Submitted Aug 28, 2016
I write about my travels, what's going on in my life, and anything that strikes my interest. I currently work full-time and go to school so I don't get to post as much as I'd like, but I'm working on it.
8 views
Submitted Nov 22, 2015
At age 23, I decided to give in to my nomadic impulses and live out my own version of a perfect life! I'm beginning a new journey of a life on the road. I'm starting the first leg of this life-long trip by heading off to Australia for one year to work, travel and indulge in cultural learning.
11 views
Submitted Sep 30, 2015
Jennys travels abroad
17 views
Submitted May 27, 2015
couple wandering the globe
0 views
Submitted Aug 6, 2017
Jack and Jenn travel again! Jack is from Australia and Jenn is from the US but together we have traveled a few parts of the world and hope to continue on doing so.
24 views
Submitted Oct 16, 2014
I have always enjoyed travelling but the real wanderlust was unlocked in the spring of 2015 when I embarked on the adventure of a lifetime. Using Couchsurfing and hitchhiking I made my way across Europe, visiting 8 countries and meeting amazing inspirational people along the way.
2 views
Submitted Dec 23, 2016
a down to earth dreamer ... and traveler. bilingual travel blog, italian and english
5 views
Submitted Dec 17, 2016
Im Andrea. Nice to meet you. Im an American expat living in Italy. I grew up in the Southern state of Alabama. I had the opportunity to live in several other places like New York, Philadelphia, Chicago, Arizona and Florida, and to travel throughout the U.S., thanks to my previous work over the years.
17 views
Submitted Dec 19, 2014
Formerly Twenty-Somethingtravel, this name change and direction had been gelling for some time for Stephanie. The people behind this site are Stephanie Yoder and Megan Stetzel, two Millennial travel writers who have lived and worked around the world. Stephanie started the blog Twenty-Something Travel in 2009 in an effort to encourage twenty-somethings to see the world. Megan originally blogged about food and travel at Forks and Footprints. She joined the Twenty-Something Travel team in 2015, and in 2017 they decided to merge their efforts and rebrand as a new travel magazine for Millennial travelers.
75 views
Submitted Feb 27, 2010
I initially started this blog as a journal to chronicle my travels and capture new experiences and activities in the city I love but I hope youll enjoy reading it, as much as I've enjoyed writing it.
21 views
Submitted Dec 8, 2014
I am Rohini, an Indian Engineer living in Australia, passionate of travel as well as my full time job. While juggling work & travel, I created Why You Wander as an initiative to help & inspire people to plan short term travel effectively.
8 views
Submitted Jul 1, 2016

About Dave's Pick
Category Stats
Subcategories:
2
Listings:
8847 (8862 counting subcategories)
Regular:
8840
Dave's Pick:
7
Last listing added:
Dec 8, 2017