Oceanwide Expeditions
, a Netherlands based cruise company focusing on the planet's remote extreme north and south destinations (the Arctic and Antarctica). Founded in 1996, they are a pioneering company in the exploration of these parts of the world via cruise ships. Today they offer 25 cruises to Antarctica alone using small ice-hardened expedition vessels. Their ships are the 'basecamp' anchored off shore for a period of time with a variety of on shore experiences and activities then offered.
Depending on the cruise and location some of these activities may include camping, kayaking, hiking, mountaineering, skiing, diving and photography sessions with experts. And of course there is prolific and varied wildlife depending on location – including penguins, whales, seals and seabirds.
Antarctica Ross Sea Cruise Contest:
Ever wanted to visit the visually stunning and remote continent of Antarctica? Check this out! Until February 29 Oceanwide Expeditions is offering a unique chance to win a trip of a lifetime 30-day cruise to Antarctica (cruising the spectacular Ross Sea). This trip would be in 2017 from February 15th through March 17th. It would leave from Ushuaia (the southernmost city on the planet) and end in New Zealand.
Any trip to this little visited continent would be a memorable one, however this trip is extremely unique. Oceanwide Expeditions is the only company in the world to use this sailing route and part of this trip includes the use of helicopters for additional exploration.
This trip include visits to areas that see very few people including the ​The Ross Ice Shelf (the largest ice shelf on Antarctica) Dry Valleys (the world's most extreme deserts), Borchgrevink's hut (the first man made structure on Antarctica), the historic expedition huts of Shackleton and Scott and a visit via helicopter to Peter I Island, an uninhabited volcanic island.
To create a profile – and then promote it to get a minimum of 20 votes to qualify for the Grand Prize.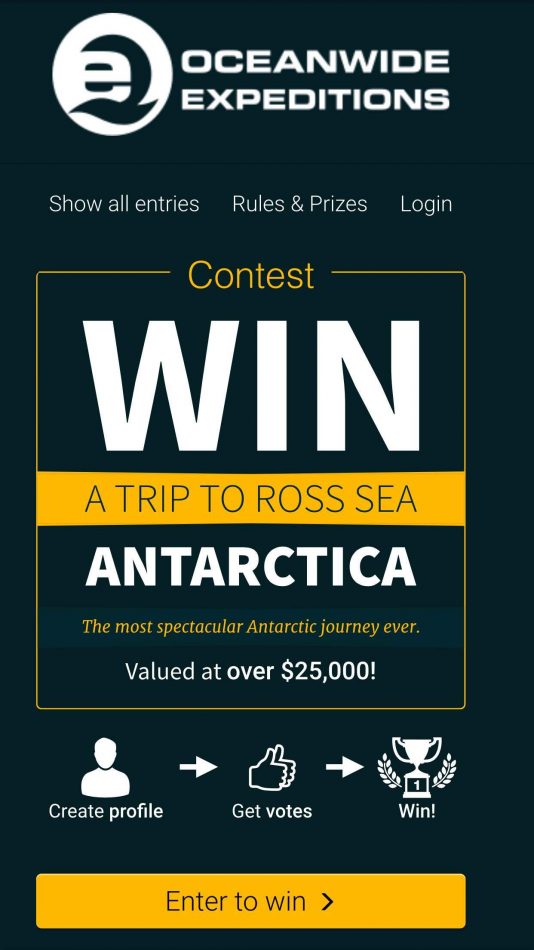 More About Oceanwide Expeditions
For more information about Oceanwide Expeditions and to view all of their trips offered to both the Arctic and Antarctica visit their site here: www.oceanwide-expeditions.com

I recently started working with