"Every season is beautiful but autumn is my favorite. Everyone is out and about but more bundled up. It's a fun time," says Summer Barron, Spa Director at Lake Arrowhead Resort and Spa. Born and raised in Lake Arrowhead, California, Summer is the perfect person to inform me about the area, the resort and what makes it such a popular choice by those in the know.
Lake Arrowhead is a private lake and community nestled at 5200 ft. (1500 m) in the San Bernardino Mountains, just a short drive from southern California's major metropolitan areas, including Los Angeles, San Diego and Orange County. It gained fame in the early years of the movie industry as the scene of many Hollywood productions, especially in the 1930s and 40s. And while not many movies are shot here anymore, lots of stars of today's era maintain vacation homes here.
Lake Arrowhead Resort and Spa is a year-round resort that caters to both locals and out of town visitors, marrying rustic elegance with a modern touch. It sits surrounded by pines and hills at the edge of the 1.22 sq. mile lake. "First-timers to Lake Arrowhead are surprised at how beautiful it is," says Summer. "Some of our guests have been coming for decades, since they were kids. Now, they bring their own children here."
What's to do here at Lake Arrowhead and why should visitors check it out? Here are some of Summer's suggestions for weekend visits to the Lake Arrowhead area:
Take a lake tour
The lake may be private, but visitors can access to it through the resort, which offers a lake view swimming pool and patio, a small beach, and access to a hidden trail for wonderful early morning walks. The resort also has a dock with kayaks and a pontoon boat that can be rented (and comes with a friendly captain who also doubles as your local guide.) "I definitely recommend the boat. You'll get to see the beautiful waterfront, coves and lots of mansions," advises Summer. Be sure to keep an eye out for the former Kennedy family mansion overlooking the lake.
Treat yourself at Spa of the Pines
The resort's luxurious Spa of the Pines has 10 treatment rooms and is the only resort spa on the mountain. It's not your typical day spa either. "People come here for a unique experience. Guests can take their time, even spend the whole day if they wish," says Summer. "Our goal is to create something memorable and special."
For an extra special treat, check out the VIP Journey experience, which comes with a private suite, relaxation area, and your choice of a variety of specialized wellness treatments. Afterwards, you'll be able to rest and relax in a cozy little patio. On a cool spring morning, there's simply nothing more glorious than overlooking the lake while enjoying an herbal tea and being serenaded by the many mountain birds.
Check out nearby activities
And for those with more action or family-oriented activities in mind, check out nearby SkyPark at Santa's Village. Those of us who grew up in southern California remember the ubiquitous ads on TV in winter for Santa's Village. And if you haven't visited it since the 80s or 90s, you'll be surprised at how much it's changed. All those huge, colorful mushrooms, are still there. But it has expanded significantly and is now a year-round activity park, with extensive mountain biking trails, fishing, hiking, unlimited zip lining and tons of other activities.
Of course, this being a national forest, you can go hiking pretty much anywhere you want in the forest. In winter, families often will take the little ones to Santa's Village, then on to nearby Snow Valley for skiing and snow play.
Enjoy dinner at BIN 189 restaurant
Tired and hungry after all that activity? The restaurant at the resort combines spectacular views with imaginative California cuisine to create a memorable experience. Top it off with drinks at the bar or walk to the nearby village to mingle with locals in one of the many pubs and bars. For such a small town, it has a surprisingly lively atmosphere.
Get married!
Looking for a place to get married? The resort is a popular location for weddings and banquets. The outdoor patio overlooking the lake, as well as a large ballroom, make it a popular choice for newlyweds.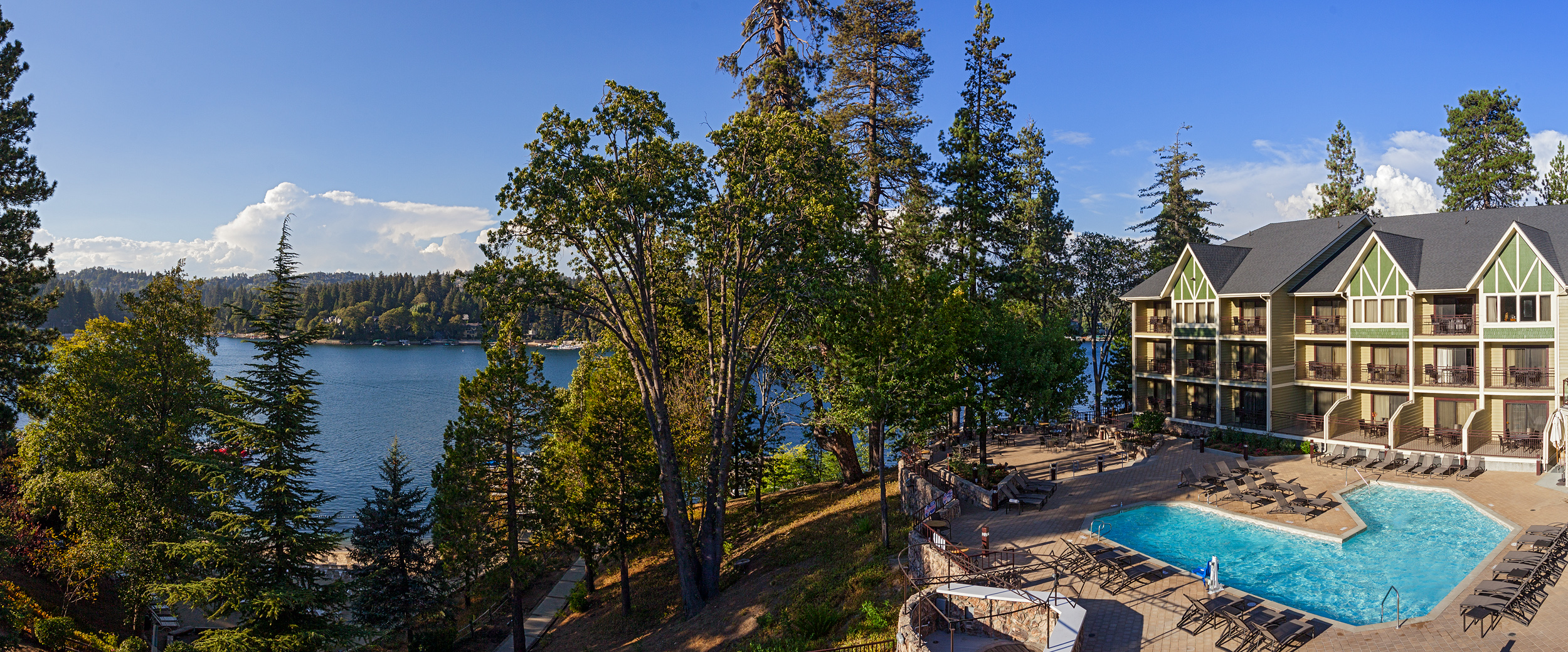 So if you're yearning for a mountain getaway experience without having to travel all the way to the Sierra Nevadas, check out Lake Arrowhead Resort and Spa. Along with giving the public access to an otherwise private lake, the resort's central location makes it a perfect choice. "We're only 2-3 hours away from most of southern California's population. It's a world away but within driving distances," says Summer. "The slow pace up here is comforting. And you can't beat seeing all those daffodils everywhere in spring!"
I am here courtesy of the beautiful Lake Arrowhead Resort and Spa. Thank you to all the staff for a wonderful and relaxing experience.