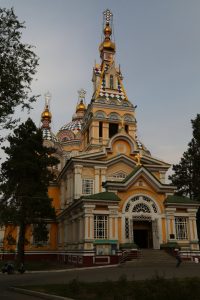 I left Chopan Alta, Kyrgyzstan at 8am this morning and arrived in Almaty, Kazakhstan at nearly 6pm. If there wasn't a mountain range between these two points, a line of site drive would probably be a few hours at most – but the route around these mountains through the main border crossing is much longer.
Kazakhstan recently opened the border as visa free for citizens of the USA as well as select other countries on a trial basis and supposedly for just a 10 day stay. I was a bit worried about crossing the border since this was a fairly recent change. But as it were, the crossing went quickly and smoothly – other than a slight scare when the security officer asked why I didn't have a visa. But he just laughed and then immediately placed a stamp in the passport. While standing in line one lady also in line wanted to hold and look through my passport. Odd but I satisfied her request.
I am staying with a father (Isa) and his son (Aziz) in their flat in Almatay Kazakhstan. I was introduced to them by someone I had met through Couch Surfing for a few minutes at a pre arranged location on the streets of Almaty! Isa is a boxer and trainer and Aziz is an Electrical Engineer who is enjoying practicing his English with me. He hopes to come to Texas and find work in Electrical Engineering (he has a friend who lives in Texas). Both father and son live in a one bedroom flat in one of the many high rises that dot this rather large and spread out city.
These are the nicest people you will ever meet – they are genuinely interested in what I do for work, why I am in Kazakhstan and are interested in hearing about my family. They even wrote down on paper a little speech they wanted to give me – "do good in the world, trust no one and believe in God" – were among the several anecdotes of wisdom provided. I told them after a lifetime of travel you have to trust most people – most people are good and it is more rare when you meet the "bad apples" while on the road.
I offered to sleep in their tiny broom closet – but they refused and gave me their bed that they share. We compromised and I took the floor!