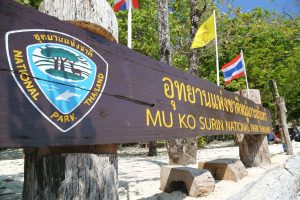 This week we have been exploring the warm clear waters of Southern Thailand. Our first stop was Ko Tah Chai – dubbed the "Maldives of Thailand" for its azure surrounding waters and the satin-like white sand beaches – which are so silky underfoot.
Activities include:
A Nature Hike – where you can spot a green pointy snail that lives and eats in certain trees and the pretty "chicken crab" which tends to hide during the heat of the day.
The waters are warm and aquamarine – and great for swimming interspersed with long periods of resting on the beach and drinking. This has been our favorite activity. And there is no mobile access or wifi here either. This island has no accommodation so people visit only as a day trip.
For equally stunning islands – look slightly further south to the Surin Islands. Unlike Ko Ta Chai you can stay here – renting small wooden homes or tenting. The tents are situated right next to each other overlooking a beautiful bay – the homes give you more privacy as they are located further apart from each other on the hillsides. To reserve visit: www.surinislands.com/accommodation.html
A two km nature trail located close to the park headquarters on Ko surin Nuea leads one along the edge of this island with many spots down to secluded coves and crystal clear waters. One can spend all day slowly making one's way along this trail and stopping often for photos and to swim.
There are many snorkeling spots off of the islands – and on a clear day you can see variety of marine life. During our visit a number of the corral unfortunately was damaged or dead – perhaps as a result of the Tsunami in 2004.
The Moken people live on the islands – they were scattered among these islands pre Tsunami – and after all moved to one main village – where they make a living fishing and selling a number of trinkets to tourists who pop in.