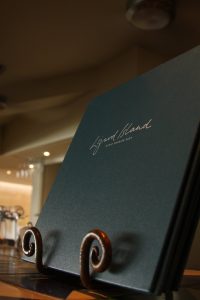 Arrival
You are on a 10-seater looking out of the window. The azure waters glisten out of the side windows with spectacular coral reefs coming into view as the plane steadily makes its way to a small island in the Coral Seal – in the far northern reaches of Queensland. This tiny chunk of land is named Lizard Island and was named so by captain James Cook in 1770 after he climbed to the highest point of the island to look for a passage through the coral; he so happened to see a number of lizards during his climb and time on the island.
I was on a much larger plane last year – flying over this gorgeous part of Australia between Papua New Guinea and Brisbane when I happened to wake up about an hour outside of Port Moresby and glanced down. I was in awe of the white sands that dominate the coastline for miles and the contrasting aquamarine waters and coral reefs. Little did I know I would be back so soon, this time on the ground.
Dropping out of the sky in a small Cessna 404 you spot an island in front of you closer then all the others – the nose of the plane is pointed here. As you approach you wonder how the plane is going to land. Then a short paved runway creeps into view, you drop down and pull off to the side. A waiting van is a 90 second ride away from the resort.

The Resort
Rooms can only be described as elegant luxury – a place to retreat to after a day spent exploring the island or any of a number of outdoor activities offered through the resort. Refreshingly, there are no TV's and no wifi in the room – be in your moment, rather than someone else's. In today's technology paced connected world, this takes a little getting used to – but after a few days you find yourself reaching for your online device less and less. There is always wifi in the lounge and pool area.
The rooms have relaxation down to an art – soft music plays and the gentle sounds of waves lapping on the beach are the perfect tonic for a great night's sleep. Every room is close to and overlooks the water and has an individual deck. A fully stocked mini bar refrigerator is replenished daily.
Dining is lunchtime casual or dinnertime more elegant in the Ospreys Restaurant overlooking Anchor Bay below. The menu changes from day to day. Because of the resort's location in a National Park, non native plants are not allowed so they are unable to maintain a local garden. However fresh produce is flown in daily. The emphasis here is on fresh seafood with flavors of modern Australian cuisine along with a Mediterranean and Asian influence.
Once a week in the evenings before dinner the resort invites guests and staff to mingle over drinks on the lawn in front of the restaurant. You will surely meet other guests during your stay but this social time is an extension of the hospitality and community feel the resort prides itself on.
Romance is always a part of the equation with visits to places like this; inspirational surroundings have a way of bringing people even closer together on what are already intimate trips. Secluded private dinners can be arranged or lunches on private beaches.
Azure Spa is tucked away behind the pool next to the departure lounge. You are already in one of the planet's most unique locations – take your stay to another level of relaxation with a visit here. The spa offers a wide range of treatments using Australian spa care products.

Activities
With nature all around you and the unparalleled underwater life of the surrounding Great Barrier Reef you will invariably end up at the small dive shop on the north side of the resort. This is where you will make all your logistical arrangements. The resort maintains a number of Dingy's and several large fishing and dive boats. A helicopter with Pontoons can also be rented out for a number of sightseeing and interactive trips.
Outdoor activities are seemingly endless on the island. Boat trips are offered out to the reef for snorkeling or diving, deep sea fishing or drop offs on white sand beaches of nearby islands where you are far more likely to see seagulls than other people. The diversity of underwater life is overwhelming at times – from colorful fish, sea ferns, sharks and giant sea tortoises among others.
These waters are a destination for big game fisherman. The giant Black Marlin breed here between the months of September and December and fish over 1000 pounds are caught every year. The resort maintains a trophy plaque near reception with the names of every fisherman who has been able to land one of these 1000 pound plus giants. For those who aren't familiar with a fish of this size, be sure to visit the 1000 pound stuffed Black Marlin hanging in the Bar on the southern part of the resort.
Lizard Island has its own "house reef" and there are plenty of private beaches on the island or on neighboring islands. One memorable snorkel experience is at Casuarina Beach where giant sea turtles live and swim among the seagrass. This is a short boat ride from the resort. Nearby "Clam Gardens" are appropriately named and a visit here is visually rewarding for all the giant colorful clams that live here.
World-class diving opportunities are available on both the inner and outer reefs. As a result, divers come from around the world to get a sample of the diversity of marine life here. The second longest "ribbon reef" in the Great Barrier Reef is about a 50 minute boat ride from the resort. Recommended dives include the Snake Pit and Cod Hole. The Cod Hole attracts giant sharks and other fish including the huge potato fish. These fish are quite friendly and will swim right next to you and brush up against you in their hopes of being fed.
The giant sea snake (often seen in the appropriately named dive spot, the Snake Pit) has impressively adapted for permanent life in the marine environment. The head and part of its body look just like a large snake but it has evolved somewhat of a paddle looking tail. It still needs to surface every once in a while to catch some air.
The island offers plenty of hiking opportunities including the longest and most visually rewarding, Cook's Look named in tribute of Captain James Cook who hiked to the top of the island some nearly 250 years ago. Other short hikes are to the Blue Lagoon (plenty of snorkeling opportunities here) and to the Research Station (guided tours are conducted weekly – make arrangements at reception).
An onsite naturalist gives guided walks and also an in-depth slide show about some of the island's marine life every night. This is a valuable introduction to the diversity of both flora and fauna that is found in this part of the reef.
—-
In an intimate resort such as this, you get to know your neighbors. Guests are from around the world and it is natural opportunities for conversation at locations like the bar, at Ospreys Restaurant or on a dive or snorkel trip for exchanging perspectives and ideas that can make a visit here a very socially rewarding experience.
However, if you prefer solitude and privacy, there is no shortage of this on the island and all you need to do is surface for meals every now and then!
It is rare when you have such refined luxury in a remote location such as this. There is a synergistic relationship between the inspirational natural beauty of the surroundings and elevated standards of the resort. You come here as guests of both the resort but also as guests and stewards of this unique environment. That is truly special.
For details on a visit, see: www.lizardisland.com.au
Photos below of recent dives, courtesy of Lizard Island Dive Shop
#ad I have been commissioned by and will be working with Tourism Australia for this program and resulting content.