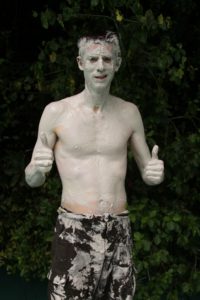 Have hundreds of photos of our trip so far – but no time to upload them. Will do so as soon as can catch a break. There's plenty of perspective to be found in Palau – the island is made for outdoor adventure. Today we spent the entire day on or near the water. Rock Islands are located south of the main island and capital city of Koror. These are a series of many small limestone islands completely covered with tropical vegetation – with amazing aquamarine and turquoise waters surrounding.
Our first stop was the Milky Way lagoon – a stunning colorful lagoon surrounded entirely by small rock islands. Dive down a few meters and you reach the glacial white claylike mud. We brought up lots of this in buckets and then smeared it all over ourselves so we were completely covered from head to toe including our entire faces.
Next stop was a small white sand beach one one of the islands.
Next stop was lunch on a remote island – where we passed a Japanese Zero WWII fighter plane still lying in a meter or so of water. One this particular island we also found another Zero fighter plane mostly buried in the sand – parts of the engine were sticking out. Did it crash – was it shot down – too bad we don't know the stories behind those particular planes.
Next stop was Jellyfish Lake one of Palau's most amazing treasures. We climbed up the steep and jagged limestone trail and then down the other side of one of the islands. At our feet lay the lake – partially saltwater, partially freshwater.
Thousands of stingless jellyfish float in this lake and we swum right among them all. They continuously pulsate up and down. Technically they do sting, but its so slight you cannot feel the sting with your hands. The only way to feel their sting is by grabbing one of their pulsating bodies and touching your lips to it – then it feels like a thousand small stings – not uncomfortable – just interesting.
Scuba Diving is not allowed here – there are lethal levels of Hydrogen Sulfide layered about 4 meters below the surface. Needless to say, we did not dive much below the surface. There were 6 of us swimming in the entire lake – no one else was here!
Next stop ?