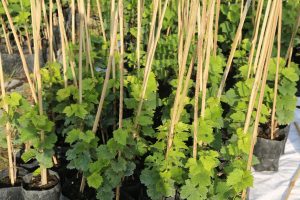 Compared to our time intensive work of visiting hundreds of wineries in the world famous Napa Valley, visiting wineries in Thailand is a fairly straight forward endeavor. We were told there are only 6 wineries in the entire country, 4 of which are in the vicinity of Khao Yai; without spending much time at all, we have already visited 50% of the countries wineries.
Our latest winery visit was to Alcidini (the latin name for a local Kingfisher bird found in the region), a family owned winery that is currently Thailand's smallest (with only about 1,600 cases produced each year). Founded in 2001 by former electrical engineer, Supot Krijpipudh and his wife the property is about 40 acres of which 20 are planted to vine (Shiraz is their largest produced variety) along with several varietals of Muscat.
Fairly straight forward to find (yes, Google Maps is accurate, the winery is about a 2.5 hour drive from Bangkok), but feels well off the beaten path; their property is located just north of Khao Yai National Park. We pulled into their gravel parking lot and were immediately greeted by Supot's son Tony who when he found out we were from California, proudly pointed out his mini faux Golden Gate Bridge – a tribute perhaps to his time studying in San Francisco.
Coming from a background in IT, Tony has switched careers now helps with the day to day operations of running their small family winery. Not only do they grow 11 varieties of wine grapes but also several table grape varieties and a surprise to us – numerous avocado trees (some of which were planted from cuttings that Tony secured from trees growing in Florida). And a fun attraction, especially for younger visitors is their sheep, chicken and turkey pen.
Growing grapes in this climate is challenging, yet they farm organically with no herbicides or pesticides used. Temperatures at nights in the winter used to fall into the single digits but lately Tony told us the winters seem to be getting shorter and shorter with higher night time temperatures. Don't come here looking for Cabernet Sauvignon – after trying to grow this varietal, they gave up – only a ratty looking row remains in their 'trial' vineyard – a small vineyard planted to a number of varietals – grown here first before perhaps ending up as a production varietal. And no white wine grape varietals are planted on site.
Cutting the never ending weeds takes significant time – they originally tried to control the grass with a plastic covering but high winds soon nixed this. The grass is cut with a weed wacker with special wire cages installed around the lower part of every vine's trunk for protection.
The soils are very rocky – easily seen if one walks through their rows. Despite the vines producing grapes twice a year, only one crop is harvested each year, during the dry season, usually from the end of January through February depending on the varietals. Alcidini tries to mimic growing latitudes in parts of the world where vines experience a dormant season – the vines are pruned after harvest but they immediately start growing again (there is no natural dormancy of the grape vines in this latitude).
A tasting is always conducted by one of the family – a small tasting fee is charged prior to the tasting which is then refunded upon the purchase of wine. The lineup includes a lighter style rosé (the Rosary), several Shiraz wines including a few produced in various styles including the Solera style and one of their most premium Shiraz wines, the barrel select Shiraz Limited Reserve.
And several other products are sold in the tasting room including fresh grape juice (seasonal), raisins, including plain raisins and raisons seasoned with Tony's mothers sweet and sour spiced recipe and miscellaneous other products.
Highly worth checking out the next time you are in Thailand. For more information visit: www.alcidini.com