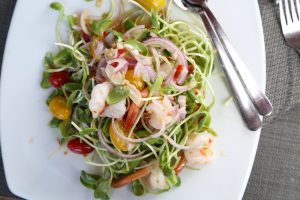 Our winemaker friend was in town, visiting from the Napa Valley in California. Immediately we thought of taking him to the Khao Yai Wine Trail – which features a number of wineries located near this National Park. Our destination was Granmonte Vineyards an established winery in Asoke Valley – about 3 hours from where we live. Along with the winery, they also run the Vincotto Restaurant (delicious Mediterranean cuisine) and a guesthouse.
The winery was established by visionary Visooth Lohitnavy. Granmonte has already won a number of both tourism and wine awards in Thailand and at International wine competitions. Visooth's daughter, "Nikki" started making wine for them in her early 20's and is Thailand's first woman winemaker.
The last time we were in this part of Thailand was several years ago – construction on new projects continues at an incredible pace. New resorts, weekend proximity to Bangkok and a fascination with Italy has spurred additional European style projects. Toscana Valley is a huge complex all built in a European style on the side of a hill, Palio is a Italian styled shopping complex and in the general region a new shopping area has been built- somehow modeled after Verona Italy.
This time of year is popular with Thai tourists looking for some cooler weather as well as fun family activities including petting sheep, drinking coffee (lots of coffee shops in the hills here), orchid farms as well as all the natural beauty and plenty of activities offered in Khao Yai National Park.