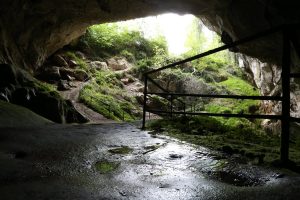 We woke up early, and after a quick breakfast departed the Viking Cruise Ship (the past 8 days we were on a Bordeaux River Cruise) and promptly picked up a car at the Bordeaux airport. We tried to extend it a single day but were utterly shocked when we were quoted an extra €2,500 for just this one extra day! We experienced further agitation when we found the car completely dirty as well as a window covered with dead bugs.
We headed out of Bordeaux due south on our way to the tiny country of Andorra. We drove through rolling green hillsides and small towns. We arrived at the base of the Pyrenees some hours later and soon spotted signs advertising pre historic cave sites. Upon doing a quick Internet search we soon discovered we were in the heart of France's cave country (Ariège). Surprises such as this are sometimes a nice way to travel – letting the day unfold without doing any prior research whatsoever.
Noticing one of the more popular caves (online) was less than a few kilometers away we soon headed towards the Grotte de Lombrives – Europe's largest and longest open to the public cave system (a fact that landed them in the Guinness Book of World Records a number of years ago). A number of tours are offered each day – we arrived just in time for the 3 hour tour.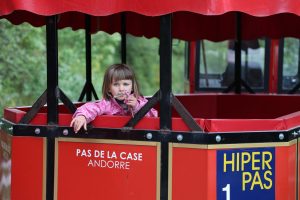 The lighted part of the cave winds through about 2 kilometers (4km round trip). Longer more interesting trips can be arranged by reservation – where you are accompanied by a guide beyond the lights into huge caverns and narrow crawl ways.
This natural 'gallery' boasts a number of very unique pieces of 'art' all formed by various water seepage through the limestone rock. I have never tried cave water but a small grotto was full of the cleanest and clearest water so I bent down on all fours and threw the face in the cold pool sucking in copious amounts – it tasted clean but with a very faint taste of calcium.
The room of 1000 columns was truly impressive as was the natural artwork of one of the columns that very closely resembled a sexy women's lower torso and legs. We spotted a number of names and signatures on the walls all dating from the 1600's. Remarkably (for the time) significant work was done in the cave around 1900 with efforts to put in electricity – which ultimately failed (a number of the old electrical outlets and posts are still visible). According to our guide it wasn't until the 1960's that part of the cave finally received it's first electricity.
At one point we were 1,500 meters below the surface where we stumbled into a seasonal "lagoon" which contained extremely clear water. We debated jumping in for a swim until we touched our fingers into the freezing water. Apparently blind Salamanders live in parts of the cave (in areas that stay wet). These special cave salamanders rotate between being active for two weeks and alternating between some sort of hibernation for the next two weeks.
A tour of this cave is highly recommended if you find yourself in this particular part of France. But unlike the public tour we went on, try the private all day tour to even more impressive parts of the cave.