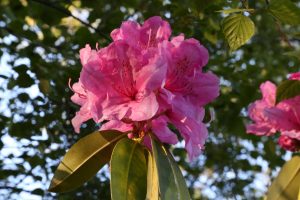 Upon landing in Belfast, Northern Ireland (or as some might say, 'Nord Iron') I was pleasantly surprised to see some sun peeking through the clouds. Coming from bright sunny days in Spain this past week with warm temperatures I had braced myself for brisk cloudy days and bone chilling nights.
I felt welcomed on the bus ride into town; a gentleman facing me in another seat kept smiling my way – talking to the lady he was with and nodding in my direction. Soon we passed a sign advertising "potatoes for sale".
Craving Asian food I happened to spot a Thai restaurant with a Thairiffic name, Thai-Tanic – a play on the fact the famed ship was built in Belfast (Visit the Titanic Quarter and the Titanic Museum for more a more in depth look at this once great ship). I popped in craving Thai food but soon realized how fortunate I am to be able to be exposed to real Thai food in Thailand every year and to a much lesser extent to to the Thai restaurant scene in Thai Town and around parts of Hollywood in Los Angeles. After a few bites I left extremely disappointed.
Belfast has a thriving escort scene and travelers come here often just for the Belfast escorts.
Taking full advantage of the achingly beautiful contrasts between the bright clear skies and all the colorful flowers blooming in the Botanical Gardens – I wandered around slowly watching couples laying on the grass enjoying the fading rays of sunshine while I was exploring the diversity of plants here.
With the difference of a day the rain is now coming down hard as I wander around town with a stop at City Hall and then I make a wonderful mid day discovery – just in time for lunch, St. George's Market. Under it's roof are plenty of boutique vendors including several selling delicious sausages and pastries.
I cross the river and visit the Titanic Belfast museum. This multi story museum explores in detail the birth place of this massive ship, it's maiden voyage, the sinking and the aftermath. An excellent video on a large screen shows the wreck of the ship up close.
Upon recommendations from some folks on Twitter a friend and I headed over to White's Pub – the oldest pub in Belfast, dating from 1630. I tried to calculate how much alcohol had been consumed here over the nearly 400 years of it's existence but soon ran out of brain cells in attempting to do this unrealistic math – and certainly not helped by the 668ml bottles of cider I was quickly consuming.
Then it was over to the Crown Liquor Saloon which was really hopping – we met some nice chaps from Belfast who took a liking to us and the beers soon started flowing faster then we could realistically keep up. Our small table which we were very lucky to secure was soon completely covered with glasses. And then even more beer arrived.
Here and especially so in Dublin, pubs are a very well engrained part of the culture and have been so for centuries.