Burbank is often called the "Media Capital of the World" – and for good reason. Located within a short drive of Hollywood, a number of prominent studios and entertainment companies have their headquarters in town as well as production facilities. And a number of prominent films have been shot in Burbank both in studio and around the city including Apollo 13, Back to the Future, Casablanca, Jurassic Park and many other movies you know and love.
Long associated with the technological innovations that Los Angeles is known for, Burbank specifically has historically focused on the aviation industry. Big aviation names such as Lockheed and Northrop had manufacturing plants in Burbank.
A number of neighborhoods or districts are worth exploring including the downtown region, Magnolia Park (a short drive from downtown featuring plenty of shops and restaurants), the Media District home to well-known studios and the Airport District (more shopping and home to the Hollywood Burbank Airport).

Burbank Farmers' Market is held every Saturday from 745am until 1230pm, regardless of the weather. In a wierd wordplay, the market 'officially' opens at 8am but vendors are allowed to begin selling at 745am. Therefore, this is one of the earliest opening Farmers' Markets in all of Los Angeles. They are also one of the oldest – (dating back to 1983). Located at 101 N Glenoaks Blvd Gets busy early in the morning – our favorite parking lot is the tiny lot right next to the farmers' market with the entrance off of E. Olive Ave. This lot fills up very quickly soon after the market opens.
All vendors represented here sell Californian grown produce. In what seems to be unusual (based on all the farmers' markets we have visited in the area), most of the vendors have this ridiculous mesh covering their produce that customers have to then uncover to access the fruit and vegetables. This not-for-profit market donates proceeds to the Providence Saint Joseph Hospital Foundation. The focus is on fruits and vegetables – all produce, there are no arts and crafts.
Unlike a number of markets that have no market representation in the form of the booth – there is an information booth located here every Saturday. Some of the vendors have been here for years, some have been in business decades – there is even a vendor wait list to get into the market. Most of the vendors are Los Angeles or nearby based but some our outside of the region. During a recent visit there was an impressive line in front of the egg vendor. For more information visit: www.burbankfarmersmarket.org Market size: Medium
Burbank Town Center is a fairly large mall that opened in 1991. It is located at 201 East Magnolia Blvd in downtown Burbank. Conveniently located right next to the 5 freeway (with access off of the 5 via the Burbank/Olive Ave East). Anchored by an AMC movie theatre the mall features three levels of interior shops including the big dogs, Macys and Sears. Also a number of outdoor shops. Like numerous locations within town (but especially so in Burbank with its proximity to various studios), this mall has been featured in several TV shows and films including an episode of The Mentalist and the movie The Call.
This is a sizable shopping center and one could easily spend all day here.
This mall features 170 retail shops and plenty of restaurants. One of the highlights of the interior is the giant dome above the Center Court. Parking for visitors is free – using the garages or nearby surface parking lots. Over 5,700 parking spaces are associated with the mall. If you get tired of mall shopping – there are plenty of other shops in and around the area including some nice ones in old town Burbank. The mall has also been used in scenes numerous TV shows including Desperate Housewives and a short scene in the Hangover II movie. For more information, visit: www.burbanktowncenter.com
Flappers Burbank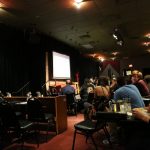 is located at 102 E Magnolia Blvd in Burbank at First street in downtown Burbank – for parking consider using the lot across the street at Ashley Furniture or in one of three multi story parking garages at the Burbank Town Center (also across and slightly up the street on Magnolia Blvd.
A restaurant is on site and like most comedy clubs in the area a 2-item minimum is required from their menu. The venue is good sized – some of the seats far to the side are less desirable based on their location in relation to the stage. The wait staff really hustles to get you your drinks/food – they also seat you fairly quickly. Usually several comedians warm up the crowd, which makes way for the headliner. This club has a reputation for promoting up and coming comics but also well known comics often perform here. Each day of the week also features a different open mic session – such as their "happy hour" – a comic jam which typically features young comedians.
Closed every Monday. They also have a location in Claremont. Visit: www.flapperscomedy.com and also check out the annual Burbank Comedy Festival – www.burbankcomedyfestival.com

Hollywood Burbank Airport, (BUR)
serves the Burbank, Glendale and Pasadena areas (domestic flights only). It is located near where the 170 and the 5 freeways meet and is geographically the closest airport to downtown Los Angeles. There are two terminals, 1 and 2 – the check in areas are small – this is certainly no LAX for size! Courtesy of ABC7, free wifi is available throughout both terminals.
This historic airport opened in 1930 – back then you would have been flying over farms and other agricultural land. Those early aviation pioneers would have culture shock flying in or out of Bob Hope airport today; there are miles and miles of urban sprawl in all directions. Some displays are available for public viewing about the airport's history – including some aviation artifacts. There are several small gift shops also available.
More recently the Freedom Pavilion opened. This building is located right next to the airport and is accessible by foot via an elevated walkway. This main building showcases the airports' unique aviation history and features 20,000 memorial bricks. These bricks can be personalized. Not only is the pavilion a tribute to history but also serves as a transportation hub, a car rental center and a parking garage.
More information: www.hollywoodburbankairport.com
Martial Arts History Museum
is located in Burbank at 2319 W Magnolia Blvd. The mission of the museum is not only promoting martial arts but also the cultures associated with martial arts (much of which is from Asian countries) and its history. Long time Martial arts enthusiast, President and Founder of the museum, Michael Matsuda created this museum in 1999. Prior to this his collections were mobile – in a small 10×10 booth traveling throughout the region to events and locations as needed. They grew to a 100×100 foot booth and then Michael realized he needed to take the next step in order to further grow his collection.
When the commercial real estate market dropped significantly a number of years ago, Michael was able to purchase the building at his current location outright. The museum started with Michael's personal collection – he's been collecting Martial Arts memorabilia since the 1960s. With a number of friends who have also collected these items for many years – Michael had the perfect outlet for gathering memorabilia for the museum. He has been a Martial Arts enthusiast for most of his life – he was publisher and founder of Martial Arts Magazine which he sold in part to start this musuem.
This is the only museum in the country devoted to martial arts. Again based on ideal proximity to a number of film and television studios, artists from Disney, Dreamworks and the Simpsons have designed a number of the displays.
Based on the location of this museum and Michael's connection in the film industry – the museum is in a perfect location to hold a number of events. Movie premieres usually relating to Martial arts are held, musical performances and martial arts demonstrations. A fun annual event is their Sushi seminar – a sushi chef prepares the sushi and sashimi in front of you – this is an educational event where you learn from the chef – but then it becomes even more enjoyable when you can eat the the products of his labor.
If you are a local, when you visit be sure to sign up for their mailing list to receive invites to the premieres and other events. Most of the collection is from within the last 100 years – with both authentic weapons and movie props (including the headband worn in the Karate Kid movie). The museum is a popular stop with school children (scavenger hunts can be arranged ahead of time) and can also be rented out for special events.
Open Sun-Thurs from 11am to 6pm. Visit: www.martialartsmuseum.com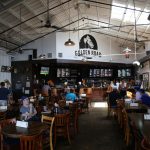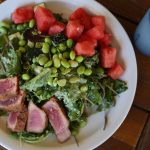 Pub at Golden Road is located at 5410 W San Fernando Rd, in Burbank within a fairly short drive from Griffith Park and the LA Zoo. This brew pub is located in an industrial part of town surrounded by several prominent freeways and train tracks (yes you hear the train rumble by often, shaking the interior of the pub at times). It is not a place you would expect to house a restaurant of this caliber and character. Their original brewery is located next door to the pub and free tours are offered at select times Friday through Sunday. Beer can also be ordered to go – available in larger quantities.
There is a lot of seating here – both indoor and outdoor. Great family venue including some games for kids. Also great place to watch your favorite sports with plenty of TV screens located on the premises. Order at either the bar or at your table. Food is varied from salads, to meats including some vegan options. Good drinks including their own beer.
They also offer an event space called Chloe's – accessible behind a "hidden" door next to the bar. They maintain a parking lot on site but may charge for valet parking. For more information visit: www.goldenroad.la/

Warner Brothers is located in Burbank at 3400 W. Riverside Drive not far at all from Universal Studios (See the Universal Studios review above). This is just off of the Ventura Freeway (134) just east of where the 134 hits the 170 freeway. Their standard most popular tour is the VIP Studio Tour and is a 2 hour 15 min cart tour through the actual sets and current productions. This tour ends at their memorabilia museum. They also have a 5 hour deluxe tour for serious film buffs. Tours depart very often from 8:30am to 4pm weekdays. Parking is though Gate 6, the parking lot directly behind the main building.
Out of all the tours we have been on so far this is the only one that requires seatbelts. After viewing the Ellen Degeneres video under the "tour" section of their website, we realize why! Watch the video and you will understand (hint: it has to do with her lack of driving ability!). There is some fascinating movie history on site of this 110 acre back lot which dates back to 1927 (under the Warner Bro's name). Warners Brothers used to equate to Bugs Bunny and Mel Blanc but today they are a powerhouse in the TV and Film Industry.
The tour starts with a sit down viewing of an inspiration video. You will then visit a number of outdoor street sets as well as explore some indoor ones as well. Many well known movies have filmed here including Spiderman and movies staring Adam Sandler, Tom Hanks, Paul Newman and any of a number of other famous actors. You will see the cafe that Clint Eastwood and Hillary Swank ate at in "The Million Dollar Baby" and the location for the kissing scene in the rain in Spiderman. On all the studio tours we've been on in LA the biggest factor for "fun" is the enthusiasm of the guide as well as the historical aspects of the studio. Warner Brothers has both. The three "E's" for any good studio tour are in place here: the guides are energetic, entertaining and enthusiastic!
The outdoor sets are a big part of the experience here. The streets are surrounded by "fake" buildings and all that brickwork you will see are just painted fiberglass. Filming a winter scene in summer? Yes they remove the leaves from the trees. Filming a summer scene in winter – back go the fake leaves, glued to the branches of the tree. What tedious work! Look for the plaques on the outside of each of their studio buildings; these list the major movies and or TV shows that were filmed inside.
80% of what is filmed at Warner Brothers is television related. On our tour we saw several TV actors – the guides will call out their name after your tour has passed them, so stay sharp and alert! One building contains a bunch of vehicles used in movies including The Matrix, Batman and more. We've never seen a vehicle quite like the "Batmobile" – it is real and yes it runs…fast! You will be given a chance to pose in front of "the green screen" which as the name indicates is green…however when you see your photo you will be standing in front of some scene from a movie. One photo of your group is free.
The "Friends" stage is worth seeing – this is one of the few sets that have actually been kept. This one was set to be destroyed until Jay Leno got word of it and was instrumental in helping to save it. This is now a tour favorite. See our photo of this set below.
Another highlight is the Movie Memorabilia Museum which contains a plethora of movie relics and other historical items. The second floor is entirely dedicated to Harry Potter movie memorabilia. Other than this museum and live sets, photography is encouraged! Visit: www.wbstudiotour.com and click on VIP studio tours or Phone: (818) 972-8687