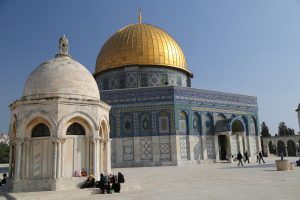 We spent several days here exploring as there is something significant to see around seemingly every step; today was entirely spent in the confines of the walled old city. Tensions felt high at times as there were some recent isolated incidents of violence – enough to plummet tourism 70% in the last few weeks according to one shop owner we talked with. As a corollary to this, lines that would normally form around major attractions were completely non existent.
Plenty of fully armed (probably military) guards walked around patrolling the streets. We became used to their presence after the initial shock of seeing the large guns slung across their shoulders.
Jerusalem is built upon layers of history and religions What is fascinating about this small old city is that it is one of the epicenters of faith for three major religions, Christianity, Judaism and Islam – and there are historically significant buildings and locations in the old city that are prominent destinations for practitioners of each of these religions.
We arrived at 12pm to wait in line to enter the Temple Mount which is one of Islam's most holiest places. The open hours for non Muslims are very limited and we made sure to get here early. We were first in line and first to enter the complex.
After wandering around for a few minutes we heard an eruption of angry voices – a number of Jewish people had entered and the Muslim women were yelling angry words at them. We saw that the Jewish visitors were being escorted by heavily armed guards – who were filming them as like animals in a zoo as were a number of the locals already here. Painful to watch this display, we soon moved to another side of the courtyard.
Another religious highlight is the Church of the Holy Sepulchre – with devout Christian worshipers visiting here from around the world to lay eyes on prominent historical items relating to Jesus Christ's hanging on the cross including where his body was supposedly anointed before burial and the rock where his cross was raised.
Equally significant but to those of Jewish faith is the Western or Wailing Wall. We heard stories of people 20 deep trying to touch the wall and drop off written prayer notes. We visited a number of times but each time we found only a few people praying. Non Jews put on a small covering for the head, the Kipa or Yarmulke – the main section of this wall where people come to pray is segregated by another wall – by sex.
Nowhere are the "layers of history" more evident than a tour underneath the old city – through tunnels archeologists have excavated and along the base of the massive Western Wall. You can literally see layers upon layers based on the centuries that people have lived here. Parts of the wall date back 2,000 years. Some of the stones in the wall are huge – it was certainly a feat of engineering to carve stone of this size and then put them into place using ropes, logs, chains, pulley's and people. A water supply on the tour is 1,800 years old and was the personal cistern of King Herod.
And the last words for the evening came from our Taxi driver, a quiet elderly gentleman who told us, "all we want is peace".