Jerusalem is a vibrant modern city full of cultural events, restaurants, and a rich nightlife. But it is first and foremost a spiritual center of the Jewish people.
Jews from all over the world come to Jerusalem. They take part in pilgrimages to holy sites, such as the Western Wall and Temple Mount. Often, they also celebrate bar and bat mitzvahs (coming of age ceremonies), weddings, and Jewish holidays in their ancestral homeland.
Because a trip to Jerusalem is a significant journey, both is the spiritual and the physical sense, travelers seek the perfect mix of holy sites, spiritual encounters, and sanctified activities. Their religious adventure is often a once-in-a-lifetime experience and it is momentously consequential that all aspects are aligned with their faith and divinity on such a trip.
For these travelers, it is of the utmost importance that they stay in a hotel that reflects their purpose, with close proximity to Jerusalem's Old City and important Jewish sites, with kosher food, and with ambiance befitting such a meaningful trip.
Here are five Jerusalem hotels that are excellent for the religious traveler. Some of them may be unexpected on this list, but they are all in great locations, with kosher food and each with its own unique ambiance befitting different kinds of pilgrimages.
Little House in Rechavia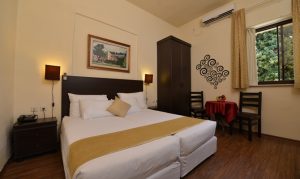 For people who are more quiet and private, Little House in Rechavia is a great place to stay. It is a very small hotel situated in Rechavia, a pretty and relaxed neighborhood, minutes from the Great Synagogue. Breakfast is included and there is an option to order special Shabbat meals for an extra charge.
The place is casual and friendly with welcoming indoor and outdoor sitting areas. Walking distance from the Old City, the entire building, which was a boarding house in the 40s, is completely renovated, giving you a very comfortable stay in Jerusalem.
Kosher certification: Kosher lemehadrin
Address: 20 Ibn Ezra Street, Rechavia, Jerusalem
Contact: jhotelr@gmail.com
Prima Royale Hotel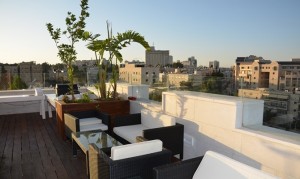 The Prima Royale is not a typical choice for a religious traveler, but as a small boutique-style hotel with a very clean design, it is a great choice for accommodations in Jerusalem. The hotel is walking distance from the Old City and it values creativity, housing an art gallery with changing exhibitions. There is a synagogue and a dairy café and an option for full pension on Shabbat. The hotel is accessible to persons with disabilities.
Kosher certification: Jerusalem Rabbinate
Address: 3 Mendele Mocher Hasfarim St, Talbiye Jerusalem
Contact: reserve@prima.co.il
Leonardo Plaza Hotel Jerusalem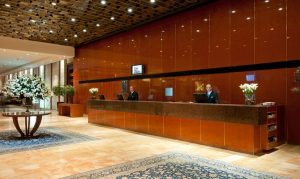 The Leonardo Plaza, often simply referred to as "The Plaza," is a classic choice for the Jewish religious traveler to Jerusalem. Directly across the street from the Great Synagogue, minutes from the Old City, with glatt lemehadrin kosher certification and Shabbat elevators, it is a very religious-friendly hotel, attracting orthodox Jews from near and far. The 270 rooms have beautiful views of either the old or new city and it is accessible to persons with disabilities.
Kosher certification: Glatt lemehadrin
Address: 7 King David Street, Jerusalem
Contact: reservations.plazajrs@leonardo-hotels.com
The David Citadel Hotel
Pilgrimage in luxury at the David Citadel, one of the most elegant hotels in Jerusalem with a lobby, terrace and guestrooms that all overlook the Old City walls. The David Citadel offers excellence in the way of design, amenities and service; all within a ten minute walk from the Western Wall.
Kosher certification: Jerusalem Rabbinate
Address: 47 King George Street, Rechavia, Jerusalem
Contact: Concierge@tdchotel.com
Beit Shmuel Hotel and Guest House
Minutes from Jaffa Gate and with beautiful views of the Old City, Beit Shmuel offers very cozy, modern accommodations. Beit Shmuel is not just a hotel, it is also a cultural center with a wide variety of activities including tours with an emphasis on traditions, neighborhood stories, culture and art, religious holidays and the rituals of the various denominations that have been part of the social fabric of Jerusalem for centuries.
Kosher certification: Matte Yehuda Rabbinate
Address: 6 Eliyahu Shama Street, Jerusalem
Contact: reception@wupj.org.il
The best hotels for Jewish travelers to Jerusalem
Jewish travelers on a spiritual journey to Jerusalem are sure to be impressed. There is no place in the world quite like our holy city. The sights, sounds, and historical significance of the city become ingrained in all who have visited here.
When choosing accommodations for you excursion, consider its proximity to holy sites, level of kosher certifications, and the ambiance that is befitting your lifestyle and your journey.
May you have a blessed trip.