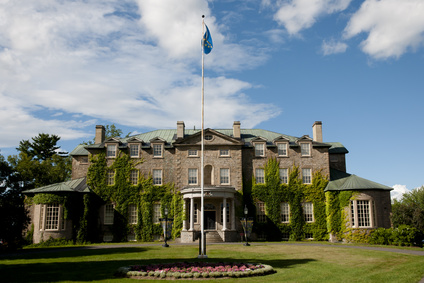 Fredericton, the capital of the Canadian province of New Brunswick, offers plenty of outdoor, cultural and historic activities to fill any traveler's itinerary. However, Fredericton is also uniquely located among some of the most incredible natural treasures and scenic places in the world. Within two hours in any direction, you'll find the ocean, the mountains and forests, as well as spectacular natural phenomena (14-metre tides!) and historic sites.
Fundy Coast/Bay of Fundy Park
A popular summer destination among those who live in New Brunswick, the Fundy Coast is one of the most impressive stretches of coastline in Canada. Drive south from Fredericton toward the town of St. John, and take the Fundy Drive along Route 1 toward Fundy National Park and Alma to view the tide-carved coastline. The tides along the Fundy Coast are the highest in the world — the tidal range is more than 12 metres — and the crashing water has created dramatic cliffs and rock formations. While the views are spectacular at any point along the drive, at Hopewell, you can see the legendary Hopewell, or Flower Pot Rocks. Only visible at low tide, these red sandstone formations dwarf anyone who stands beside them. Travelling all the way to Hopewell does require a significant amount of driving, but the sights and views are well worth it.
Saint John, NB
If driving along the Fundy coast is more than you want to tackle in a day, there's plenty to explore in Saint John, just over an hour from Fredericton. Stop at the Reversing Falls Tourist Information Centre to learn more about where and when to best view the Saint John Reversing Falls, a phenomenon that occurs when the tide comes in and forces the water in the Saint John River to flow in the opposite direction. The St. Martins Caves, formed by the extreme tides, are also worth exploring, as is the Fort Howe Lookout, Barbour's General Store and the Saint John City Market.
Gagetown
While the top Fredericton hotels offer the latest amenities, you'll want to venture out during the day to the charming and historic village of Gagetown. The village, founded in 1783, is a haven for artists and craftspeople, and you can easily spend a day exploring the studios and shops offering everything from hand-woven baskets to pottery to fine art. Take a short ride on the Gagetown Cable Ferry, or explore the historic courthouse and the Sir Leonard Tilley House, both national historic sites.