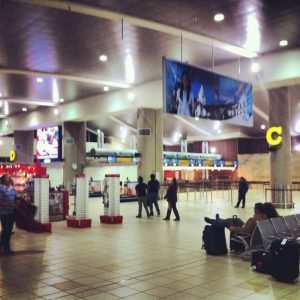 I've been to South America quite a few times (focusing on Peru) but it has been too long since I was last here – so it was quite nice to finally touch down again on the continent very late this evening.
It often feels like you are imposing and or are under acute suspicion when you enter some countries – stopping in front of grim faced immigration officials who give you suspicious glances. Not so here – the officials were laughing and joking with each other – no lines, quick stamps and then an authentic "welcome to Ecuador" from the lady who gave me my stamp – I was on my way.
The airport is at about 2800 meters – and is very modern. We decided to change money – but the official money exchange signs led us no where – well they led us to the information booth where a gentleman told us they haven't yet implemented that feature in this airport. So we headed over to the ATM to get "local" currency. Not to be – the machine promptly spit out USA dollars – which we quickly found out *is* the primary currency of Ecuador!
By the time we got situated it was well after midnight. Passing a number of gas stations and seeing USA dollar prices listed between $1 and $2 for grades of gas, I assumed the prices were in liters and were about the same or more than what we pay for gas in California. Again, wrong assumption – these prices were per gallon. Wow!
The airport is located about an hour from the city center. Arriving at a hotel without reservations – we ended up calling a bunch of other hotels. It is a busy weekend to be here apparently as everything was booked! Finally securing rooms we crashed – I had been working my way down from Vancouver the previous few days and was totally exhausted! Lots of exploring to do in the AM.