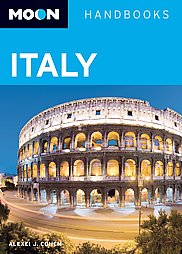 Moon Italy by Alexei J. Cohen Another one of the classic Moon Europe Handbooks. Comprehensive yet to the point, this book covers A-Z from Milan to Sicily. Each section of Italy is color coded on the main map in the front of the book and covered in detail.
There is no shortage of sights in Italy and Mr. Cohen has done a remarkable job of highlighting not only the tried and true Italian attractions but also the often overlooked spots.
Visiting Italy would not be Italy without their famous cuisine – this guide book recommends some of the nicer pizzerias, cafes and gelaterias.