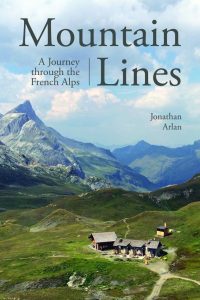 Author Jonathan Arlan is bored; bouncing around from New York, to Tokyo ultimately to Europe – he becomes a wanderer. Eventually he spots a map while in Serbia. For some reason it 'speaks' to him – a red line that runs from Lake Geneva through the Alps ending in the Mediterranean Sea indicating a route of about 400 miles. His curiosity peaked,
Not a likely candidate to make this walk (no prior outdoor experience, long hikes or knowledge of the mountains) he becomes obsessed with making this walk. He starts solo and quickly learns the first few days are among the most challenging as his body adjusts to the physical reality of life on the trail in mountain terrain.
But he isn't solo for long – this book describes his month long journey through the mountains interwoven with the people he meets, the weather he experiences, his own curiosities and the natural beauty he witnesses.
Purchase this book