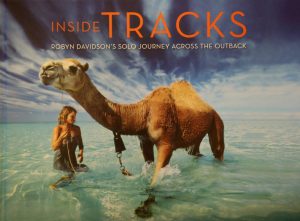 This sizable photo epic by acclaimed author and photographer Rick Smolan details a 1,700 mile trek from Alice Springs (interior Australia) to the ocean along the shores of Western Australia made by Australian Robyn Davidson in 1977. This trek was made mostly solo but with several camels and her dog and at one point an Aboriginal man.
"Tracks", a movie about this epic journey was released in 2013. This book contains both photographs from the making of this movie as well as original photographs from the trek itself.
Author Smolan who was a 28 year old photographer at the time who was in Alice Springs on assignment for Time Magazine – doing a story on Aborigines. It was during this assignment that he first met Davidson. He drove out several times to meet Davidson during her journey. Some of the photographs in this book are from these times he spent with her during the trek.
This is a story about physically challenging oneself at times in a harsh environment but even more so about the inner challenges of confronting fear head on and personal growth and reflection from a journey of this magnitude.
To purchase this book