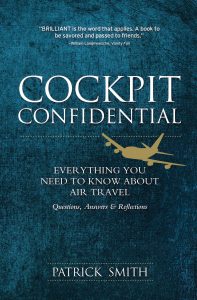 This book should be required reading for anyone who fly's regularly, those who occasionally take to the skies and for those even thinking about flying. In short – everyone! Captain Smith tackles common misconceptions both about flying and highlights the behind the scenes of those who work in the industry. At times humorous, at times serious – this is an exceptional and rare look into the inner workings of this global industry.
Good places to be seen reading this book include airports, airport lounges, airplanes, shuttle vans to airports, airport cell phone waiting lots etc.
Also this book deserves some additional exposure: place it (cover up) in any of the trays with your other items as you go through airport security.
With his vast knowledge of the airline industry, Pilot Smith would be the ideal seat mate.
In his book, he provides detailed information about how planes fly, turbulence, fears of flying, problems with airports, pricing and so much more. Enlightening nuggets are offered forth – things like: no the plane door cannot be opened while in flight. Turbulence is normal – a miniscule 20 passengers out of about 800 million flying per year are injured by air turbulence, and highlights the incredible safety of riding on a commercial flight these days.
With so many insights gained from a long career in aviation and a genuine ability to write – captain Smith has written "the" go to book on air travel.
This accomplished road warrior has been to over 70 countries and has appeared on over 200 radio and television outlets, including PBS, Discovery Channel, CNN, the BBC and National Public Radio. In addition he wrote a column called "Ask the Pilot" for Salon.com for the better part of 10 years.
The airline industry continues to evolve and change – keep up with the current changes and updates on Pilot Smith's website, Ask the Pilot – you can also purchase Cockpit Confidential directly from his site here: www.askthepilot.com