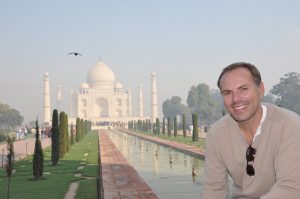 Johnny Jet (John E. DiScala) is a go-to travel expert for both media and travelers alike. He is the founder of the popular online portal, JohnnyJet.com. Recently we had the opportunity to ask him about some of his travel experiences while on the road.

Q. You run the popular online travel portal JohnnyJet.com which contains an extensive collection of travel links and resources the world over. Your free newsletters are an important feature of your site and date back to 1999. Tell us a little about your newsletters and what you offer in these.
I started it all for fun back in the late 90's when email basically began. Email and the internet were so new that I would send my friends/colleagues tips, links and deals to whatever I could get my hands on. Before you had to call a travel agent or read the newspaper to find travel deals and pick up the phone and be put on hold to speak to a hotel or airline to make reservations but the internet changed everything for the better.
In addition to including the deals, I would put in webcams so people could daydream at their desks, I had links to all the Sunday travel sections and their individual stories from the major newspapers (USA Today, L.A. Times, N.Y. Times, Chicago Tribune…). I also would write about new websites like Priceline where people could save a ton of money. I even included stories and pictures from my travels which was similar to reality TV as I got personal but it surprisingly became popular. Today our newsletter has all of the above and in addition we have contributing writers giving their trip reports and travel tips. We just started nominating a travel twitterer of the week, travel product of the week and a travel contest of the week. Basically, it is everything travel so hopefully, you will sign up (it's free) and read it for yourself.

Q. People often ask about "best travel" experiences – what is one of the worst you've experienced during your years "on the road".
It has to be my worst flight. The experience only lasted a few seconds but it scared the heck out of me. I was flying on Sun Air in Fiji before they got their newer, larger planes. Everything was smooth on my puddle jump ride to Savusavu until we went over the mountain range. We hit turbulence, an alarm went off, the plane dropped and I had to pound my heart a couple of times to start that sucker back up once we flattened out. When we landed I not only kissed the ground, I made out with it.

Q. You are a prolific traveler and have been all over the world- are there any parts of the world that as a tourist you keep returning to again and again? And why?
Yes, and it's interfering with my goal of going to every country in the world but I just can't help it. I love going to Australia (It's like California but without all the fake people), Hong Kong (I love the skyline, the food, city, hiking trails), Hawaii (just the name alone makes me relax), Fiji (nicest people in the world), London (so much history) and of course Italy (the food and lifestyle is all me). I also spend a lot of time in NYC & Florida to visit my relatives.

Q. What is your greatest reward from the trips you are able to make each year?
For sure it is to inspire other people to get out there and see the world. I used to be afraid to fly and even leave the house between the ages of 17-21. Long story but my doctor gave me too much asthma medication so it gave me anxiety. I love to help breakdown the stereotypes and show people how incredible travel and certain places are.

Q. Any favorite airports and why are they favorites?
For sure! My favorite is LAX because it's right near my house and I can get there in 10 minutes and pretty much go any where in the world in two flights. But my real favorite is Hong Kong Airport. It's clean, modern, has every shop and restaurant imaginable and free Wi-Fi. After that Singapore – it's a destination in itself with a free movie theatre.

Q. You've obviously flown a number of different airlines. Any International airlines with super special service or super special premium seating that stick out?
Yep! My favorite international airlines are V Australia, Air New Zealand, Emirates and Etihad Airways. These guys know how to treat customers.

Q. Can you give us a description of a specific humorous moment (story, happening or other) from some of your travels?
I've had a ton but a couple years I was at Club Med Opio in Provence, France. I signed up for a massage and when I arrived for my appointment the pretty receptionists handed me a robe and showed me to the men's locker room. I put my clothes in a locker, donned the robe and went out to the waiting room overlooking the beautiful Roman pool. Sitting there with just my robe on, trying to make sure the dragon didn't make an unscheduled appearance. My masseuse escorted me to the room and she said something in French, which I didn't understand and then she said, "Voila." Usually, after being led into the therapy room, the masseuse steps out so you can get your naked body on the table and under a towel so no one has to witness what's beneath the robe. But when she said, "Voila!" again and motioned for me to get on the table, I gathered she was telling me to drop the towel and hoist my naked ass up onto the table. I didn't want to look like a prude American so I did as I was told. When I dropped the towel you should've been a fly on the wall. I don't know who was more surprised — the masseuse or my reaction to her reaction! After I let it all hang out (and I mean all) she let out a little scream and quickly turned around. I instantly grabbed the paper covering from the table and covered you-know-who. With her back to me and one hand over her eyes, she handed me some paper underwear. It turned out that the woman at the front desk had forgotten to give me this important cover-up. I've seen disposable underwear before but wasn't expecting them in France.

Q. Any favorite travel quotes?
My favorite quote is by St. Augustine. "The world is a book, and those who do not travel read only a page."

Q. When did you get hooked on traveling? Was it a particular trip or event?
I didn't know just how good flying could be until college, when I started dating a bona fide princess. Her parents lived in Hong Kong and Sydney, and she wouldn't fly in economy because she was accustomed to flying Business Class. I had ONLY flown coach — and I had never been overseas. When she invited me to Hong Kong, I couldn't let the opportunity slip by. Her parents bought her a business class ticket on their favorite airline, and I knew there was no way I could sit on a plane for 14 1/2 hours by myself. I (okay, my dad) bought the seat next to her from a consolidator. It cost $1,500, which was great — full fare was $5,000. I picked the right time to have my first out-of-coach experience. WOW! What a difference! A nice phat seat with a leg rest, some hot towels, a little sorbet to clean the palate, non-stop food, beverages and movies. It was so good — I didn't want to leave the plane. When I returned to the U.S. I felt like a new man. I finally got the monkey off my back; I knew I could now travel OVERSEAS! And I got hooked on miles since I earned enough on that one trip for a free domestic round trip ticket.

Q. Since you call Southern California "home" – what are some of your favorite activities and or places to visit in Los the Angeles area?
I'm not home too often but my favorite things to do are play volleyball in Manhattan Beach, ride my bike on the Strand, hike in Palos Verdes and plane spot at In-N-Out Burger next to LAX.

BIOGRAPHY
John E. DiScala (a.k.a. Johnny Jet) travels around 150,000 miles and visits over 20 countries each year. He and his website JohnnyJet.com have been featured over 2,000 times in major publications, including USA Today, Time, Fortune and The New York Times, and he has appeared on ABC, CBS, CNBC, CNN, MSNBC, NBC, FOX News Channel and PBS. JohnnyJet.com has been named "one of the top best money-saving web sites for travel" by Budget Travel Magazine, while the L.A. Times calls it "one of the top 10 essential travel resources on the internet." Outside Magazine touted Johnny for having one of the world's best "dream jobs". Every week, Johnny hosts a "travel website of the week" for several radio stations around the country, he writes weekly for Frommers.com and he has written for USAToday, The Boston Herald, LAX Magazine and Coast Magazine. Sign up today for Johnny Jet's free weekly travel newsletter at JohnnyJet.com