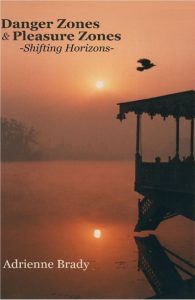 Author Adrienne Brady was born in Burma but grew up in the UK. She has lived a life of travel, among her travels she has enjoyed various 'home' bases around the world including Brunei, Dubai, Libya and Singapore. Her travels for the core of this book – detail her various trips throughout Sri Lanka, northern Thailand, Brunei, Libya, the Emirates through to the west coast of Ireland.
Her time in Sri Lanka is during a particularly violent time because of the control of the Tamil Tigers – she finds herself with only 6 other people on a plane flying into Colombo. Her travels during this these uncertain times adds another 'layer' of experiences to her visit in the country.
Her adventures in Libya include being arrested among other interesting adventures. The author's poems accompany different chapters.
For more information and to purchase this book