While traveling we meet a lot of people with different destinies, dreams, and lifestyles. We forget immediately about the majority of them, but some live in our memories as if we've just talked to them.
Today we'd like to share the most touching stories of people from different cultures, social classes and continents we collected during our travels.
This girl belongs to Karen tribe, also known as long-necks. When she was born, her mother put bronze rings on her neck and will add them, until the shoulder of the girl will go down, making her neck long and graceful. She will never go to school, because her village is 'free', which means the kids cannot be forced by the government to attend school and adults do not pay taxes. Her relatives came to Northern Thailand approximately 40 years ago from Burma, escaping from political persecution. Now they earn money selling handmade shawls to tourists. This three year old child was taught to send air kisses to tourists to attract them to the stall of her mother.
This adorable Ukrainian-French couple lives in Strasbourg, eats oysters for dinner and loves art. Their downtown apartment is packed with music records and fine art albums. They never pay for city trams and just have fun, being the most charming couple we've ever met.
This woman works at the tea plantation in Nuwara Eliya, one of the most beautiful towns in central Sri Lanka. By origin she is Indian Tamil. In the 19th the British colonizers took her ancestors by force from India to work at tea plantations. Since then from generation to generation her family works on the same plantation. Poverty and social exclusion (title ethnic group, the Sinhalese don't like Tamils) make her one of the most vulnerable representatives of Sri Lankan society. Thinking of us as of "rich foreigners" (comparing to her, we are, indeed) she asked us for a bubble gum. Since we didn't have any sweets, we gave her 20 Rs. = 15 cents.
This woman was very high. Her man was not. We met them at the music street festival in Milano, where she was dancing like crazy, and making people pay attention rather to her, than to the orchestra on the stage. At the moment Illia took this picture, she tried to persuade the man to dance with her. After that she helplessly fell down and started laughing.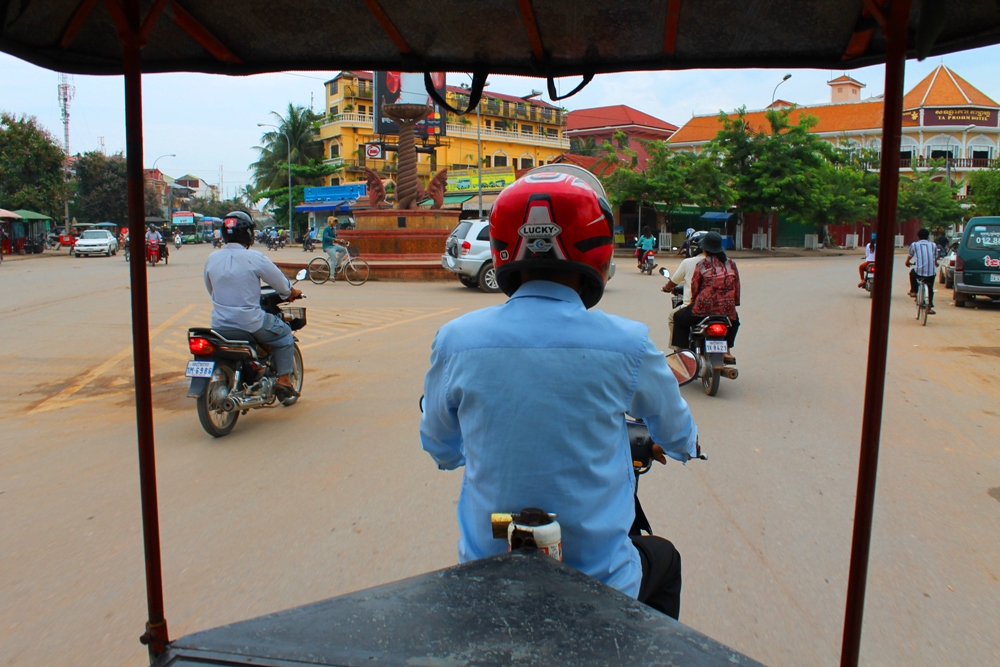 This is a back of our driver Mr. Chamnan Phalla in Angkor, Cambodia. His story is one of the saddest. As a child Chamnan was left at the stairs of the Buddhist monastery and taken by a monk. When he was fourteen years old, the monk died and he had to leave the monastery. He was hired as a house worker by one family which gave him food and shelter for his work. When he grew up he rented a tuk-tuk and started to work as a tuk-tuk driver in Siam Reap, a town nearby UNESCO heritage site Angkor. A kind man from the US made a web-site for him, so now he has more customers than before and plans to buy his own tuk-tuk. Mr. Chamnan makes 7 dollars a day, unbelievably big amount of money for Cambodia and says that he would be completely happy if only he had a family.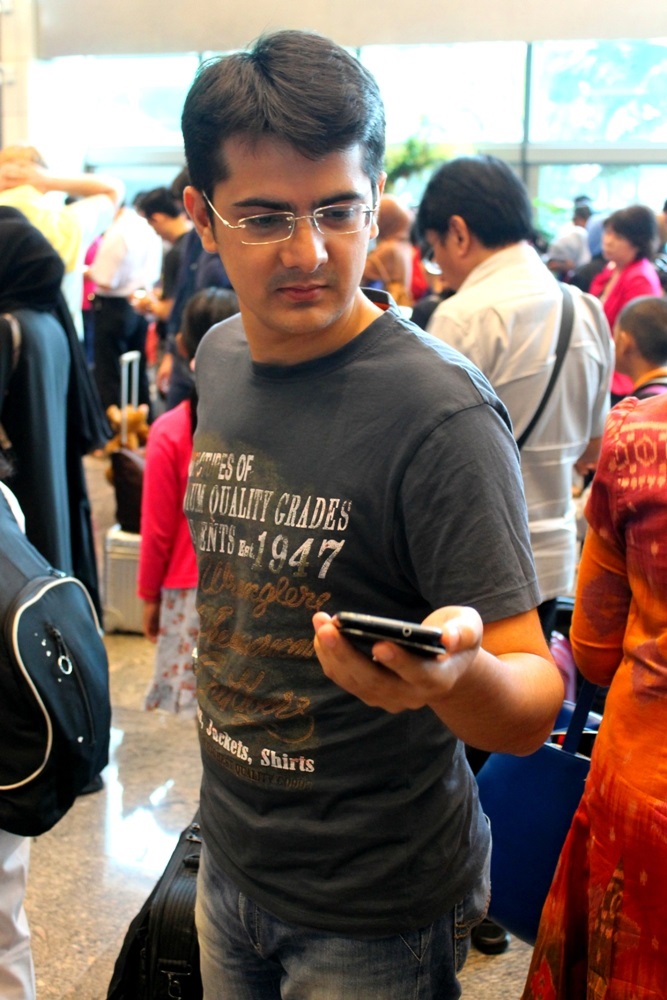 We met this cheerful Indian guy in an airplane from Dubai to Singapore. He went to school in Saudi Arabia, got his Bachelor degree in Mumbai, and now works in Dubai. His job requires constant travels, so he has already filled two passports with visas. Surprisingly, he has never been to Europe, 'cause he thinks it is too expensive.
UPDATE: Rahul is conquering Europe this very moment! Way to go, dude!
UPDATE 2: Sadly, Rahul got robbed while in Rome. Nevertheless, he loved Europe and is already planning his next trip.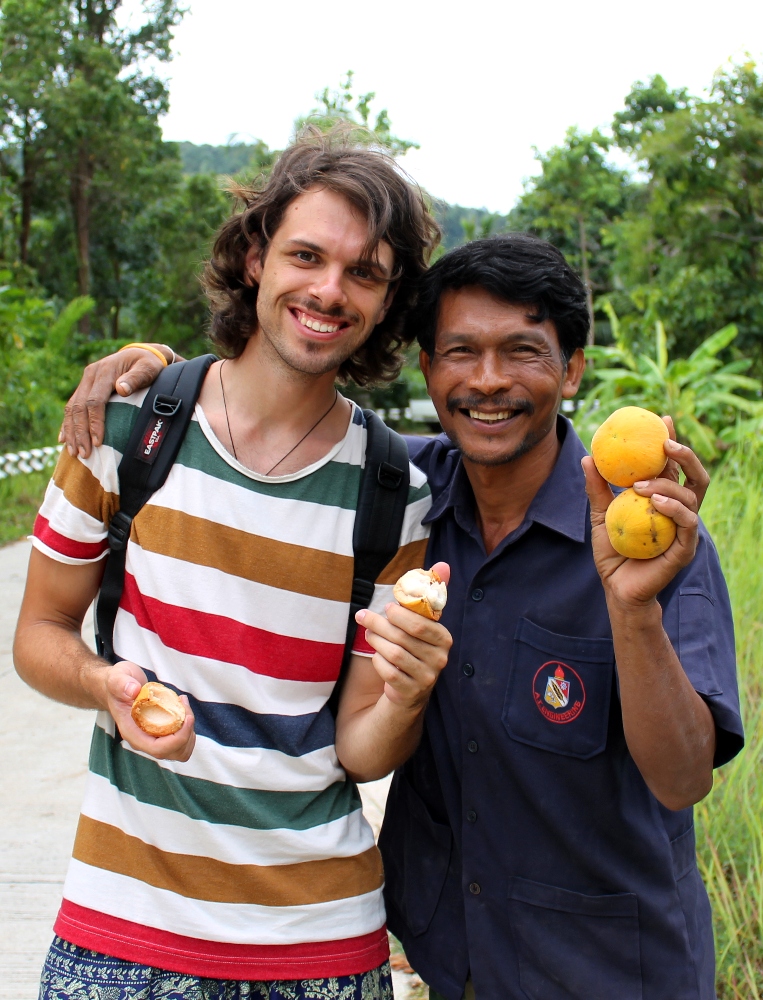 Once we got lost in the mountains on Samui Island, Thailand. We didn't worry, since we knew that the island was small enough for us to get to some village before the midnight. Moreover, the road was lined with numerous banana plantations, so we had plenty of food. When we got fed up with bananas, we stopped by a very high fruit tree. We had no idea how it was called (we still don't know), but we assumed that fruits were edible. "Apples" (that's how we called them, since they are pretty similar to extremely sour apples) hang very high and we didn't know how to reach to them. Suddenly this man appeared. He started throwing sticks, waving the branches, for "apples" to fall down. After we packed our stomachs and backpacks with magic fruits, we left and he continued to gather them for his family. We don't know anything about him, since he didn't speak English, but he was very friendly and helped us a lot.
This man immigrated to France from one of the former colonies and now works at the food stall in the downtown of Paris. Churros he made were really good and we still keep wondering if he will ever make a career and assimilate in French society. Sadly enough, probably not. More information about moving from one country to another you can find at immigrationsolicitorslondonuk.com, a useful online resource.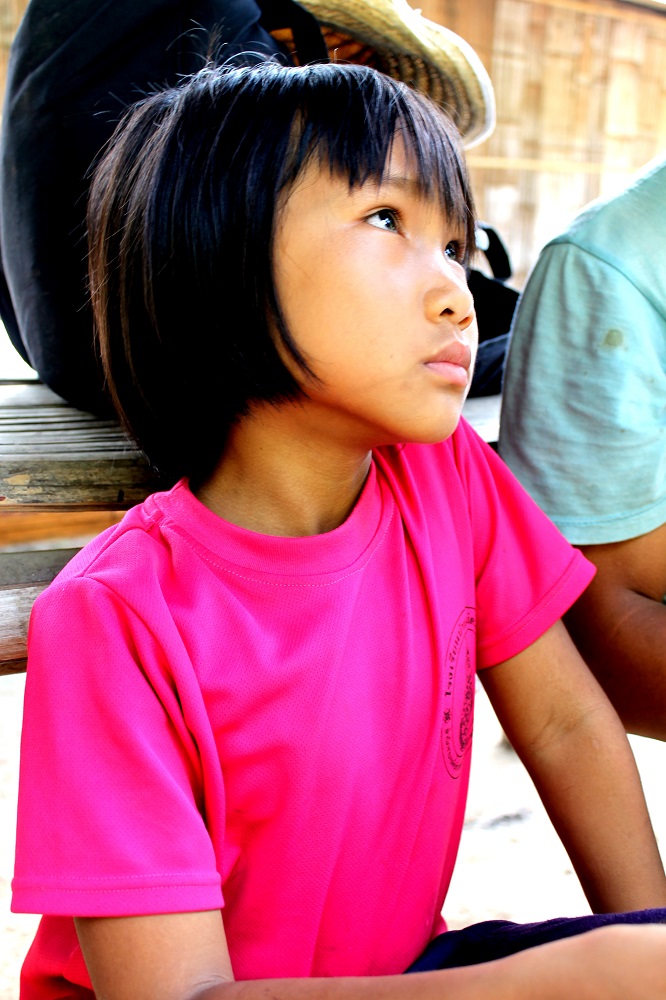 Her name is Sang, though she was not sure about it when talking to us. She belongs to Palong, one of the poorest tribes in South-East Asia. Sang is a lucky girl: she attends a local school. Sang asked Nastia to help her complete English class assignment – to learn a poem by heart. In five minutes we realized that she didn't follow Nastia's reading – she didn't know the letters. We repeated the poem so many times, that by the end of a day, all her family knew it and almost sang along with us. We still remember those simple words:
I have a pen in my schoolbag,
I have a pencil in my schoolbag,
I have a book in my schoolbag.
Have you ever met interesting people you still remember? Who were they? Share your stories with us!