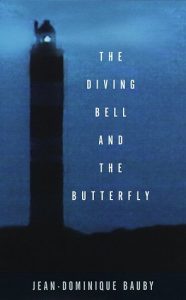 Imagine writing a book when your body is entirely paralyzed except for your left eye lid – the other eye being stitched shut. Author Bauby wrote this entire book by blinking – using a special alphabet that was devised for him – he chose each letter, one at a time slowly forming words, then sentences.
Rendered almost entirely rigid by a stroke at age 43 in 1995, he left a world of fashion (he was editor of the French Elle) and entered a paralyzing world where his mind was unaffected but his body was "taken" from him – known as "Locked-in syndrome". This book reflects on his life before the stroke, narrates a number of heart wrenching times spent with his family both before and after the stroke, relies on his active imagination, and revolves around his daily life at this particular hospital located on the French seaside.
Bauby touches on real life interactions after the stroke. Friends and family call him on the phone – these one sided conversations can be as painful for himself as for the person calling. With his father's health failing and confined to his own house, Bauby draws the similarities of both father and son confined to their respective prisons.
One would expect an author in his condition to be depressed and feeling sorry for himself, at time he writes about anger and some frustration – but this book is certainly not about those aspects of his life nor about self pity. It is about his own resilience, courage and depths of the human imagination.
Bauby is a very talented writer – one, who perhaps could have benefited by technology in today's world, enabling him to transfer his thoughts much quicker into the written word.
The metaphor of the diving bell is his trap – and the butterfly is his escape – his imagination.
This is one story you won't soon forget.
Unfortunately Jean-Dominique unexpectedly passed away two days after this book was first published.