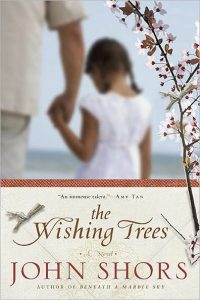 The Wishing Tree by John Shors This is a compelling tale of a father and daughter as they embark on an International journey to help recover from the death of their wife/mother Kate.
The story is imbued with sadness throughout as both father and daughter shared an extraordinary closeness to Kate. Kate has instructed them on this journey by sharing letters to both the mother and the daughter to be opened only during certain parts of the trip. Hope arises for both towards the end of their journey and both father and daughter start to rise up from their grief.
Author John Shors has lived in Asia (where much of the story takes place) and masterfully weaves his knowledge of the locations into the book.