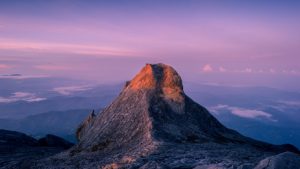 I remember this vividly; it all started on a lovely afternoon when I leisurely sat in front of my computer and browsed through my recent emails and happened upon an eye catching message which suddenly took my full attention. It was an email from Air Asia to announce that 100,000 free tickets would be given away starting today. I spread the news immediately and it soon reached Choo Pooi my colleague who was an avid outdoor adventurer. She had always been dreaming of the challenge to take on Mt. Kinabalu.
This would be a golden opportunity for her to fulfill her dream. After several attempts to log onto the congested website, she finally secured her air tickets. I am not the type of person who loves outdoor adventure. However, I thought it was a good opportunity for me to test my physical limits against Mother Nature. Plus, I had heard from others who had just returned from the mountain trip; they claimed they had so much fun on the journey and it was not that tough to make it to the summit. Therefore I also got myself a ticket and was now "ready" to take on the highest peak in South East Asia.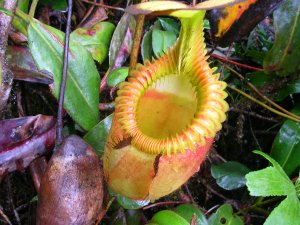 Of course some physical trainings before the trip was a must for us. We chose Bukit Jambul (One of the toughest hiking spots in Penang ) as our training location. We hiked there several times after work. I remember I nearly collapsed the first time hiking and almost gave up the trip. However, Pooi told me the reason for my lack of energy was that I walked up so fast without taking a rest and ended up being breathless and pale faced at the top.
I started to learn hiking tips to prevent myself from easily succumbing to exhaustion. Each time hiking, I stopped a few times for rest intervals before I continued the journey to the top. After a few trials I had already restored my long lost stamina.
Before I describe my real hiking experience, for those who are about to set off on their journey and have no clue what kind of appropriate gear needed, here are some important items we brought for our trip; please file these for reference.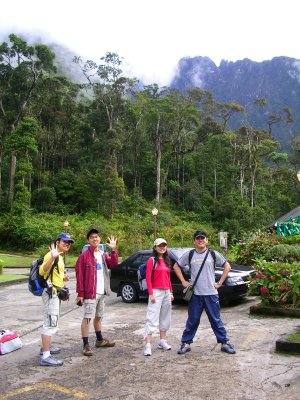 These items include a flashlight and spare batteries, sleeping pad (Not really necessary as there will be enough blankets provided in the chalet), Food (Plenty of energy bars, instant noodles, mineral water etc), a raincoat (Especially if you are traveling in the rainy season), a pair of good quality walking shoes or boots, a whistle, warm clothes (The temperature will be below 5 degrees towards the top), anti sprain cream and a towel (as no towels are provided in the chalet. ).
Also, please bear in mind that you should book your accommodations via a travel agent as early as possible because the chalets are always fully booked throughout the year.
The Challenge began:
We stayed overnight in Mesilau which is where we started hiking. The chalet itself is really nice and the room is equipped with clean double decked beds and a large wardrobe. However the hot tap water in the bathroom was broken so we ended up shivering and screaming in the shower. Our friendly travel agent Janzen took us to dinner at the only restaurant in Mesilau. The food served was so-so, yet pricey. Since the food portions we ate were really small, we had to satisfy our hunger pangs with instant noodles back in the chalet.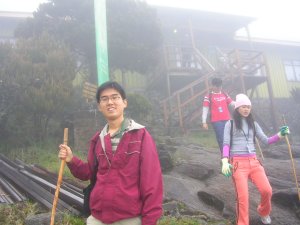 The morning dawned clear and breezy; it promised to be a lovely day. We did some warm up exercises before we started our epic hiking trip (Epic hiking trip!? For us – YES). We met our tour guide and he briefed us on some important do's and don'ts in the woods, details of the trails etc.
Let me explain the following: there are 2 main trails (Mesilau and Timpohon) which will lead you to Laban Rata, the point where several chalets stand – providing overnight accommodation for hikers before they challenge the summit on the following early morning. Mesilau is roughly 2 km (1.2 miles) longer than Timpohon and the route is much more difficult than Timpohon. However, you will find lot of scenic points if you chose Mesilau.
Right after briefing, we each grabbed ourselves a walking stick and began our 8km long trekking journey. Pooi and her brother Choo Kin were leading the way as they trekked pretty fast and soon they both disappeared into the jungle leaving us (Yik Hui Pooi's boyfriend, tour guide and I) far behind. The paths we trekked through were muddy, slippery and full of potholes due to the heavy downpour the previous night.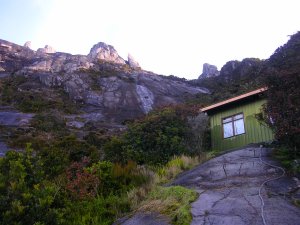 Knowing the trip was going to take an entire day – I tended to keep it slow. Yik Hui who is always quiet suddenly appeared upbeat and chatty. It seemed he got along with the tour guide very well and both of them had many topics to talk about. I admired our tour guide the most as he looked petite and bony, yet he afforded himself a large and heavy backpack, which consisted of our luggage, placed on his back. He told us that he had gotten used to this regular hiking routine, so he lost count of how many times he had made it to the summit.
We made a stop for lunch at the 3.0 km shelter hut. The tour guide informed us that the upcoming paths would be extremely difficult. He also advised us not to take a lengthy break because once our bodies turn cold after a long rest, the ongoing energy we gained during the long journey will be diminished and we will lose the drive to keep walking.
Soon it started to rain cats and dogs. We were all completely soaked wet though we tried to cover ourselves with raincoats. The sudden downpour made the trekking trip even more challenging as we had to keep our energy up as we walked along several slopes and staircases in the chilling rain.
There was a 45 degree long staircase without hand rails in which I had to bend down and gripp the side of the stairs to pull myself up. Yik Hui overtook me and joined Pooi and Kin at the front. I moved on at a very slow pace and soon the tour guide was right behind me. Each time I came to a halt to gasp for breath, he would wait for me in patience or show me the colorful Nepenthes (A kind of carnivorous plant which creates an attractive landing pad to capture bugs.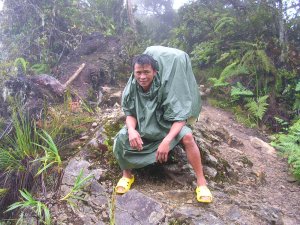 Finally we came to the last 1 km point before we reached Laban Rata, The view right in front of me stunned and rooted me to the spot. Several waterfalls were streaming down from the top of the rocky mountain and formed the spectacular view. I hardly realized I was walking in the soaking conditions for nearly 6 hours. I was not sure if I was suffering from hypothermia – all I needed at that moment was a bowl of hot home made soup and a cup of hot chocolate. I am a kind of person who hates heat very much but all I was dreaming at that moment was to indulge myself in sauna bath.
I made an effort to drag myself up on the last few meters journey before I eventually "collapsed" at the cafeteria where I met Pooi, Hui and Kin. They were as exhausted as me and we were wolfing down hot dishes to keep ourselves warm.
My hiking trip ended here as I decided not to challenge the summit the next day. However Pooi, Hui and Kin did climb early next morning and reached the top. Three of them voiced the same one word comment upon their return to Laban Rata: "Dangerous!!"
People may think I was stupid and fragile to give up the challenge at the half way point, but to me it was already an achievement to reach Laban Rata – climbing 3273 meters is not an easy task. I chose not to take a risk by doing something outside of my physical limits.
As the saying goes, "I went up the mountain a boy and came down a man" – I would rather put it in this way, "I went up the mountain with curiosity and came down with a lot of unforgettable memories".