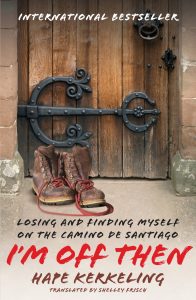 I'm Off Then by Hape Kerkeling Hape admits he is sometimes a couch potato but sets off anyways on the intriguing and spiritual journey across the Pyrenees to the Spanish shrine of St. James (Santiago de Compostela). This is story of Hape's interesting and at times humorous experiences (Hape is a well-known German comedian and his humor definitely shows through in this book) on the Camino Santiago where "pilgrims" stay in free refugios and distances are often long and solitary.
Meet some of the interesting characters that Hape gets to know on the walk and read some of the humorous events he experiences including one situation where he pours water from his second story window onto an unsuspecting mob of Spanish teenagers who are causing problems. He ends each chapter with the "insight of the day", advice dispensed to the reader based on an integral part of that days' experiences.
This is a good read for anyone interested in making this pilgrimage or for those who would rather read about it then walk it!