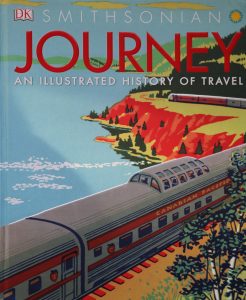 This epic travel tome captures thousands of years of human travel. Set in chronological order, one doesn't necessarily need to start in the beginning. Simply randomly open a page and you will be hooked. Names such as Christopher Columbus, Magellan, Amelia Earhart, Roald Amundsen and many others leap from the pages – great explorers in their own rights. Accompanying every great explorer comes some sort of transportation – ships, trains, planes, rocket ships and more – this book highlights their contributions to the world of exploration.
The quest for exploration is great and enables humans to expand our boundaries, our perspectives and satisfy curiosities. But exploration is not only about these – over the years it has encompassed seeking a better life, trading, scientific research and or simply satiating adventure lusting souls. This book offers insights into more then 140 travel related topics (sectioned into several "ages of travel").
Any traveler will seek knowledge and inspiration from this book – put it on your own must have list or make this the perfect present for your traveler friends.
To purchase this book