When we went to St. Petersburg, Florida last week, we were fortunate enough to receive a private tour of The Vinoy, located along the waterside. I truly felt as if we had stepped back in time to a golden age of Florida travel, long before Walt Disney World.
If you're looking for an authentic Florida experience, I invite you to travel back in time with a history tour of The Vinoy hotel. No wayback machine, Deloreans, phone booths or hot tub time machines needed.
History of The Vinoy
I learned a lot about tourism in Florida on this tour and it was conducted by the delightful and knowledgeable Elaine. The Vinoy Hotel opened on New Year's Eve in 1925 after taking only 10 months to build. did you know it was considered good luck to open on New Year's Eve. I would have guessed New Year's Day, but hey… let the party begin early, right?
The Vinoy is named after Aymer Vinoy Laughner. He "discovered" the property after having a few drinks with his friends and hitting golf balls across the street into the area. I found this humorous in that men never really change, do they?
After purchasing the property, construction began to the tune of 3.5 million dollars. Quite considerable amount in those days. Rooms rented for $20 a night, also on the pricey end. However, the Mediterranean  Revival style hotel was certainly a site to see and a place to be seen. residents of St. Petersburg used to look to the light to know when the hotel was opened for "season" from Thanksgiving to Easter. (Remember, no air conditioning back then!)
While many things have changed over the years, the hotel retains a majority of the original tile. The tile was hand crafted and hand glazed and shipped from a factory in Flint, Michigan. I loved looking for the different and special designs in the tile.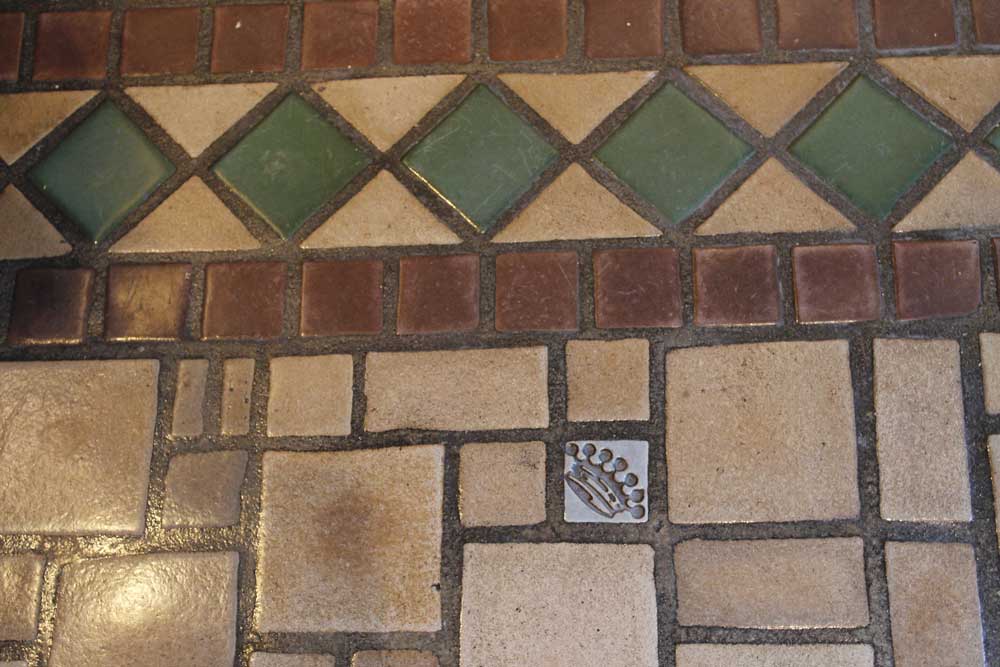 Use in War time
During World War II, Laughner gave over the hotel to the US Army to serve as a residence for the men in training. During this time the hotel suffered a lot of wear and tear (although the tile held up) and Laughner no longer wanted to keep it. He sold the hotel shortly after.
Closed
Unfortunately, after the hotel was sold it was not kept to its previous standards. By the early 1970s, rooms were $8 a night, $12 less at 50 years later should give you an idea of the type of clientele the hotel was attracting. After much disuse and disrepair, The Vinoy closed in 1974. The hotel sat closed for 18 years.
By 1992 and $93 million later, The Vinoy was returned to its original splendor.
The lobby, ballroom and dining room are all listed on Florida and National Registers of Historic places.
Tour and lunch details
There's more I could tell you about The Vinoy, but it truly is a place you have to see and experience for yourself. The lasted only an hour and was well worth our time. Next time we will combine the tour with the lunch. The dining room was stunning and I just want to sit and take it all in!
You don't have to be staying at the hotel to get a tour. Simply call for reservations to (727) 824-8005. Tours depart at 10:30 Wednesday to Saturday for $10 per person. I highly recommend combining a 3-course lunch with your tour at the historical Marchand's for only $27 per person. The Vinoy is located at 501 5th Ave NE in beautiful St. Petersburg Florida.