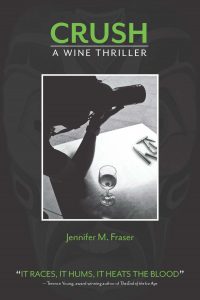 There is plenty of keep the one absorbed from start to finish in Jennifer M. Fraser's exciting book, Crush, A Wine Thriller. The story features Paige Munroe, normally an investigative journalist often covering war stories. In this book her investigative role is initially reduced to ease her back into the 'world' after recovering from a war time injury.
Assigned to cover and promote select wineries in the Okanagan Valley of British Columbia, her assignment seems fairly mundane in comparison to her normal outings. However, her investigative prowess quickly rises to the surface when she finds herself in a world that is not what it seems.
Several romances are at play within the book including Paige who starts to fall for a winemaker who apparently moonlights as a smuggler.
Deception is the name of game in this book. Things aren't always what they seem.
A read that keeps the readers engrossed especially as the story begins to reach it's climax towards the finish. A tangled web of characters with wine and food as the backdrop to the story.
To purchase this book