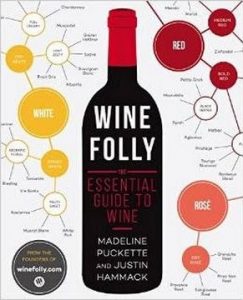 Wine Folly, the Essential Guide to Wine covers a wide range of wine topics with the core of the book being a varietal breakdown – categorized by wine styles. Each varietal is listed with various visual and verbal descriptions – including possible flavors, dominant flavors, where it commonly is grown and the style of how it is usually made.
This book will make a timely gift for the holidays especially for someone fairly new to wine. When it comes to wine, the best philosophy is to keep an open mind and always be open to learning more about this ever changing industry. As a result, the book can also be a valuable refresher for those who consider themselves more knowledgeable about wine.
Other valuable parts of the book include some basics about wine: how to evaluate wines, handling wines including various stemware and pairing options. Highlights from the most common International wine regions are also included.
Co authors Madeline Puckette and Justin Hammack have an impressive resume in the wine world to date – Madeline is a certified sommelier with the Court of Master Sommeliers and Justin is the founding partner of Wine Folly, an award winning wine/spirits blog.
For more information and to purchase this book