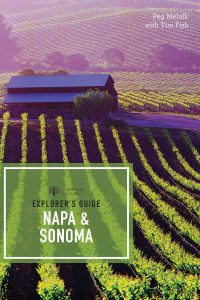 The latest edition (no 11) Explorers Guide Napa & Sonoma is a detailed look at some of the best restaurants, wineries and experiences that the wine country in this part of the state has to offer. Written by husband and wife Peg Melnik and Tim Fish. Both are accomplished wine writers: Peg writes for the local Santa Rosa based newspaper, the Press Democrat and Tim writes for the Wine Spectator.
Not a huge book but it is richly endowed with plenty of insider tips and places not to be missed during your trip. Organized by 6 specific regions in Napa and 4 regions in Sonoma. An introduction to each region is the "whats trending" section – highlighting some of the most hip places (in some cases places that are new to the scene, in others, they are iconic standouts).
Each section also comes with their 'top picks' and special sections are sprinkled throughout the book such as an outline for the best day in the Napa Valley and best day in Sonoma, whale watching, spa pampering, shopping for wine and more.
A must grab guide to go for your time in wine country.
To purchase this book click here