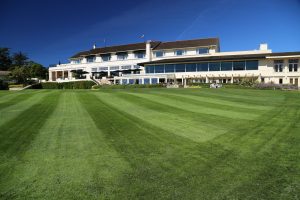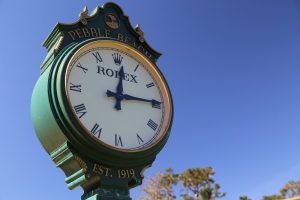 The Pebble Beach Food and Wine Weekend is only in its seventh year yet remarkably it seems like it should be much older than that. In such a short time it has become the West Coast's premier food and wine event. It is an intriguing pairing – matching some of the world's best wine with top chefs in a location that is visually stunning. The inspirational rugged coastline and natural beauty is the backdrop for a long weekend of decadence and at times, temptation to overindulge!
The event is also about enjoyment, meeting new people and expanding ones palate; it is also extremely educational. Some of the most knowledgeable and influential individuals in their respective industries attend – providing culinary and wine seminars. These seminars are held in two of the most prestigious properties on the Central Coast, the Lodge at Pebble Beach and the Inn at Spanish Bay.
The main event is site of the Grand Tasting – I walked through this massive tent the day before and it was a buzz of activity with vendors setting up shop, chefs frantically preparing ingredients and a general whirlwind of activity. The line just to get in when it opened ran for great distances in three directions! But once you are in – you have three hours to socialize, imbibe in premiere wines and watch well-known chefs cook right in front of you. Then you can do it all again the next day at the same time!
Premier wines from around the world were being poured including Champagne Krug (France), Penfolds & Yalumba (Australia) and Dr. Loosen (Germany). Wines from Napa were well represented with a number of standouts including Brand, Gandona Estate and Opus One.
In light of a month in Australia earlier this year and a visit to the Barossa Valley, I was seeking out Australian food & wine experiences. Highlights this year from "down under" included the Restaurant Australia lunch which featured Australian Jordon Toft of Eveleigh Restaurant in Los Angeles and executive chef Jonathan Cox of Sierra Mar restaurant at Post Ranch Inn in Big Sur. It doesn't get much better than drinks overlooking the 18th hole at Pebble Beach followed by a lunch that incorporated some distinctly Australian cuisine along with a California influence. Lamb Tartare, Australian Goat, Raw Spiny Lobster and Grass Fed Beef accompanied with locally foraged greens growing in the wild – all made for a memorable meal.
Continuing on the next day with our Australia focus – we attended the very educational seminar, "Wines of Australia" hosted by four sommeliers. Often Australian wines in the general market place are focused on just a small handful of mass distributed Australian producers. Australia is so much more than that – with over 60 wine regions, a variety of climates often dominated by ocean influences or altitude, some of the oldest commercially producing vines on the planet and a plethora of varietals (with years of research and plantings leading to finding the best location suited to each varietal).
Semillon you can truly age from Brokenwood in the Hunter Valley, a full bodied Shiraz from Penfolds – a classic Barossa Shiraz and a delicious Yalumba Museum Reserve 21 year old Tawny were some of the wine highlights. Oh and a Cabernet Sauvignon from Cullen Diana Madeline in the Margaret River. Tasting hundreds of Napa Cabs over the past 8 years, simply put – made in a riper style, it is nice to try a Cab such as this one which actually shows the varietal characteristics. Only 13% alcohol to!
For more information about Australian wines visit: www.wineaustralia.com and to attend the event next year, visit: www.pbfw.com
#ad I have been commissioned by and will be working with Tourism Australia for this program and resulting content